Local elections 2018: live blog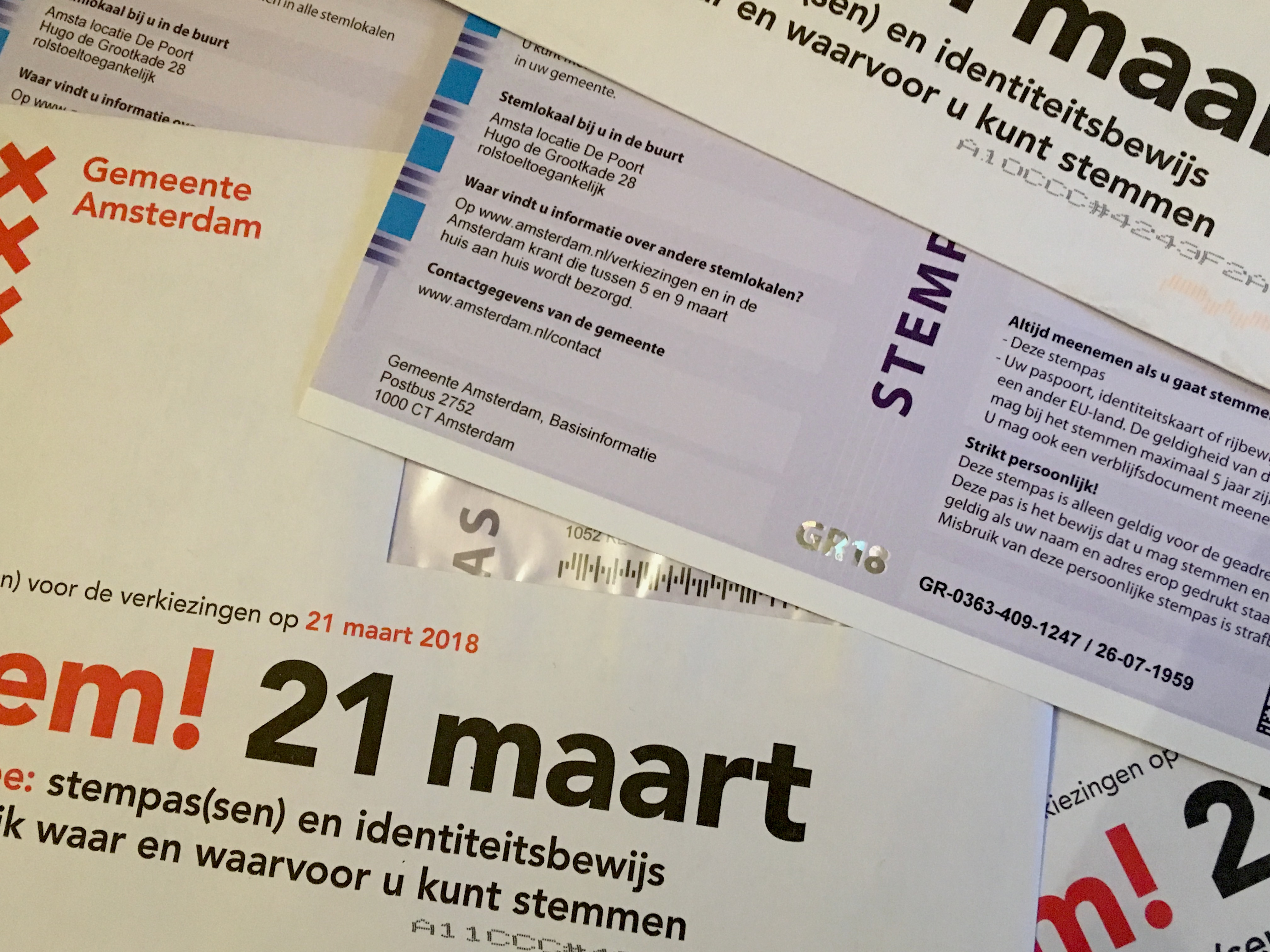 Follow Wednesday's events as they unfolded on our live blog, and check out what the parties want and more background information in our local election website section.
00.46: Final results
We'll be back in the morning with the final results from the bigger cities, plus reactions and comment.
11.44: Prime minister pleased
'It looks as if we are going to be the biggest party nationwide,' VVD leader and prime minister Mark Rutte told reporters.
11.24: 'That's the way it is,' says Labour leader
The collapse of the Labour party (PvdA) vote in many towns and cities, is a fact of life, Labour leader Lodewijk Asscher told broadcaster NOS. 'The time of having two or three parties is over,' he said. 'We knew we would lose for a time,  but we have done better, in many places, than we did a year ago [at the national elections].
11.04: VVD is the flatliner
Pundits for broadcaster NOS say the right-wing Liberal VVD may emerge as the big winner of the evening because the party's support is unchanged in most places. But Christian Democrat leader Sybrand Buma told the broadcaster the CDA is one of the few parties which has managed to maintain its share of the vote.
22.35 D66 disappointed by Amsterdam exit poll
D66 spokesman Wouter Koolmees has admitted that the NOS exit poll in Amsterdam is worse than the party expected. 'We have still managed 9 seats, which is a decent performance. But it's disappointing, I'll be honest about that. It's different from what we expected.'
22.21 Schiermonnikoog first to declare
The island of Schiermonnikoog in the Wadden Sea – the most northerly municipality in the country – is the first to declare its result. It's a big win for the Christian Group which takes 47.2% of the vote to win 4 of the 8 council seats.
22.19 PVV satisfied with exit poll in Emmen
Tom Kelder, leader of the PVV in Emmen, says he hopes to end the night with 5 seats on the council; the NOS exit poll predicts 4. 'One in 10 people voted for us and for a new party with little experience I find that a real vote of confidence.'
22.14 Burgerbelangen hails 'fantastic' poll in Enschede
Hans van Agteren of local party Burgerbelangen Enschede tells NOS the exit poll that puts them ahead of the national parties is a 'fantastic result'. 'We have always been consistent with our policies and that is paying off now. This victory has been achieved thanks to the fantastic efforts of our party group.'
22.08 GroenLinks on course to win in Amsterdam
GroenLinks are forecast to profit at D66's expense in Amsterdam, taking 22% of the vote in NOS's final exit poll of the night. That would give Jesse Klaver's party 11 seats compared to 9 for D66. The VVD would overtake Labour with 6 seats to 5, with the Socialists and Partij van de Dieren on 3 each. Three newcomers are predicted to join the council: Denk with 3 seats, Forum voor Democratie on 2 and a single seat for Sylvana Simons's BIJ1.
21.57 Emmen bucks local poll trend
A different story in Emmen, where local party Wakker Emmen is projected to lose 4 of its 15 council seats, while the PVV, standing for the first time, wins 4. Labour retains its 6 seats in second place, followed by the CDA on 5. Local older voters' party Drentse Ouderen disappears while 50Plus would win one seat; the other newcomer, the SP, is projected to take 3.
21.47 More local party success in Enschede exit poll
In the border town of Enschede local group Burgerbelangen Enschede is on course to eclipse D66 and the PvdA, taking eight of the 39 seats. D66 and CDA are each predicted to win 5 seats, with GroenLinks and the VVD on 4. Labour would go from second place to fifth with 3 councillors. New entrants the PVV would take 3 seats and Denk 2.
21.38 Local parties strong in Weert exit poll
An early indicator that it could be a good night for local parties in Weert, where established local party Weert Lokaal extends its lead on the council. WL takes 34.8% of the vote, equivalent to 11 of the 30 seats; CDA (20.3%), VVD (17.1%), SP, PvdA and D66 all lose ground. Two new parties, Dus Weert (a breakaway PvdA faction) and the right-wing Partij voor Weert poll 8.5% and 4% respectively.
21.26 Utrecht exit poll shows GroenLinks leapfrogging D66
A big swing in Utrecht, the fourth largest city, towards GroenLinks who are predicted to take 12 seats with 25% of the vote, an 8% increase on 2014. D66 go from 13 seats to 9 with 20.6%.
The VVD and PvdA each have five seats in the poll, half Labour's current number; also down are the SP, who would be reduced from 5 councillors to 2. Denk and the PVV are predicted to take 3 and 2 seats respectively. The Student and Starter party and Animal Rights Party (PvdD) each have a provisional 2 councillors.
21.17 Referendum exit poll is too close to call
The advisory referendum on the new intelligence and security law, also known as the WiV, also known as the 'dragnet' law because of the wide powers it gives to surveillance agencies to monitor internet traffic, is on a knife-edge, according to NOS's second exit poll of the night.
Supporters of the law are marginally ahead by 49% to 48%, with the other 3% thought to have posted blank ballot papers in protest against the referendum. Turnout is projected to be 48%, well above the 30% threshold that would trigger a new debate in parliament.
21.00 First exit poll shows Leefbaar Rotterdam hold 11 seats, PVV take 2
Leefbaar Rotterdam (21.9%) are on course to remain the largest party in the second city in NOS's exit poll. The party is predicted to lose three of its 14 seats, with Geert Wilders's PVV picking up a disappointing two.
The VVD are second in the poll on 10.3%, good for 5 seats, the same number as Labour who take 9.7% of the vote. Four seats each go to D66, GroenLinks and newcomers Denk, the latter with an 8.8% vote share. 50Plus, the CDA, Islamic party Nida and the Socialist Party would each win 2 seats.
20.23 Student arrested for sending 'voting proficiency test' letters
A 24-year-old student in Rotterdam has been arrested for sending out letters telling people they needed to pass an online test before voting. 'StemDrempel is a nationwide initiative that tests people's advance knowledge of the system,' said the letter.
Recipients were directed to a website – which has since been taken down – where they were told to answer a series of questions to determine if they were eligible to vote. Both the letter and the envelope were emblazoned with carefully faked council logos. Police said the letters and the website appeared to have been created for a college assignment.
Student aangehouden voor nep-verkiezingsbrief Rotterdam https://t.co/gmIZJjMOyI

— NOS (@NOS) March 21, 2018
19.54: Polling station closes early
The polling station at Heerhugowaard railway station, north of Amsterdam, has closed early after a disturbance involving a group of drunken youths. Polling staff said they feared for their safety when the youths started banging on the office walls.
A council spokesman said they appeared to have been returning from an Easter cattle fair: 'There were a lot of them standing on the platform and they had had a lot to drink.'  Voters can use the other 26 polling locations in the town until 9pm.
19.45: Election roadshow
Buses and elections aren't always a good combination, but this white double-decker has been bringing democracy to the people in Sint Anthonis in Noord-Brabant. With just three parties contesting a municipality of 11,500 people, it's expected to be among the early results.
Deze bus rijdt door het dorp Sint Anthonis in Brabant en staat steeds op een andere plek. 🚌 Zo komt het stembureau letterlijk naar je toe! #GR18 pic.twitter.com/qdM3mHvv1Y

— Debora (@DeboraPost) March 21, 2018
18.45: Results
The polls close at 9pm and most towns and cities expect it to be midnight before they have counted all the votes in their areas. In total, 335 new local councils are being elected.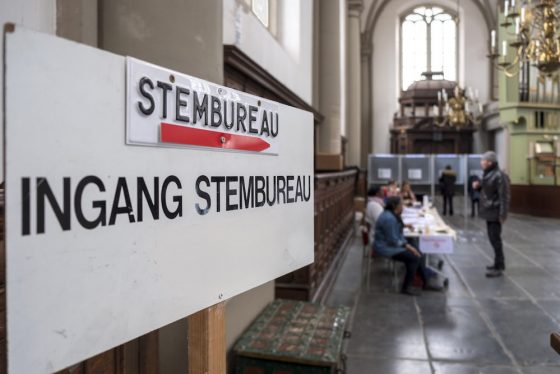 By midnight, officials expect 56% of the total number of votes will have been counted. Around one in four local authority areas expect to declare their results between 10.30 pm and 11.30 pm. The race for the fastest count is between the smallest local authorities – the Wadden Sea islands of Schiermonnikoog and Vlieland, plus Rozendaal in Gelderland.
The result of the referendum on new legislation to give sweeping powers to the security services might take until 1.30 am to be finalised, according to news agency ANP.
18.36: PVV complaints
So far the public prosecution department has had eight formal complaints about a party political broadcast by the PVV last week. The video, which lasted for 2.5 minutes, consisted of the text 'Islam is' followed by words such as terror, murder, gay hatred, slavery and child abuse. The video had no commentary but loud, menacing music.
The PVV is contesting the local elections in 30 towns and cities. In 2014, it only fielded candidates in Almere and The Hague.
18.20: Local parties
Not everyone is voting for a national party.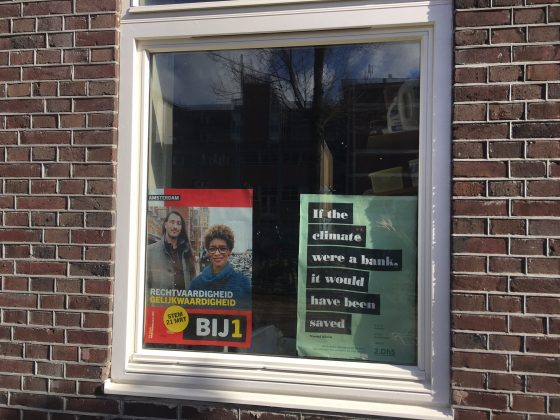 18.17: Turnout updates
The turnout in Rotterdam is now higher than in 2014, despite the slow start, according to news agency ANP. By 6pm, 32% of the electorate had voted in the port city, compared with 31% four years ago. In The Hague, however, 33.8% had voted in the local elections by 6pm, down from 38% in 2014. In Amsterdam turnout had hit 35%, compared with 27.5% a year ago.
16.25: That other voting paper
Voting is also taking place in Amsterdam and Rotterdam for the cities' district committees which focus on local issues such as waste collection and the provision of green spaces. There are 14 such committees, known as gebiedcommissies in Rotterdam and seven committees – bestuurscommissies – in Amsterdam. In Rotterdam you can vote for the gebiedcommissie at the age of 16.
15.00: Strange places to vote
If you are looking for somewhere unusual to vote in Amsterdam, the Parool has a list.
Heb je nog niet gestemd? Dit zijn de leukste plekken om te stemmen in Amsterdam https://t.co/Qh7rXHik6Q pic.twitter.com/sZhwwVNBWq

— Parool Stadsgids (@stadsgids) March 21, 2018
14.51: Turnouts trickle in
According to the Parool newspaper, the turnout in Amsterdam is up on four years ago at about 19% by 2pm. In 2014, turnout by then was just over 11%. In The Hague and Rotterdam, however, turnout is down. The polls close at 9pm.
Opkomstpercentage in Amsterdam om 14.00 uur 19 procent. Vier jaar geleden was dat 11,2 procent https://t.co/rFJw2eGomZ pic.twitter.com/xYwjy9k7sl

— Het Parool (@parool) March 21, 2018
14.46: Breda bad guys
In Breda there is consternation because several candidates for election are said to have criminal pasts. The number 1 on the Stadspartij Breda list has a conviction for armed robbery while another candidate is suspected of involvement in drugs and money laundering.
The city authority has now asked accountants to comb the accounts of all the parties standing for election and has said it will pay the cost of certificates of good behaviour (VOG) which all new councilors will have to present, according to broadcaster NOS.
12.04: Rock the vote
Four of the five biggest parties in Amsterdam sent their campaign leaders to Monday night's Rock the Boat event – D66, GroenLinks, VVD and PvdA. The SP, whose slogan is Amsterdam for Amsterdammers, send their number 3. In 2014, a similar event had no party leaders at all. Some 89,000 internationals in Amsterdam have the right to vote in the local elections.
.@RutgerGW on stage op ons evenement voor internationals in Amsterdam #RockTheVote in @demarktkantine pic.twitter.com/DhgWSRjHeP

— GroenLinks Amsterdam (@GroenLinks020) March 19, 2018
11.56: Wilders changes mind
PVV leader Geert Wilders has apparently cancelled his visit to Terneuzen to celebrate election night because of political opposition and the fact that 'election night won't have the celebratory character it should have'.
11.26: More unusual locations
In Arnhem, people can vote in a trolleybus from 1949 which has been brought back into service to act as a mobile polling station.
Mooi! Veel belangstelling voor de stem-Trolley, nu van Malburgen onderweg naar Vredenburg #Arnhem #GR2018 #026kiest #GLD #gemeenteraadsverkiezingen pic.twitter.com/GL5d2gf0UH

— Ahmed Marcouch (@ahmedmarcouch) March 21, 2018
In The Hague, you can vote on tram line 11 while in Velsen and several other places, mobile polling stations have been set up in American school buses. In Eindhoven, you can vote in the office of the mayor John Jorritsma while Zuidplas has a drive-in polling station.
10.17: Turnout so far
In The Hague, the turnout in the local elections was 6.2% at around 10am, and for the referendum 5.5%. Are those missing 0.6 percentage points foreign voters? Check out our election section on The Hague for the main party positions – in English.
De opkomst in Den Haag om 10 uur voor verkiezing van de gemeenteraad: 6,2 %, voor het referendum: 5,5 %. De opkomst is live te volgen via https://t.co/YojDg1n0cr #GR18 #DenHaag pic.twitter.com/hT0itozPTw

— Gemeente Den Haag (@GemeenteDenHaag) March 21, 2018
9.30 Wilders in Zeeland
Local broadcaster Omroep Zeeland reports that PVV leader Geert Wilders is planning to visit Terneuzen town hall on Wednesday evening but his decision has annoyed the local mayor. Terneuzen is one of the 30 places where the anti-Islam PVV is fielding candidate councillors.
Omroep Zeeland says officials are angry at having to take extra security measures, including a bomb check, which means the town hall has to be closed for a time. And the mayor is also concerned that the presence of the PVV leader might detract from the local election results.
7.30: Voting starts
Polling booths are open all over the country but in some places people could already vote last night. The Netherlands has a tradition of setting up polling stations in strange places in an effort to tempt people to vote, such as a city farm in The Hague and a popular student cafe in Zwolle.
Some councils set up polling stations in railway stations to catch early morning commuters. The polling stations are open from 07.30 hours to 21.00 hours, when the count begins.
Ook dit jaar is er lentegeluk in stembureau De Woelige Stal. De lammetjes Zaza, Pluk en Aafje zijn maandag geboren. ,Is dat stemvee?' Vraagt een bezoeker.#gr18 pic.twitter.com/WGCNscP98x

— hanshemmes (@haagsehans) March 21, 2018
Thank you for donating to DutchNews.nl.
We could not provide the Dutch News service, and keep it free of charge, without the generous support of our readers. Your donations allow us to report on issues you tell us matter, and provide you with a summary of the most important Dutch news each day.
Make a donation