'I'm incredibly touched by the Dutch dedication to the memories of the WWII liberators'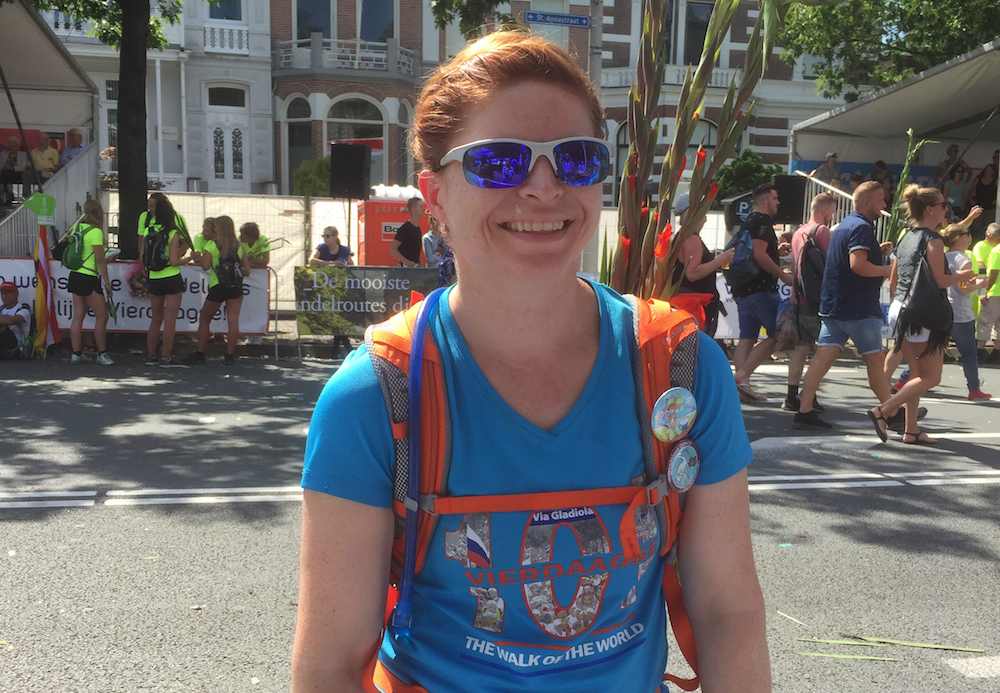 Sherry Keneson-Hall works for the US foreign service and has lived in 38 cities to date. During her stint in the Netherlands so far, she has done the Vierdaagse in Nijmegen, swum in the sea on New Year's Day and developed a passion for Limburgse vlaai with cherries.
How did you end up in the Netherlands?
I joined the Foreign Service right after graduate school in 2002, six months after 9/11. I went through formation classes, learned French, and began my first two year post in Guinea that December. Then I moved to Brussels where I served almost two and a half years and then on to Sofia in Bulgaria for three years and Prague for another three years. Now I'm on my fifth overseas tour here in the Netherlands.
I'd been to the Netherlands before while I was living in Belgium to visit Delft, the Keukenhof and Amsterdam. I also came over as part of the delegation when former POTUS Barack Obama was here during the 2014 Nuclear Security Summit and it was a lot of fun. We do have some say when we apply for postings. We call that 'lobbying,' and it involves applying, sending out resumes, calling, and interviewing for jobs. As you might imagine, Den Haag is very sought after and it's a very nice place to come for a posting. It was a hard battle to get here, but I'm very happy that it all worked out.
How do you describe yourself – an expat, lovepat, immigrant, international etc?
I feel like a bit of a nomad. I was a military child and my stepfather was in the army so we moved quite often. So I now consider myself an 'eternal expat'. Every few years, my family and I move to another place. After a little while, I also start to itch for a new adventure.
However, my kids are now getting to an age where they're getting less enthusiastic about moving. It becomes harder when you become a teenager and start to form real roots and things like that. So we'll see how everything goes when we leave the Netherlands in a few years.
How long do you plan to stay?
We'll get to stay here for three years, total, and I wish we could stay longer. In the Foreign Service, it's a three year posting for 'nice' tours and for 'hardship' tours it's generally two years. Then there's 'unaccompanied' tours that are dangerous and you can't bring your family. Those are a one year posting.
Do you speak Dutch and how did you learn?
I studied Dutch at the Foreign Service Institute for almost six months. For postings, we usually do eight hour days, five days a week for 24 weeks in order to learn a language. It became so much harder when I actually got to the Netherlands, though, and I feel like my Dutch was better before I arrived. So many people here speak good English and it's difficult to actually use your Dutch.
I also thought it was funny that I was assigned to read one of the Harry Potter books in Dutch while I was in training. A lot of the names are different. In the original, the school is called Hogwarts. In the Dutch version, it's Zweinstein. I thought that was entertaining, but it happens in other countries, too. I remember watching Buffy the Vampire Slayer in French and the character Xander's name had been changed to Alec.
What's your favourite Dutch food?
I adore Limburgse vlaai, or, as they call it in down in Limburg, 'vla-uh'. I really like the cherry kind, which is like really good cherry pie. I'm kind of happy that it's only available down in Limburg because I'd eat it more often if it was closer.
How Dutch have you become?
I keep trying to become more Dutch. I did the Rotterdam Marathon this year and the Vierdaagse, the 'Four Day March', in Nijmegen. At the same time though, I cannot ride my bike when it's rainy, windy, or snowy. I'm not as brave as my Dutch friends.
But I also did the Nieuwjaarsduik last year, when people dive into the North Sea on New Year's Day in Scheveningen. Even if you don't go in the water, it's still fun to go down there for the atmosphere. It's probably more fun than actually doing it. It was really cool…and very cold. That sand was freezing! I didn't know how cold sand could get since I'd never been barefoot on a beach in the middle of winter before.
Which three Dutch people (dead or alive) would you most like to meet?
Johannes Vermeer: I've been crazy about Vermeer since 1995 when I was in college. An exhibit came to the States with 21 of his 35 existing works. It was all over the place and featured in National Geographic. It seemed to be everywhere but I didn't get to see it. I still became enamoured with Vermeer and would love to spend a day with him.
Corrie Ten Boom: She was not only an incredibly brave person but I think she's symbolic of the thousands of Dutch people who tried to hide and save their Jewish friends, neighbours, and colleagues during World War 2. She is truly inspirational and most American school children read The Hiding Place as part of the curriculum.
Xander Bogaerts: I am a diehard Boston Red Sox fan and I think it's incredibly cool that they have a member of the Netherlands national team playing for them. My eldest son is named Xander as well. We call him 'X Man,' which is Bogaerts' nickname, too. He's someone I'd really like to meet.
What's your top tourist tip?
It's not very well known but there's the Drents Museum in the city of Assen. They currently have an amazing exhibition called 'The American Dream: American Realism: 1945 – 1965'. So they have works by Hopper, Warhol, Rockwell, Wyeth, and Estes. It's incredible.
The amount of art they've been able to pour into it is really top notch and they're from some of the best museums in the world. The city is decked out in American flags and they've even built their own Statue of Liberty that will be in one of the main squares for the duration of the exhibition. Assen is also a beautiful city. It's very quaint and I don't think many tourists ever go there. It would definitely be off the beaten path but also very special.
Tell us something surprising you've found out about the Netherlands
Something that struck me as incredibly touching was the Dutch dedication to the memories of the liberators during World War II. As the public affairs person at the embassy, I often put together the programmes for the Operation Market Garden commemorations or the Nijmegen 'Crossing of the Waal River' commemoration. Every year, children in Nijmegen write poems and essays about the crossing and the American troops who did that.
There are more than 8,000 American soldiers buried in Margraten at the Netherlands American Cemetery. I think there's about 1,300 graves for soldiers that were never identified and they've all been adopted by Dutch citizens since 1946. There's currently a waiting list of about 400 Dutch families that are waiting to adopt one. I find that incredibly touching, especially coming from a military family, that they haven't been forgotten. I wish more Americans knew about that.
If you had just 24 hours left in the Netherlands, what would you do?
I really want to cross the Waddenzee. You can only do it during certain times of the year, though, usually in the summer. There's a programme that I was going to do with a friend last year but the stars didn't line up. It takes about eight to ten hours because you have to do it quickly enough to avoid getting trapped after the sea rolls back but you can literally walk from the Netherlands to the islands. It seems like something that would be so cool because it's a UNESCO protected site and it's something that you can only really do here. It's definitely on my bucket list for the Netherlands.
Sherry Keneson-Hall was talking to Brandon Hartley
Thank you for donating to DutchNews.nl.
We could not provide the Dutch News service, and keep it free of charge, without the generous support of our readers. Your donations allow us to report on issues you tell us matter, and provide you with a summary of the most important Dutch news each day.
Make a donation