Blogwatching: 9 ramen restaurants in Amsterdam – rated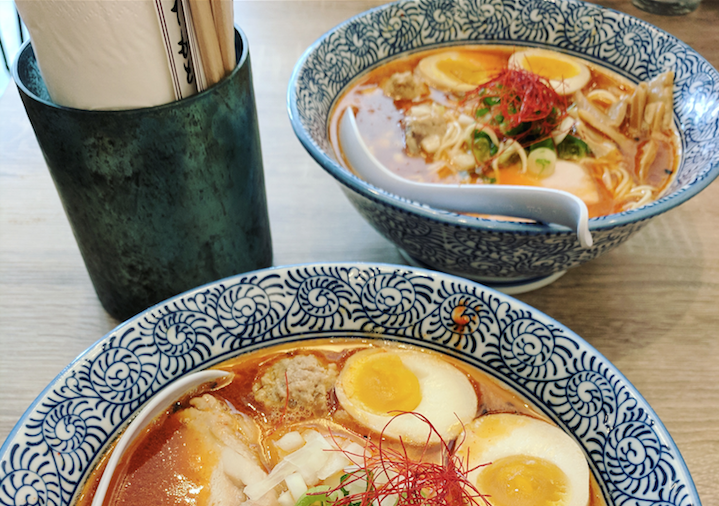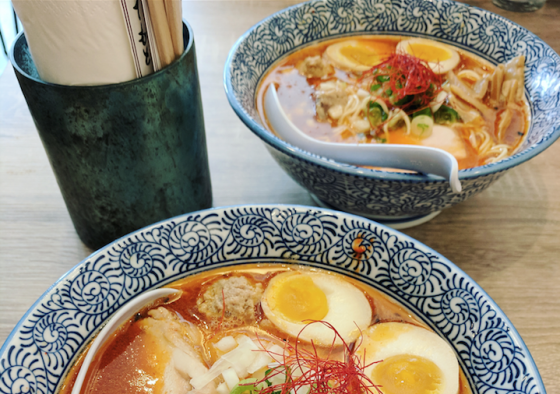 Vicky Hampton is British by birth and Dutch by choice, a writer, cook and avid foodie who has lived and worked in Amsterdam since 2006. Vicky launched her blog Amsterdam Foodie in 2007 and it is now an indispensible guide to the city's eateries and beyond.
Before we get into all the noodly details, let me start with a caveat: I've never been to Japan. I've never even eaten ramen outside of Amsterdam. I'm comparing these places on a level playing field – but I've never played on another field, as it were. So I'm no expert – I'm simply speaking as I find, according to my own subjective tastes. With that in mind, and without further ado, I bring you my Ramen Amsterdam Roundup: what you should eat at nine ramen restaurants, and how I rate them against each other.
Tokyo Ramen Takeichi
A relative newcomer on the Vijzelstraat, Takeichi gets packed with locals and tourists every lunchtime. The occasion I visited, I got the Nouko spicy chicken ramen with egg. The flavour of the broth was good (savoury and spicy), but a bit too thick for my taste and overly salty by the bottom of the bowl. The toppings in general were a highlight: I liked the little chicken meatball, thick slices of chicken, and spring onions. I wasn't so keen on the raw yellow onions and slimy brown things that said they were bamboo shoots but had a texture very like mushrooms.
The egg (which cost extra) was perfectly cooked, although seemed to have been chucked into the soup from cold. Unfortunately, the seaweed was also an optional extra so I didn't get to taste that. In fact, a general point I'd make is that several of the newer ramen places seem to offer many of the toppings as optional extras – so what starts out as a €14 bowl of soup quickly tots up to €20 if you add in all the elements you'd actually want.
Vatten Ramen
In the same vein as Takeichi and also a newcomer, Vatten Ramen serves mostly chicken-based noodle soups – so once again I went for the spicy variety. The broth was slightly thinner than that at Takeichi but tasted good – I think I preferred it, but then again I dislike any soup that feels gelatinously thick.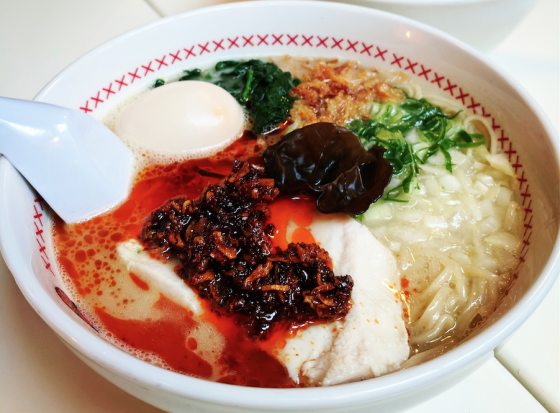 The toppings, however, were less impressive: the chicken char siu was just simple white chicken with little flavour. The egg came whole and was hard-boiled – which meant it was missing the gorgeously orange, rich, oozy egg yolk you'd expect. Also in the bowl were wilted greens (but more like spinach than seaweed), raw and fried onions – they tasted good, but again I missed the sea-fresh umami hit you get from seaweed (it was, once again, an extra).
Umaimon Amsterdam
I liked Umaimon so much the first time that I went back again four days later; the first time was a press event – the second I was a regular paying customer. Umaimon Amsterdam is 'powered by' Takumi Düsseldorf – where Japanese chef Saeki has been peddling noodles for over a decade. And with good reason: they keep their ramen noodles in a special temperature-controlled cupboard, only getting them out when they're just about to be cooked.
At the press event, I tried seven different types of ramen soup in one sitting – yes, that's some serious ramen dedication for you. As fabulous as they all were, I liked three better than the rest; so when I went back a few days later with the Honey Badger, we attempted to order two of them.
Clearly something got lost in translation as I ended up with a thin chicken bouillon rather than the creamy, almost medicinal soup I'd been craving. But the issue finally got resolved and I now know what I want to order next time: the Noukou Tori Soba – a house special that's as rich as it is fresh, with generous slices of roasted chicken, tiny but tasty chicken meatballs, deep-fried chunks of chicken (imagine a version of KFC that's Japanese and awesome), sweet bamboo, bok choi and excellently marinated and barely boiled egg.
For something less rich, try the Teriyaki Wantan Ramen, which has a much lighter broth but is still generously stuffed with wantan parcels and all the other trimmings. The Butatama Miso Ramen is also a hit – a sweeter, miso-based broth plays host to thin slices of pork and what I assume are lightly caramelised sliced onion. Whatever you order, it's pure comfort in a bowl.
Sapporo Ramen Sora
Tucked away behind the tiniest shopfront on the Ceintuurbaan is Sapporo Ramen Sora – judged by many to serve some of the best ramen in town. I have to say I disagreed: the pork bone broth that made up my Tonkotsu Shoyu ramen was thin and strange in texture – it looked like it had split. Meanwhile, the Charshu Shoyu's broth was just a bit salty and uninteresting. Although I did appreciate the seaweed in both.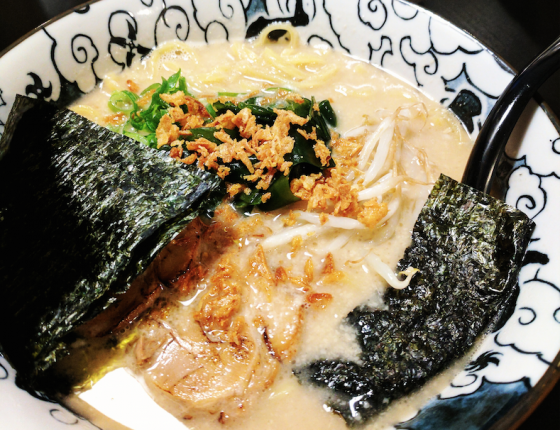 The usual boiled eggs were off the menu due to the Dutch egg scandal the time I visited, which was a shame – and we weren't offered anything else to make up for it. The venue itself is pretty basic and lacking in gezelligheid, which would be no problem if the ramen was better – but I remained unconvinced.
Fou Fow
I first reviewed Fou Fow back in January 2015, although I've been back several times since. It was arguably the first place to be serving proper ramen in Amsterdam, and as such holds a bit of a special place in my heart. Fou Fow offer their noodle soup in three sizes, with various different bases to their broths. Pig addict that I am, I usually go for the pork broth which is served with more pork, various types of seaweed, and half a boiled egg (which is both warm AND oozing with yellow yolk). The first time I went, I was warned that the pork broth had 'a stronger flavour' than the regular chicken, vegetable or miso broths. Bring. It. On. I loved every spoonful.
Having now tried other ramen places in Amsterdam, I realise that Fou Fow's broth is not as thick as some of the other contenders – which I actually like as I find some ramen too rich and cloying. So if you want to try the pork broth without slipping into a food coma afterwards, this is the place to do it. Plus, they now have two locations: Elandsgracht and Van Woustraat.
Taka Japanese Kitchen
Serving lunch Wednesday through Sunday in the cooking studio on the second floor of Toko Dun Yong, Taka Japanese Kitchen keeps its menu extremely simple: Tonkotsu or vegetarian ramen for €10 a bowl. With Jasmine tea at €1 a cup, this is probably also the cheapest ramen experience you're likely to have too.
The tonkotsu is made with a combination of pork and chicken bones, while the vegetarian has a miso-based broth. So what of the tonkotsu? Both the noodles and the broth were fine – not mind-blowing but perfectly good – and not excessively thick or fatty.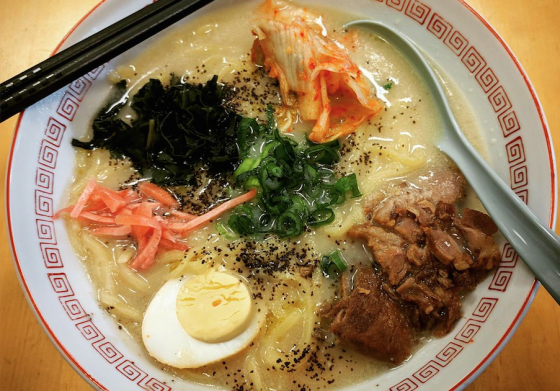 Things I loved: surprise additions of kimchi, pickled ginger, and black truffle. Things that slightly let the side down: the egg was hard-boiled, and the pork was a little dry. However, for €10 a pop, you can't do better for a ramen fix in Amsterdam – and I think all the customers with their ADE hangovers who were at Taka when I was there would agree.
Ramen-Ya
Ramen-Ya is in the Red Light District, which can be handy when you have visitors to show around. I've tried various versions of their wide selection of ramen since I first reviewed Ramen-Ya in December 2016: namely the 'Kimchi Ramen', the 'Hakata Deluxe' and the 'Veggie'. The former comprised chicken broth with kimchi (obviously), pork char siu (essentially BBQ-ed pork belly), black wood-ear mushrooms, half a boiled egg and, of course, the noodles.
The ramen themselves had great bite and flavour to them; the char siu was melt-in-the-mouth; the egg was perfectly cooked with a rich orange yolk; the mushrooms tasted like seaweed (luckily for me); and the kimchi added a welcome sour kick. In short, I loved it.
The vegetarian ramen was slightly disappointing compared to its meaty counterparts, but then that's hardly surprising. It's difficult to recreate the rich creaminess you get from bones in a broth made from vegetable stock.
The Hakata Deluxe was a pork broth (far creamier and stronger in flavour than the chicken broth of the Kimchi Ramen) with soy sauce and a fattier variety of pork char siu. The Honey Badger loved it the first time, but I found the richness of it all a bit overpowering.
With that being said, the last time we went to Ramen-Ya, either a different chef or a different recipe was being used and the pork broth was so thick and fatty that even the Honey Badger couldn't finish it and ended up feeling pretty ill afterwards. Another foodie friend gave me a similar report just the other day. It's a shame, but if you avoid the Hakata and stick with the Kimchi you should still be ok.
Men Impossible
Given that I get a ramen craving at least once a fortnight, I clearly needed to find an alternative to my tonkotsu addiction during Vegetarian January. Enter Men Impossible: a communal-dining experience in the Jordaan, at which for €25 you can eat your fill of vegan ramen plus a veggie starter, drink and tea. I tried their yuzu beer, which had barely a hint of yuzu but was just a really nice Japanese beer. Light and fruity and not too bitter.
At the same time, I tucked into my starter of aubergine topped with a sweet miso dressing. The flavour was good, but the aubergine was a tad undercooked, and the whole thing was, well, tiny.
But cracking on with the main event: the Red Dragon Ramen. These are tsukemen – dipping ramen – the noodles hand-rolled, and the broth a thick, umami-rich, spicy, miso- and tomato-based soup. I must admit the noodles had an extremely satisfying bite and the soup was very generous in flavour, despite the lack of animal products. It also came with some shredded vegetables (raw carrot and red cabbage), cooked courgette, crispy fried onions, and a mushroom that I steered well clear of.
Better still was the accompanying spoonful of black garlic oil that added an extra depth and savoury note to the whole dish. We skipped the tea on offer. but with or without it, €25 seems like rather a lot for a bowl of soup, a slice of aubergine and a beer – albeit they were pretty well done. I doubt Men Impossible will be replacing my ramen fix once Vegetarian January is over, but for now I'm happy to have found out that vegan ramen is – after all – possible.
TonTon Club
The TonTon Club in Westerpark isn't a ramen restaurant per se, but they do serve a dish called Tsukemen – or 'dipping ramen'. Cold noodles, pak choi, enoki mushrooms, a soft-boiled egg, and either pork belly or chicken katsu (breaded, fried strips of chicken).
The soup was warm, but not warm enough to really heat up the rest of the ramen ingredients that were designed to be dipped into it – all of which were served fridge-cold. Plus, the broth tasted artificially thick, cloying, and overly sweet and salty. There are many other good reasons to go to the TonTon Club (the ramen burger is fun, as are the arcade games), but the dipping ramen isn't one of them.
This post was first published on Amsterdam Foodie.
Every month we feature a blog post from one of our favourite bloggers. Interested? See if your blog meets the criteria to be included on the site.
Thank you for donating to DutchNews.nl.
We could not provide the Dutch News service, and keep it free of charge, without the generous support of our readers. Your donations allow us to report on issues you tell us matter, and provide you with a summary of the most important Dutch news each day.
Make a donation