Five techie tools for getting to grips with Dutch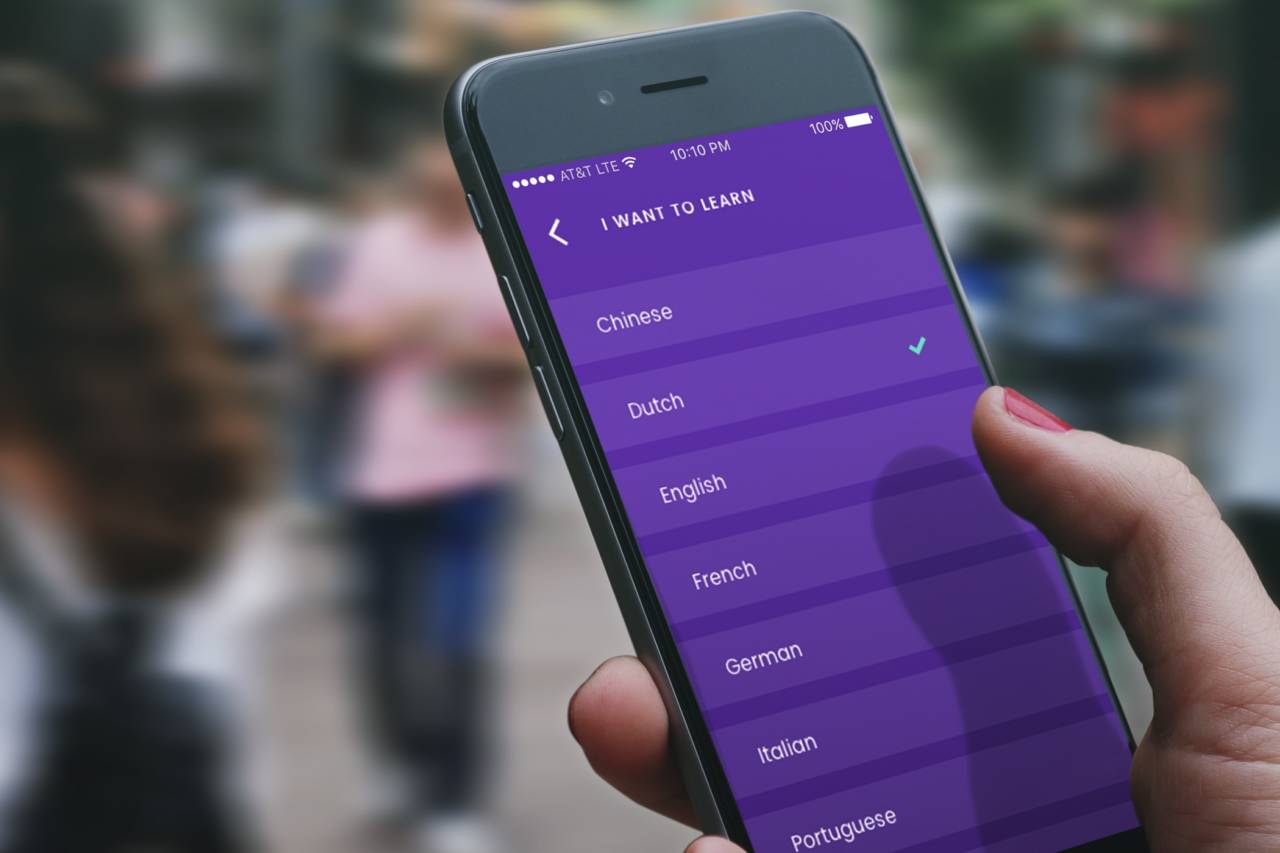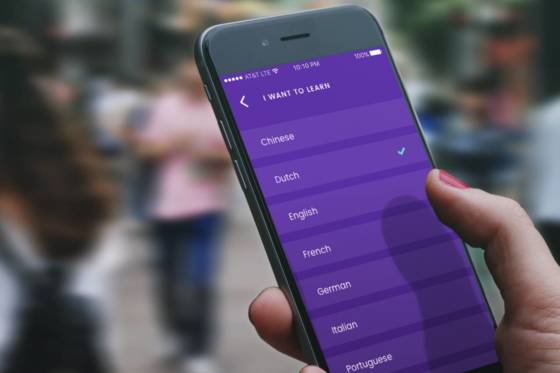 If learning Dutch was one of your New Year resolutions but you don't fancy going back to the classroom, help is at hand. Deborah Nicholls-Lee reports on the latest technological tools designed to help you get to grips with a new language.
The language exchange app
Due for release in early 2018, the Ananas app (pictured above) lets users find affordable help with Dutch while earning some extra cash themselves.
Founder Gezi Fu, a perennial expat who has lived in five different continents and a former student of the University of Amsterdam, saw the need for a tool to help foreign students improve their Dutch and make new friends at the same time. Social isolation is a serious problem on campus, Fu told DutchNews.nl. 'I am trying to create more diversity.'
The app, its founder claims, is more efficient than a real-life language exchange as you can pre-select who you talk to by screening profiles according to the languages they speak, their hobbies, age and sex. The GPS function also identifies language partners who are closest to you and most likely to be up for quickly proofreading your essay during a lunch break, for example, or doing some friendly conversation practice over coffee.
'We want them to learn languages in the most organic way,' explains Fu. With the app, learning Dutch fits in with what you already like doing and have time for, and vocabulary is built in meaningful contexts.
If you sign up as a PRO user, you also have the option of charging for your time and offering lessons. Learners can search for teachers according to what they can afford. A professional teacher might cost €40 an hour, while a fellow student on campus might charge just €10 for some informal speaking practice. 'It's the cheapest private lesson you can look for,' says Fu.
Ananas will be available on android and iOS. Users offering lessons pay a monthly subscription of €3.99. Learners join for free.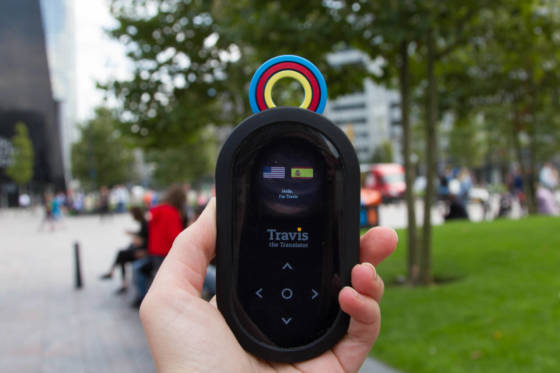 The handheld device
'No person should be misunderstood' is the mantra of Travis the Translator, the portable interpreter who fits in the palm of your hand. This brand new product, founded in 2016 in Rotterdam, has crowdfunded over $1.4m via Indiegogo, and has just begun the shipping phase.
Ideal for face-to-face conversations – and functioning online and offline – Travis's Quad Core processor means that there's just a two-second delay before it translates each utterance it hears.
The device is a combination of software and purpose-built hardware, and makes use of artificial intelligence to improve the more you use it. The built-in speakers and noise-cancelling microphone mean that Travis can be placed on a table or chair between users, allowing them to maintain eye contact and carry out a more natural conversation. Batteries last 12 hours.
Travis has partnered with refugee organisation Movement on the Ground to support conversations between aid workers and migrants. The Travis team see the product as part of a global mission 'to bridge language barriers, spark connection and contribute to positive social change.'
Prices start at around €200.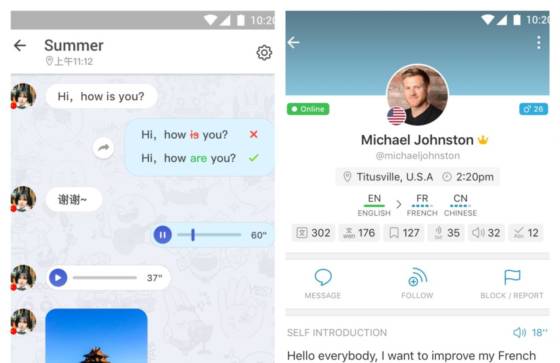 The social media network
Social media is a tool for learning language with HelloTalk. The clever app functions as a vast, virtual meeting space, linking you up with native speakers worldwide eager to help you learn their language.
With over 8 million users, there are plenty of friendly profiles to choose from and it is easy to search for like-minded learners in your neighbourhood or overseas.
More social than scholastic, the app focuses on making connections with others, sharing pictures, doodles, status updates and voice messages, while all the time improving your level in the language.
HelloTalk is full of handy functions. If you don't understand what someone says to you, for example, you can make use of the voice-to-text option, which creates text from speech. It also works the other way round: you can choose to hear texts you receive to learn the pronunciation of the words. You can also tap unfamiliar vocabulary to get an instant translation.
You can also play teacher, making corrections to each other's messages or, like a model student, create your own database of notes, such as grammar corrections, vocabulary or audio files. Even if you leave the Netherlands, you can keep up your Dutch with your new-found contacts.
Available on android and iOS. Free basic package. Subscriptions available for advanced features.
The magic headphones
Pixel Buds are Google's first Bluetooth headphones and, used in combination with the Google Translate app, offer a modern way to navigate Dutch language issues.
Working in tandem with the Google Translate app, the buds allow you to talk in one language and project another from your phone and vice-versa. It's a handy way to decipher simple sentences in Dutch and works particularly well if a conversation is set up between users who are both wearing the buds.
However, customers believing that inserting the little buds into their ears will work like Douglas Adams' famous babel fish, should know that reality hasn't yet caught up with science fiction, and the technology is – if we are to believe the lukewarm reviews – not quite there yet.
For many users, the microphone is not always responsive enough to hear conversation partners who are more than a breath's distance from the phone, the buds could do with a button to make them easier to operate, and background noise and longer utterances quickly cause confusion.
While the Google Translate app is free of charge, the Pixel Buds will set you back around €135 – and you'll need a Pixel 2 smartphone to operate them. You decide.
The Google Translate app is available on android and iOS.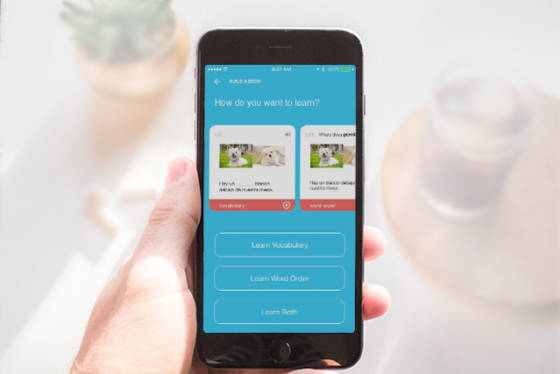 The brain hack
Opera singer Gabriel Wyner needed to learn multiple languages quickly to perform the most celebrated pieces in his profession. His search for a home-based system of immersive learning – and his discovery of some interesting neurological research on memory – led him to develop Fluent Forever, an app with an original approach to language learning.
Based on the premise that it is almost impossible to remember sounds you cannot clearly identify and reproduce, the app focuses first on pronunciation, forming neurological connections between words based on sounds and semantics. Using a system of testing followed by immediate feedback, the learner trains their ears, while also learning to read and write by matching the sounds to spelling patterns. This helps you to think in Dutch, meshing concepts, sounds and spellings together in your mind, rather than trying to memorise abstract translations with no trigger points.
'The ideal learning situation,' Wyner told DutchNews.nl, 'is where users are learning their target language while customising their study tools, so that they had a personal hand in creating everything they see repeated on future days.'
The resources created by each learner become available to other users as part of the Fluent Forever's 'universal language support' system. This is 'game changing' for minority languages, says Wyner. 'We're not just making a neat tool; we're creating something that's tremendously important and powerful.'
The Dutch version of Fluent Forever is expected to launch late 2018. Willing beta testers can get early access by signing up via the Indiegogo page.
Thank you for donating to DutchNews.nl.
We could not provide the Dutch News service, and keep it free of charge, without the generous support of our readers. Your donations allow us to report on issues you tell us matter, and provide you with a summary of the most important Dutch news each day.
Make a donation