'The red light district is one of the most beautiful parts of Amsterdam'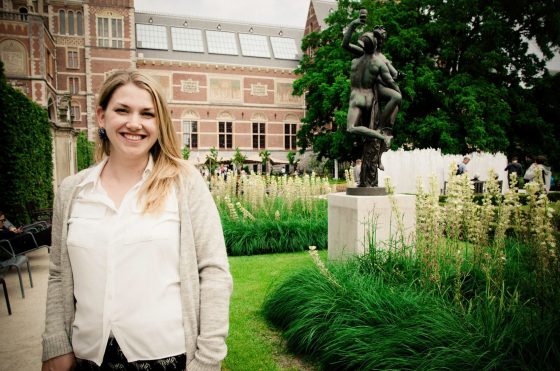 Travel blogger, museum guide and Dutch cheese addict Tea Gudek Šnajdar from Haarlem emigrated from Croatia in 2013 in search of adventure. At work or at play, there is nowhere she's rather be than at Amsterdam's Rijksmuseum, marvelling at the Golden Age masterpieces.
How did you end up in the Netherlands?
My husband and I wanted to go somewhere abroad, and we had this idea while we were both still studying to go somewhere outside Croatia and get an international experience. When we graduated, we said let's both look for jobs somewhere in Europe.
We actually knew very little about the Netherlands before we came, but then my husband got an interview, and then a job offer, and within a month, we were in Amsterdam! It was really fast.
How do you describe yourself – an expat, lovepat, immigrant, international etc
I would say a little bit of all of them. When I came here I saw myself more as a combination of lovepat and immigrant, but then, today, I think this image of myself has changed. In my job, I work with people from all around the world. I also travel a lot. So, I consider myself today more of an international.
How long do you plan to stay and why?
I'm not sure, to be honest. I love the Netherlands and now I consider it to be my other homeland, but I don't really see myself living in one place my whole life. Since I'm getting more and more location-independent in my job, I think that I will probably move somewhere else at some point. It's sort of harder because now there are not only two of us – now we have a son who is three, and who is really a little Dutchie. He loves it here and it would be a hard decision because of him.
Do you speak Dutch and how did you learn?
I can have a simple conversation in a restaurant or in a store or supermarket, but you know how it is, whenever I speak in Dutch, they really fix on my accent and then they speak in English. It's very nice and polite from people here but it's not helping with my Dutch.
I did one of these very fast courses where you can learn a lot in a short time. I did a first level course in Croatia. I also did it twice after I came to the Netherlands, but I never continued to level two. We are now going to hire a tutor to tutor us over Skype.
When we first came here, English was the first language I set to work on. I was talking to people in English, I started to work in English… But I think that it's now time to start to work more on my Dutch. My son is very good at it and the other day, he actually corrected my pronunciation of a word, and I thought, 'Our three-year-old is now correcting me!'
What's your favourite Dutch food and why?
I love their sweets, and especially apple pie. It's one of my favourite cakes – the way they make it with these large pieces of apple, I really love it.
Dutch cheese is also something that I'm a huge fan of. I'm always going to the local farmers' market. You know how they have these big stands where you can try some cheese and they also recommend nice cheese? I am always there – I love cheese. I even bought myself some of those special knives for cheese and so now we have also have them at home and we eat like pros!
How Dutch have you become and why?
I think that I have become Dutch on so many levels. I would say that my parenting style is very Dutch. I'm always taking my son around on a bicycle. Even when it's raining, there are rain suits and rain boots and you're good to go. We go out in the worst weather! I'm always trying to encourage him to be independent, to try to solve conflicts with other kids. This part of me is very influenced by the Dutch parents here.
Lunch here is very light, with only a sandwich or a salad, and then a big dinner at home. It was completely the other way around for me in Croatia. Lunch is the biggest meal for us. It was very hard to get used to it when we first came here because you'd go to the restaurant at 1 o'clock and expect to have first soup, and then sometimes meat, a side dish, and a salad, and so on. But then, the other day, I was preparing my lunch for the office and I realised that I had just taken a slice of bread and two slices of cheese … and I realised, oh yeah, I've become a bit Dutch here.
Which three Dutch people (dead or alive) would you most like to meet and why?
Jan Steen. He is one of my favourite Dutch painters – not only because he is one of the best of the 17th century, the Golden Age, but also because he includes so much humour in his paintings. There's a painting in the Rijksmuseum, where you have a couple who are so drunk that they are not aware that there are three men in the back who are robbing them. Or he shows family scenes where a lot of things are happening. It's so busy, but it's also messy: children are smoking, drinking wine. I think that we'd have a great laugh together.
Johanna Van Gogh-Bonger. She was the wife of Theo Van Gogh and the sister-in-law of Vincent Van Gogh. She was very important because while Vincent Van Gogh was painting he wasn't earning any money. He sold only one painting during his lifetime. He was always poor. His brother Theo sent him money each month. If you read the letters between them, and between Johanna and Vincent, you can read how supportive she was. After Vincent and Theo died, she is the person who inherited most of Vincent's paintings and she made him famous. If there wasn't her, we wouldn't know so much about him and he wouldn't be as famous as he is today.
This is quite an anonymous person, I think. There is this older man – I would say in his eighties – who lives in Haarlem, who is always dressed in such a traditional way, and each morning when I take my son to the day care, he is always so cheerful with his guitar, singing and playing these Dutch songs and saying hello to everyone on the street. He's quite a character, but I think that he would be a great person to talk with about the Netherlands and the life here and I would really like to have a cup of coffee with him. Maybe I should just approach him one day, huh?
What's your top tourist tip?
I always advise people to go to the red light district in the morning. It's world famous for the night life and the prostitution and it's very busy in the evening, but in the morning it's one of the most beautiful parts of the city. It's very quiet and it's also the oldest part of Amsterdam. You can really feel the Middle Ages over there.
The other thing is to spend one day outside Amsterdam and rent a bicycle and ride a bit in the countryside. Amsterdam is very popular, very nice, but I think that the rest of the Netherlands is also very beautiful and very different from Amsterdam. One of my favourite places is Texel island. I'm always advising people to go to Texel or to take a train ride to The Hague and explore The Hague a little bit.
Tell us something surprising you've found out about the Netherlands
When we first came to the Netherlands, I was surprised by the wind. I wasn't expecting this wind at all. But then, this explained all the windmills!
I'm also always surprised by the number of languages Dutch people usually speak. It's something I really admire. English is not considered to be a foreign language at all and even my neighbour, who is 70-something, speaks fluent English.
If you had just 24 hours left in the Netherlands, what would you do?
I would go first in the morning to the beach – probably Zandvoort, it's quite close. I love the beach and the sea here and I'm always amazed by this huge sandy beach and I love walking on it. It's so relaxing and so beautiful.
After the beach, I would go to the Rijksmuseum: it's my favourite place in Amsterdam. I would just walk through the Gallery of Honour and take a look at all the paintings over there. And then I would probably finish the day with apple pie and a koffie verkeerd in the museum restaurant.
I see the Netherlands as a country with a harsh climate and history, but also as a country of courageous people, who made of it one of the best countries in a world – and you can really feel it in these two places.
You can follow Tea's travels via her blog Culture Tourist or find out about her tours here.
Tea was talking to Deborah Nicholls-Lee.
Thank you for donating to DutchNews.nl.
We could not provide the Dutch News service, and keep it free of charge, without the generous support of our readers. Your donations allow us to report on issues you tell us matter, and provide you with a summary of the most important Dutch news each day.
Make a donation