September 23 is Burendag: here are six ways to get to know your neighbours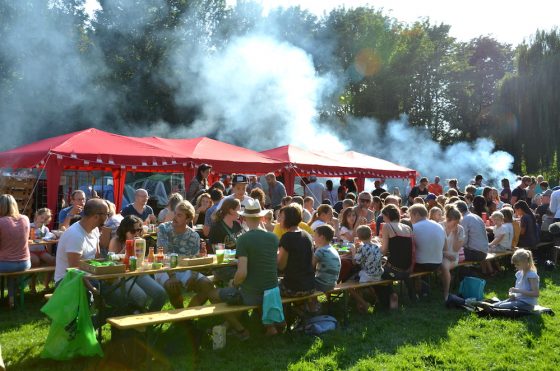 Neighbours needn't be strangers. Deborah Nicholls-Lee reports on six neighbourhood initiatives that are connecting local residents in the Netherlands.
How well do you know the people next door?  If you still haven't borrowed a cup of sugar, enjoyed a pavement borrel, or shared a moan about dog mess/bin days/noise, Burendag – Saturday, September 23 – is a great opportunity to meet your street, discuss the issues of the day, and lend a helping hand.
To mark this most gezellig of events, here are six other Dutch initiatives connecting local communities.
What if there was just canvas between you and your neighbours rather than bricks and mortar? De Buurtcamping helps neighbourhoods organise camping weekends in local parks across the Netherlands. This year it is celebrating its 5th anniversary.
For Annemiek Tigchelaar, the organisation's communications officer, the most special thing about the event is the coming together of diverse groups: 'Neighbours of all backgrounds, all ages – everybody can meet each other. In normal life people live in their own bubble and you don't really meet other people all the time, so it's good to be for one weekend all together and really talk to each other.'
'A lot of people say it's their only holiday,' says Annemiek, stressing the social dimension to the project. De Buurtcamping reserves a third of the places for low-income residents. These campers – mostly families – benefit from a subsidised rate for their three-day stay.
Local businesses are encouraged to get involved and do a good turn, such as provide breakfast for the campers or organise some entertainment. There is a festival atmosphere and a sense of community.'It's a small world in the bigger world,' says Annemiek.
Research undertaken by NextDoor revealed a frustrating paradox in our neighbourhoods. Most residents, they discovered, are willing to do more to help each other but are not sure what is needed or how to help, while a quarter of those polled said they could do with extra help from a neighbour but did not know who to ask or were too shy.
Co-founder and chief architect of the app, Prakash Janakiraman recognised a sad irony in the way we live today. Speaking at the Amazon Web Services summit in California earlier this year, he said: 'Despite having hundreds of Facebook fans and thousands of Twitter followers, I only knew two of my neighbours in my San Francisco neighbourhood.'
The NextDoor app is helping to resolve this by creating a private social network between neighbours. Founded in California in 2010 and currently used in 40% of Dutch neighbourhoods, the app enables residents to organise events, report lost and found property, share documents, sell or borrow goods, and report suspicious activity.
Feedback has been very positive with users reporting that they know many more people in the street and feel more involved in their local community. A real, more meaningful network has been created and it's much closer to home.
Bankjes Collectif organises the biggest open-air street borrels in the world, reconnecting residents by making the pavement an extension of the home. Participants simply register the bench or chairs outside their house as a meeting place and serve nibbles to their neighbours.
The directory of listed benches with their welcoming messages and open-armed calls to exhausted carers, the homeless, or just neighbours who like pancakes, makes a heart-warming read.
On October 1 there is special global open air café where masses of spaces will be opened up simultaneously. Make a gastronomic tour of your neighbourhood and meet some new people!
Mijnbuur is about people power, says Paul Meijer, who together with Erwin Kleinjan and Quirien Aretz founded the app in 2016. 'It's empowering people. It's bottom up and it's not top down.'
The new app, developed in association with the municipality, is a non-profit project which, say its founders – in a climate of government welfare cuts and devolved responsibility – recognises the important role of the neighbourhood in supporting its residents. 'You've got to get the community stronger again,' says Paul. 'This is a tool to get it stronger.'
For Quirien, the aim of the app is simple: 'To connect the neighbourhood together, to solve things together, to make things more social again, because we don't know each other anymore.'
Slicker than some existing social networks, Minjbuur lets you choose who in the neighbourhood you want to connect with and which conversations you want to join. Users are not disturbed with a barrage of irrelevant messages. Instead, they can choose which exchanges they take part in and come and go as they please. 'We want to connect people,' explains Erwin. 'If you want to connect them, you make sure they won't get annoyed and they will stay around to help you.'
The app includes an automatic translation function for foreign language users and a handy map of where people live. Profiles show people's skills so members know who to ask for advice. And if the community can't find a solution, the app has a clever function enabling you to hook up with your local police officer or with a representative from the municipality, smoothing the channels of communication between different agencies and saving valuable time.
'Everybody is a neighbour,' says Paul. 'If it's police or gemeente or the neighbour itself. We are all human and we have to be connected.'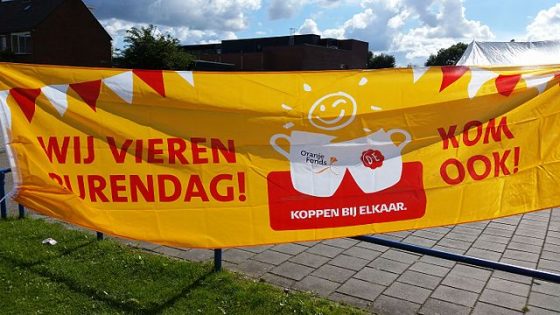 Behind all those closed doors in your local area, are people who love to cook, merrily chopping, peeling, braising and boiling – and those who don't or can't. Thuisafgehaald is a thoughtful food-sharing scheme which pairs cooking enthusiasts with hungry neighbours. Run in association with Stichting Doen, the scheme enables people to collect tasty food – usually for a small price – from their neighbours, promoting community cohesion and reducing food waste.
Founder Marieke Hart got the award-winning idea when the enticing cooking smells from her next- door neighbour's kitchen made her knock on the door and ask for a cheeky taste. With these first few mouthfuls, a new relationship began, and fed an idea for an innovative sharing platform.
Thuisafgehaald and its English-language counterpart Shareyourmeal are based on a belief in the power of sharing. 'There is a basic psychology behind sharing that is so counter-intuitive that we tend to forget it,' says founder Marieke Hart. 'It's actually quite simple: sharing makes you happy. The simple act of sharing can really brighten your day.' She gives the example of a Russian home cook with depression who found that the scheme helped to reduce her symptoms and her sense of isolation. 'For the first time in 13 years, she feels at home in the Netherlands, because she can now contribute to her environment and get to know people.'
Being a good neighbour is great for the environment, say Peerby, a free-of-charge, award-winning app that helps you share and borrow objects from your neighbours rather than fill up your home with items that you rarely use. Based on the sensible question 'Why buy if you can borrow for free?', Peerby seeks to release people from the First World problem of owning too much, which they see as a burden.
Crowd-funded in 2011 through One Planet Crowd.com, Peerby was financed within days, securing over 6 times the sum it sought, and breaking Dutch records for the speed and size of the investment.
'Sharing items is a serious alternative to buying,' they argue – and a great way to meet your neighbours too.
If you've always been curious about what goes on in refugee centres, some 20 around the country are also open on Saturday. Check out ww.openazc.nl for details
Thank you for donating to DutchNews.nl.
We could not provide the Dutch News service, and keep it free of charge, without the generous support of our readers. Your donations allow us to report on issues you tell us matter, and provide you with a summary of the most important Dutch news each day.
Make a donation