From pieta to pumpkin – 12 great things to do in October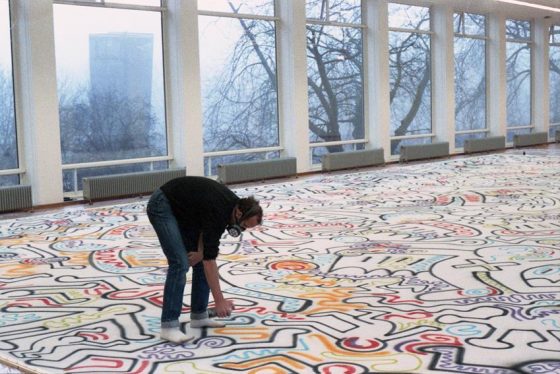 October is the time for Halloween pumpkins, Dutch Design Week in Eindhoven and the school half-term holidays. Hanneke Sanou has some suggestions of things to do.
Get to know Couperus – surtitled in English
For the third consecutive season, Ivo van Hove presents an adaptation of a novel by Louis Couperus (1863 – 1923). The Small Souls (De Boeken der Kleine Zielen), the story of a once prosperous The Hague family in decline, will premiere on October 8 in the Stadsschouwburg in Amsterdam. For tickets and other performance dates go to the website.
Look up at Haring at the Stedelijk
The Stedelijk Museum of modern art, also in the capital, welcomes back Keith Haring's 12 by 20 metre sun screen. Sprayed onto cloth some thirty years ago by the artist in a day long performance in situ, Haring's cartoony creatures needed restoring. Haring's 'velum' will be back shielding the museum's former entrance staircase from October 12. Website
Raise an eyebrow with 007
On October 13 the Eye film museum becomes the Eyebrow for a day: Roger Moore would have been 90 on the 14th had he lived and to honour his memory the Dutch James Bond Society is screening The Spy Who Loved Me from 1977, apparently one of the actor's own favourites.007 has no trouble thwarting the evil psychopath trying to start a new civilisation under water and evades the metal dentures of homocidal maniac Jaws using only his irony! What a hero. Tickets can be bought on the website.
Catch a 'relevant' movie
The offerings at the Amsterdam edition of the Lift-off film festival are once again at the forefront of new and exciting independent cinema from around the world. Catch some documentaries, shorts and feature films that don't rot the brain. October 4 to October 7. Website
Gaze at a Pieta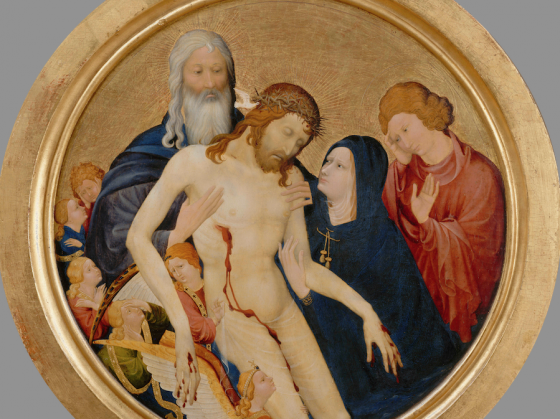 The Rijksmuseum has managed to prise from the Louvre's reluctant curators' hands the most celebrated work by Dutch painter to the duchy of Burgundy Johan Maelwael (Nijmegen, 1370 – Dijon 1415). Few of Maelwael's works (his name translates as 'he who paints well') remain but here is a chance to see 'De grote ronde Pieta' (large round Pieta), which very rarely travels, surrounded by 50 works by other artists from the period. From October 6. Website
Educate your child in Maastricht
Is your child complaining about having to do some household chore? Take the little  brat to the Centre Céramique in Maastricht where there is an exhibition about child labour in the glass and ceramics industry in 19th century Maastricht. The ceramics sold far and wide but workers were exploited and their lives shortened by lead poisoning. Children as young as nine worked night shifts under dreadful circumstances. Photograph that on your iPhone, Tristram. Verloren Jeugd (Lost Youth) is on from  September 10 and is part of a wider manifestation about child labour then and now. Website
Brush up on your Dutch history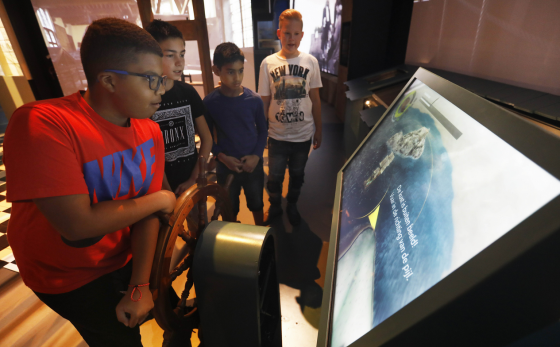 The Openluchtmuseum in Arnhem opens its exhibition 'Canon van Nederland' with a not very loud bang: children up to 14 get in for free (but you'll need to order the tickets online). The exhibition brings to life in glorious interactive technicolour the glories and ignominies of Dutch history according to the new canon, a series of landmark events and people from the stone age to the present. October 23 Website
Send your sprog to Cinekid
The autumn holidays are approaching again and what better to do with your sprogs then take them to a Cinekid film while you snore. Except you won't because the festival has great films that adults will enjoy as well. And activities but to those adults are not invited. The films are on in cinemas across the country from October 14 to October 27 and from October 21 to October 27 in the Westergasfabriek in Amsterdam. Website
And, by the way, Cinekid is looking for English speaking children willing to listen and give the thumbs up or down to directors pitching their projects.
Discover Dutch Design
Dutch design in all its variation –  food design, industrial design, product design, textile & fashion design and a whole raft of other designy design categories, will be on show during the Dutch Design Week at Eindhoven. Personally, DutchNews would make room in its cutlery drawer for these. Just hold the peas. From October 21 to October 29. Website
Get out the creepy pumpkins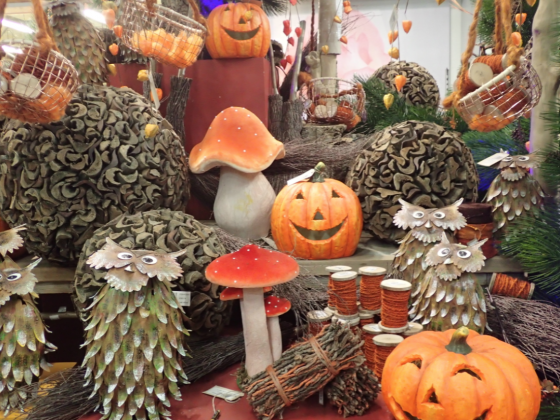 October is Halloween month and scary clowns will jump you at every corner so carry a handy stick to beat them off. If you are up for this kind of thing you can come to any of the Amsterdam events listed here and have the daylights scared out of you. There are plenty of semi-scary events for children as well. October 28. Of course the effects may be with you much much longer.
Collect something, anything
Finders Keepers is the very aptly named exhibition of collections of, well, stuff, from carpenter's pencils and roof tiles to staircases, dip pens (there are 867) and bottle tops. Why and what do people collect? Where do you keep a collection of staircases is what DutchNews would like to know. Come and marvel at the Nieuwe Instituut in Rotterdam. Until February 11. Website
Go contemporary
The Dag in de Branding music festival features 21st century composers and organises concerts on four days of the year in different locations around The Hague. Here is where you hear the latest developments in contemporary classical music, jazz and pop, opera and electronic music. This year the piano has been given pride of place.  October 14. Website
Thank you for donating to DutchNews.nl.
We could not provide the Dutch News service, and keep it free of charge, without the generous support of our readers. Your donations allow us to report on issues you tell us matter, and provide you with a summary of the most important Dutch news each day.
Make a donation