Despite economic growth, the next cabinet should avoid a spending spree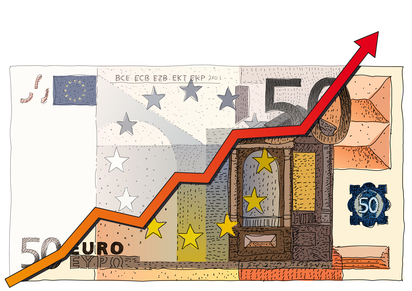 The Dutch economy may be on the up – with growth set to hit 3.3% this year – but the next Dutch government should not be planning a spending spree, say economists Rick van der Ploeg and Willem Vermeend.
The latest macro-economic figures from national statistics office CBS and independent research institute CPB show that the Dutch economy is doing well and all the signs are right for an even brighter future ahead.
The political opponents of Mark Rutte's cabinet claim that this is largely the result of an international upturn and that the VVD-Labour coalition policies have been detrimental rather than positive.
But although it is true that world trade developments, the low euro rate and depressed oil prices have helped Rutte, economists as well as international think tanks believe his policies have been instrumental in getting the country back on top.
Bad way
When the cabinet started out in 2012, the Netherlands was in a bad way. The economy was shrinking, unemployment was up, purchasing power was down, the deficit was around 4% and government debt was growing.
Now, almost five years later, the Netherlands is grouped with the best performing countries in Europe. According to the CPB, growth for this year will be 3.3% and will be an estimated 2% in the years between 2018 and 2021.
Unemployment will fall to 4.3% and some 100,000 new jobs will be created, giving a healthy boost to the treasury. If there is no change in policy the budget surplus (EMU balance) will go up from 0.6% of GDP to 1.6% come the elections in 2021, resulting in a surplus of €13.5bn. Government debt will also fall to 45% of GDP, far below the EU maximum of 60%.
Don't fritter away the surplus
That is excellent news for the formation negotiators, and the other parties are also preparing budget day perks paid for by the surplus, such as tax cuts, and making health insurance cheaper.
The latter won't stand much of a chance because, in spite of various cut backs, health costs will continue to rise (up €2bn by 2021), mainly because of better quality care and an ageing population. That means higher premiums and parties who promised cheaper care will have some explaining to do to their voters.
Political parties eager to make good on their electoral promises are all eying the 2021 surplus. But it needs to be said that this is only an estimate and that stagnating growth could make it all go away. With Brexit in the pipeline, that is a distinct possibility. It would not be wise to start spending now what may not materialise in future.  On the contrary, a financial buffer would be very welcome in case of disappointing results.
Sustainability
And there's another financial criterion the politicians should consider. It's the so-called sustainability balance, beloved of chief negotiator Gerrit Zalm. It predicts whether or not the present level of government spending on public services can be maintained in the long run without incurring a budget deficit or higher government debt.
Some political parties reject this norm because it puts the breaks on extra government spending: if it were to be applied only €1.7bn would be left for extra spending.
New spending can also be financed from cut backs on existing public service spending. But that would not be the politicians' first choice. Curbing the cost of running the civil service did make it on to the list of possible cut backs and would help. But this was was also in the plans in 2012 but, according to the latest data, nothing was done to achieve it.
A small tax cut
Although the positive figures may provide some grease for the rusty formation wheels, there are plenty of other matters that may slow the process down, such as extra money for defence, education, businesses and infrastructure as well as lower taxes.
We can be certain that healthy state finances are not going to lead to substantial extra government spending, without cut backs elsewhere. Rutte's third cabinet will, however, start with a tax break. But based on the most recent figures, the political wish lists of the parties and the need for a financial buffer, it will probably be a modest €2bn to 3bn.
This column first appeared in the Telegraaf
Thank you for donating to DutchNews.nl.
We could not provide the Dutch News service, and keep it free of charge, without the generous support of our readers. Your donations allow us to report on issues you tell us matter, and provide you with a summary of the most important Dutch news each day.
Make a donation