Going Dutch: Bus stop, wet day? Please share my green taxi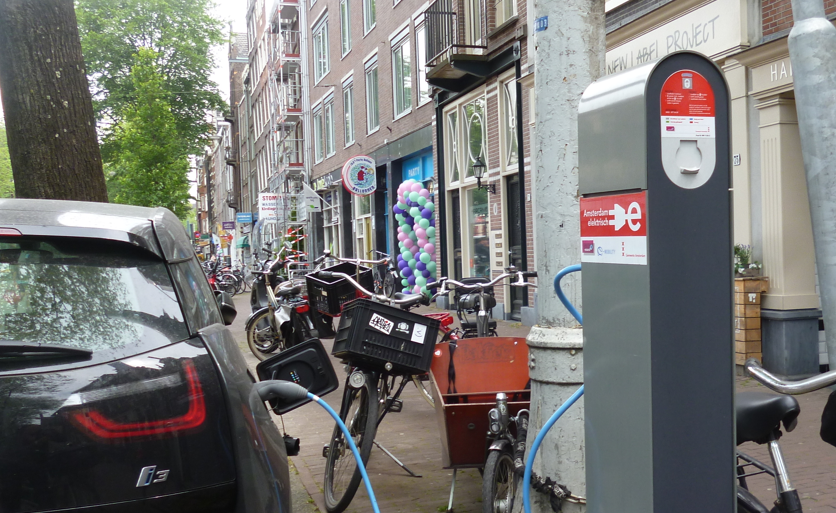 Electric charging stations may be a more common sight in Dutch cities and car parks, but smart shared transport services are helping the Netherlands reduce empty buses and polluted skies, reports Senay Boztas
On his weekend trip to see his parents, and their washing machine, Jason David no longer has to wait for a bus if there's no chance of a lift. The 21-year-old, who is studying in Breda but whose folks live in Arnhem, can simply use the Breng Flex app to order an eco-friendly minibus from the train station.
He is one of a growing group of people in Arnhem and Nijmegen, young and old, to enjoy the 'flexibility, comfort and personal service' of a new type of public transport.
Public transport company Connexxion has had such success with a four-month trial of Breng Flex replacement buses that they are going to be a permanent fixture of this region and beyond.
With a fleet of 10 minibuses running on green gas, made from biomass, and eight Hyundai IONIQ Electric cars, around 175 people a day are currently using an app or phone call to book a journey between bus stops for a set fee of €3.50. The service runs from 6.30am on weekdays – slightly later on weekends – until midnight, and people with wheelchairs, mobility aids, and work kit pile in and share a ride.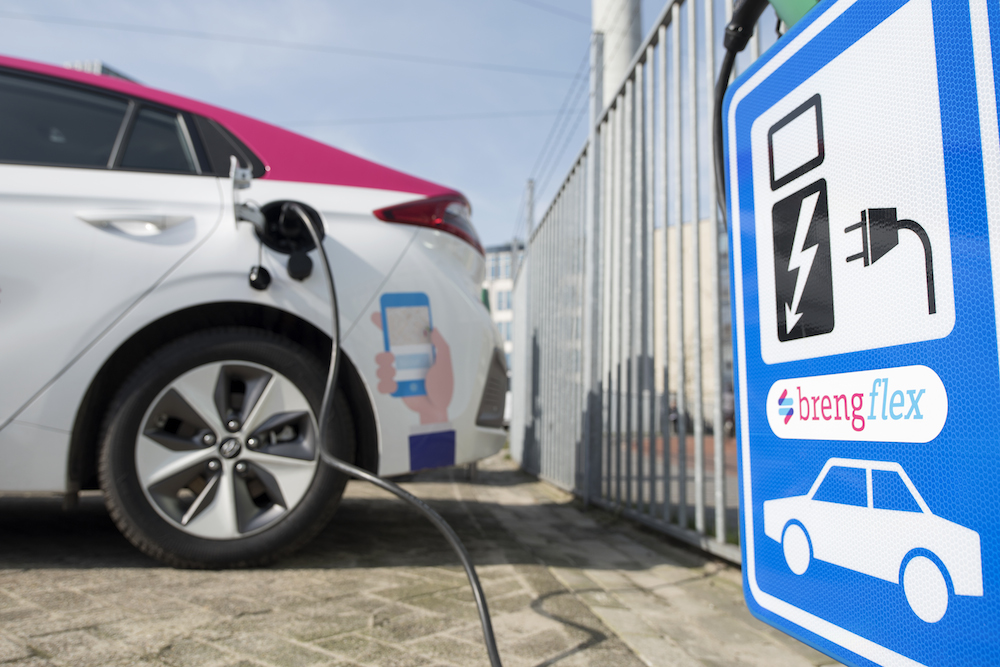 Expansion
'This isn't a trial any more: we are talking with various governmental regions about expansion,' says Daan Stevens, spokesman for Connexxion public transport. 'In all regions of the Netherlands, and throughout the world, there is the same problem: public transport always requires public subsidies, and these are looked upon critically. In some areas, we have almost empty buses. But thanks to technical innovations it is now possible to use another concept to make public transport efficient, with a better service.'
Thanks to fully-automated technology, rides can be combined in real time, while the fixed bus service is cut back to an hourly service in some places – and Stevens can even foresee on-demand vehicles taking over entirely from scheduled buses in remote areas and adding capacity elsewhere too.
'Arnhem-Nijmegen has the greenest public transport in the Netherlands, with the lowest greenhouse gas emissions per trip,' he adds, 'so it was important to be environmentally friendly. Our aim is to go all electric, and we are also trialling charging up our vehicles with kinetic energy from the region's trolleybuses, stored in a special pole.'
Taxis
The technology for this new form of public transport was first used by Abel, an Amsterdam-based shared commercial taxi firm, fully-owned by Connexxion. Rob Everhardt, strategy and IT manager, created a business plan for a shared taxi service based on smart technology in 2015 while doing a project for Connexxion.
Abel launched in 2016 and on a busy day does between 400 and 500 rides with its 50 vehicles, charging less if you are more flexible with your timing and willing to share: so, for instance, a flexible trip from Schiphol airport to Leidseplein would cost €19.95 instead of €28 for uberX or €37.50 for a normal taxi, says Everhardt.
'You could argue that from an operational point of view sharing vehicles and being electric are not really related but in the perception of our customers, they are: people who are willing to share a vehicle are also very interested in the service's environmental footprint,' he says.
Emissions
These services, inspired by the kind of shared vehicles you might see in India, fit into the Netherlands' drive for greener transport to cut greenhouse gas emissions – which makes most sense for shorter journeys in public or shared transport since electric vehicles typically need charging every 160km.
According to the RVO Netherlands Enterprise Agency, there were 117,502 electric vehicles on the Dutch roads at the end of April 2017 (154,986 including mopeds), and the government aims for a million by 2025. Despite the removal of a tax break for hybrid company cars in 2017, demand does not seem to have suffered.
Although five years ago there were more charging points than electric cars in the Netherlands, and there are now about 28,000 public ones, a recent report by environmental consultancy Over Morgen suggests that many areas do not have enough to meet potential demand.
Petrol and diesel
In Amsterdam – which alongside Rotterdam and Den Haag does have plenty of charging points – electric vehicles are intrinsic to the municipality's transport vision, particularly for taxis. All taxi firms have signed a 'clean taxis covenant', electric taxis currently have priority at the main railway station and from 2018 only green taxis will be allowed there. Meanwhile, the Dutch government has taken steps towards banning new petrol and diesel cars from sale, from 2025 and Shell anticipates that half of Dutch vehicles will be electric by then.
But there are some issues.  Kristof Vereenooghe, chief executive of the Dutch charging point company EV-Box, believes that although there is a 'momentum that cannot be stopped' around electric vehicles, the government made the 'wrong decision' to remove the tax break on plug-in hybrids from 2017.
Abel's Everhardt adds that slow charging times still make electric travel less efficient. 'Charging times are probably too annoying for longer-distance [travel]: if that technological barrier is removed and government support remains, then I foresee a glorious future,' he says.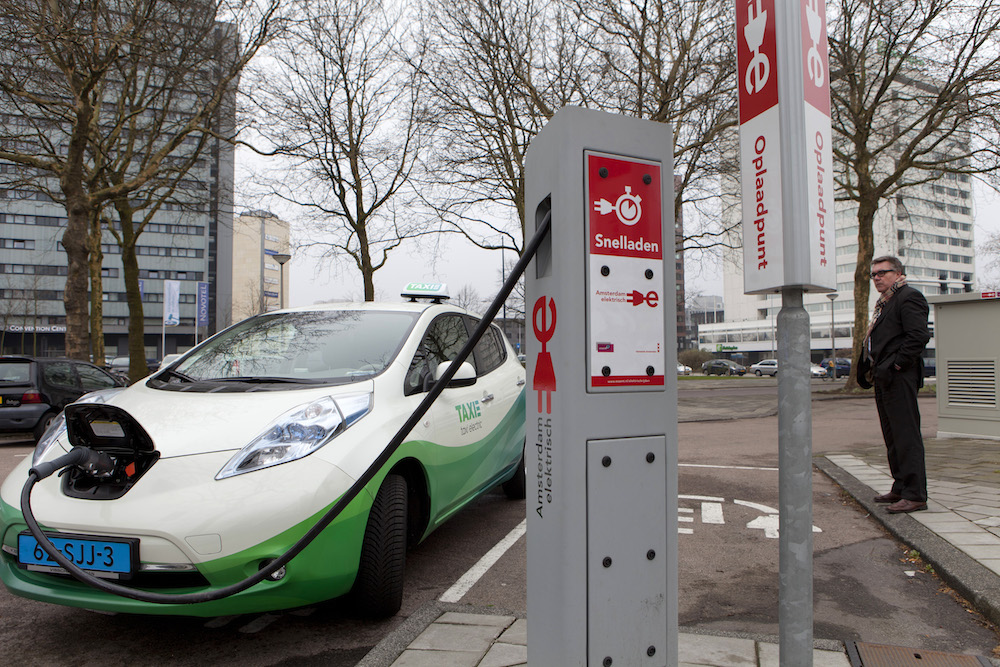 Greener shared transport won't solve The Netherlands' obligation to cut greenhouse gas emissions, and campaigners such as Anne Knol from Mileudefensie believe the government 'is totally off course to reach Paris climate targets in the mobility sector' and should do far more to encourage emissions-free movement, particularly in public transport procurement.
Electric transport
But others like Vereenooghe believe the Dutch openness to innovation and awareness of environmental issues mean this flat, densely-populated country could lead the world in electric transport.
Sure enough, says Connexxion's Stevens, it's not just North Holland, The Hague, Zeeland and Eindhoven that are interested in its shared green buses: visitors from Stockholm paid a visit to look into the technology last week, there's a trial running in Florida, and Sydney is also looking at implementing Breng Flex.
Diederik de Vries, a 21-year-old driver for Abel, adds that not everybody is delighted about sharing a ride, but that it can lead to some fun encounters. 'Clients really enjoy sitting in an electric car and for the whole city it's better – only, you can't really drive to France with an electric car.'
Thank you for donating to DutchNews.nl.
We could not provide the Dutch News service, and keep it free of charge, without the generous support of our readers. Your donations allow us to report on issues you tell us matter, and provide you with a summary of the most important Dutch news each day.
Make a donation