Amsterdam's first bicycle mayor discusses her first year in office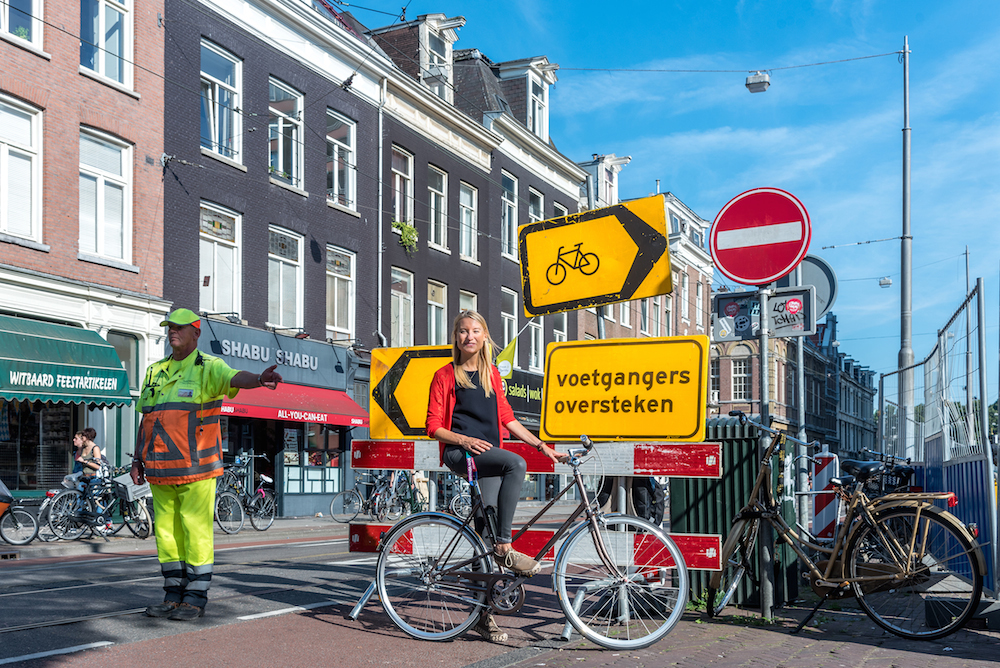 In June 2016, Anna Luten, the world's first bicycle mayor, was elected in the Netherlands to act as an ambassador for cycling in Amsterdam and help other cities develop a cycle culture. Deborah Nicholls-Lee met Anna to discuss the highs and lows of her first year in office.
There was a time when Anna Luten (29), a former brand manager in the bicycle industry and Amsterdam's first bicycle mayor, thought she might never bike again.
Seven years ago, hurtling through Noordwijk at 35kph in a road race, Anna collided with a pedestrian. 'In the end, I was really lucky,' she says. 'It was only my face…and when you're young, you recover quite quickly.'
This is typical of the positive outlook of this upbeat young woman, who lost several teeth, split her tongue and needed a total of 27 stitches. Just eight months later, she completed the gruelling Amstel Gold Race 'to make sure to overcome my fear.'
A global mission
In fact, falling out of love with biking equipped Anna perfectly for her first year as bicycle mayor, where she had to demonstrate the benefits of cycling to reluctant users all over the world who, unlike the Dutch, do not come from a biking culture. 'Now I just understand better why there can be a barrier for people to ride a bike,' she says.
Cyclespace, the NGO which initiated the bicycle mayor scheme, has an ambitious goal: that by 2030, 50% of all trips are made by bike, in every city in the world. The aim is to export Dutch expertise and inspire other countries to embrace this form of transport.
Currently based in New York, where she is helping the city develop its biking infrastructure, Anna admits to being 'flabbergasted' by the way things are organised there. 'Some things are brand new' – she loves the daily cyclists' weather forecast – 'And some things are really old-fashioned.' Indeed, her hardest task has been establishing a programme in cities with very diverse cultural backgrounds. 'Every city has a different system. It's difficult to compare one city with the other,' she explains.
Meeting international people with a different outlook has also reminded Anna of how special our cycling culture is here. Foreigners describe the flow of cyclists as 'something beautiful to see,' she says, 'like swans cycling through the city.' 'It opened my eyes talking to them, and now I'm surprised that more people can't see this.'
Accomplishments
The anniversary of Anna's first year as bicycle mayor coincides with two key cycling symposia. Velo-City , the largest cycling conference in the world, will be held in Arnhem and Nijmegen from June 13-16, and is preceded by the Bicycle Mayor Summit,  which takes place on June 10-11 in Amsterdam.
Anna considers the summit to be one of the highlights of her tenure. On this weekend, Anna and the newly-elected bicycle mayors from Australia, Brazil, India and Mexico will come together for the first time. 'Getting more bicycle mayors than just me was one of the biggest goals of the programme…and to create a global community of bicycle mayors to have a network where you can share knowledge.'
The inclusivenes of the programme is also an important achievement. Four of the six mayors are women, and most have children. Anna is keen to broaden the demographic, engaging mayors of all backgrounds and ethnicities. The message is clear: 'Riding a bike is something that everyone can do. And it's something that everyone should try at least, because it's fun and it's easy and it gives you this sense of freedom.'
Anna is also proud of the hackathons (an intensive exchange of ideas for solving specific problems) which she has organised. These have included plans to investigate a 'flexible road' which alters its bike lane and car traffic capacity according to the time of day.
Surprises
I press Anna on the challenges of her first year on the job and it proves hard to get an answer from someone who does the (currently unpaid) job with such cheerfulness and good will. 'I'm always thinking of the positive things,' she explains, and there is silence for a while as she reflects.
Finally, she acknowledges that the first few weeks in post were a shock to her. 'It went like a rollercoaster. The press was going after me. And I was like, 'What's happening?' I really had to find my own way.'
The project was started from scratch and the learning curve for all involved was steep. 'Suddenly, I was the bicycle mayor and people found me by different channels and they were coming to me with a lot of different questions…I advised them in the best way I could or I put them in contact with others. In this last year, I've gained a lot of knowledge.'
Anna was also surprised to see how many organisations had similar goals but were working in isolation. She saw that the mayor had a role in bringing these groups together. 'I just thought, if you guys are doing this and the others are doing that, why aren't you just cooperating with each other? Because that would be more efficient and probably more innovative.'
A foundation for the future
Mediator, spokesperson, innovator – Anna's role has been vast. The blonde girl on a bike has become an appealing icon of the charm and freedom of our successful cycling culture here, which other countries are keen to import.
But Anna is preparing to dismount, and another mayor will soon take her place. She has laid a strong foundation for her successor. 'I set the plan and it's built now,' she says with pride.
If you think you have what it takes to be the next mayor, Cyclespace will begin interviewing in the autumn.
Thank you for donating to DutchNews.nl.
We could not provide the Dutch News service, and keep it free of charge, without the generous support of our readers. Your donations allow us to report on issues you tell us matter, and provide you with a summary of the most important Dutch news each day.
Make a donation