'Invest in a museum card and see as many museums as you can'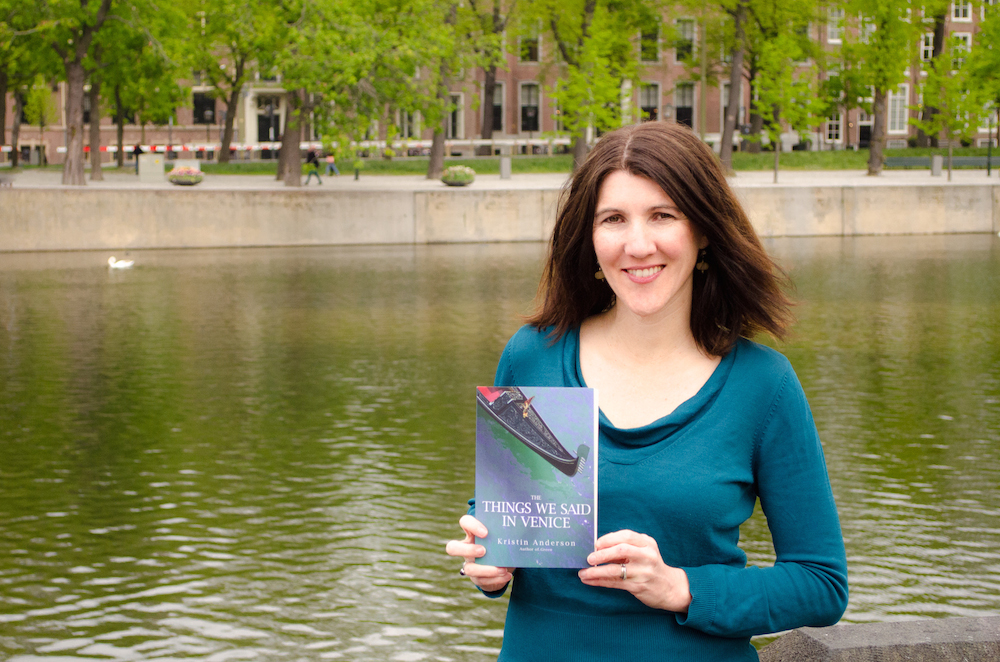 Kristin Anderson is a American novelist and her second book has a Dutch travel writer in the lead role. A stroopwafel fan, she would warn tourists not to eat space cake and would like to meet television naturalist Freek Vonk, who recently got chomped on by a shark.

How did you end up in the Netherlands?
I fell in love with a Dutch man of course. We met at a wedding in Santa Barbara, California where I lived at the time. He was the best man for his Dutch friend and I was the maid of honor for my friend. After his two week stay in the US, we fell for each other and had a long distance relationship, traveling back and forth. Nine months later I quit my job and moved to the Netherlands to live with him. After one year together in Amsterdam, we moved to the U.S. and lived there together for six years before moving back to the Netherlands in 2011 to pursue work opportunities. In 2013 my husband started a masters' program in theology.
How do you describe yourself – an expat, lovepat, immigrant, international etc?
After six years in the Netherlands, I am half expat, half immigrant, as I identify with both cultures. Although I wrote professionally for others for years, it wasn't until moved to the Netherlands that I dedicated time to my fiction.
How long do you plan to stay?
My husband, son and I dream of moving back to the United States, but that dream is constantly shifting. I love living in Western Europe. I have expanded not only my sense of identity but I have also become used to multicultural living. The US has a lot to offer, and California is a wonderful place to live. However, when Trump became president, our desire to move back to the United States diminished. My husband is also finishing his masters and will soon be a Dutch protestant minister. Our future locale will be determined by the position he finds. Who knows: We may end up in Curacao or Maastricht!
Do you speak Dutch and how did you learn?
Ik spreek Nederlands! I took a beginner's course in that long-ago year of love when I moved to Amsterdam to be with my then Dutch boyfriend. When we returned to the Netherlands in 2011, I took another course, but I have learned most of my Dutch language skills on the fly, at my workplace and through communicating with others. Many consider me fluent until we start talking at a more in-depth level. I was never asked to take an inburgering course.
What's your favourite Dutch food?
Rijsttafel. I realise this is Indonesian food, but to be honest, I don't care for the heavier Dutch foods, and many Dutch consider Indonesian 'rice table' as an integral part of Dutch gastronomic history. I do love stroopwafels as well.
How Dutch have you become?
I have become more direct in my communication, and I have developed a more international perspective that is hard to come by when you live in one, large country. Dutch culture has also infiltrated my writing. In my second novel, The Things We Said in Venice, I created a Dutch travel writer as the male lead character and although this novel is set primarily in Venice, the last third of the story takes place in Amsterdam, The Hague and one other locale. I wrote some of the Dutch conversations in the book, but had native speakers polish them into native Dutch-speak.
Which three Dutch people (dead or alive) would you most like to meet ?
Freek Vonk (television naturalist). He's awesome and wild and if I could bring my son along to meet him, I would score some major mom points.
Arjen Lubach (satirical tv show presenter), because he is witty, intelligent and informed.
Saskia Noort (novelist). She's a talented writer and I can read her novels in Dutch. Some of her novels are too gruesome for me, but I really liked Terug naar de kust (Back to the coast) and I still think about the characters even though I read the book a few years ago. I like how she incorporates the Dutch landscape and locations in her novels.
What's your top tourist tip?
1. Don't eat the space cake and then expect everything to be okay. My husband worked for some time after university as a night receptionist in a hotel in Amsterdam. A recurring theme was young visitors from around the world who had eaten space cake and then thought that they were going to die, going absolutely crazy.
2. Invest in a Museum card and see as many museums as you can while here. It's worth the investment and you will see much more than Van Gogh and Mondriaan.
Tell us something surprising you've found out about the Netherlands
The Netherlands is in the top three of the world's largest fruit and vegetable producers. That is hard to grasp, considering the entire land mass of the Netherlands fits at least 11 times into my home state of California.
If you had just 24 hours left in the Netherlands, what would you do?
Throw a big party at Culpeper strandtent in Scheveningen and invite all of the amazing people I have met here in the last six years to come celebrate my last 24 hours. We would dance, run over the beach, whether it was raining or not and dip our toes into the North Sea.
You can find out more about Kristin Anderson and her novels on blog and website
Thank you for donating to DutchNews.nl.
We could not provide the Dutch News service, and keep it free of charge, without the generous support of our readers. Your donations allow us to report on issues you tell us matter, and provide you with a summary of the most important Dutch news each day.
Make a donation