Pikachu, wookies and Seven of Nine take over Utrecht's convention centre
Five Pikachus buying samurai swords, Luigi flirting with Harley Quinn in the queue for coffee and Darth Maul and a wookie listening to a lecture about how salamander DNA could make real life X-men. James Field spent this weekend at a comics convention in Utrecht.
If you don't recognise any of these names and this seems like a surreal episode from the Big Bang Theory, then you're about to embark on a journey into the weird and wonderful world of cosplay. On the other hand, if this make perfect sense to you, then you either have a superhero outfit hanging in your closet, or you were at Dutch Comic Con this weekend.
Comic Cons—huge conventions originally based around comic book, science fiction and fantasy culture—have become big business around the world. This is Dutch Comic Con's third year. Almost 30,000 self-proclaimed geeks and fans of all ages converged on Utrecht, thousands coming in costume.
Taking the lead from US events like San Diego Comic-Con this once niche sub-culture has spread all over the world, and wherever it goes cosplay – or costume play – goes with it.
'People think it's sort of fetish stuff,' says Tapola, dressed in bright yellow body armour from head to toe. Like thousands of people at this year's event she spent weeks preparing her costume. 'I visit a lot of thrift stores; I do a lot by myself…I enjoy the whole process.'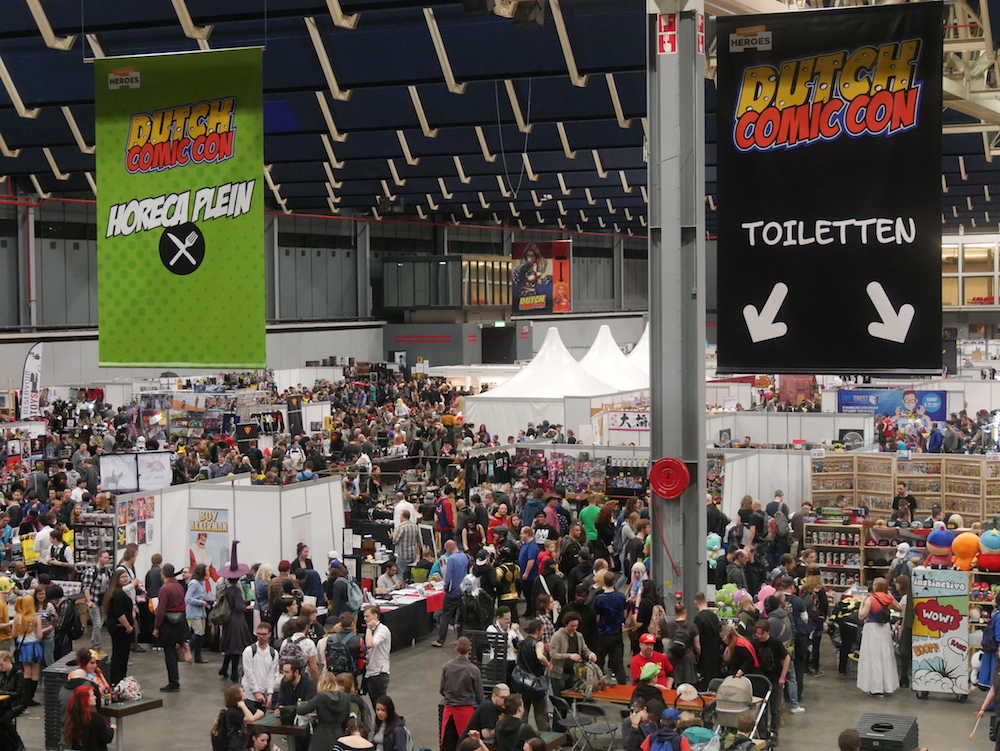 Favourite fiction
For the uninitiated, cosplay is a phenomenon which originated in Japan. It involves creating—or buying—a costume of your favourite fictional character and dressing up in it to attend events like Comic Con, or the even more niche elfia, which takes place toward the end of April in Utrecht.
Tapola believes Cosplay is a sadly misunderstood sub-culture, its members  frequently being mistaken for kinky fetishists. But Tapola believes it has a lot to offer. This is her second Comic Con and this year she also made costumes for her two kids. They all came as characters from the Disney movie Big Hero 6, 'I think cosplay is about differentiation, diversity. This is what I love about my children, they don't prejudge people if they see two men or two girls kissing. It doesn't matter if someone has blue hair or yellow, in cosplay you accept.'
Among the sea of Marvel superheroes and videogame characters you find many who echo these sentiments.
'I told my family what I did five years ago, they were like aaargh it's weird! and then now, because it's gotten so big, they think it's really cool and they wanna come,' says Lauren, a six-year cosplay veteran. This year she's come as 'Captain America' with her best friend Stine as 'The Winter Soldier'.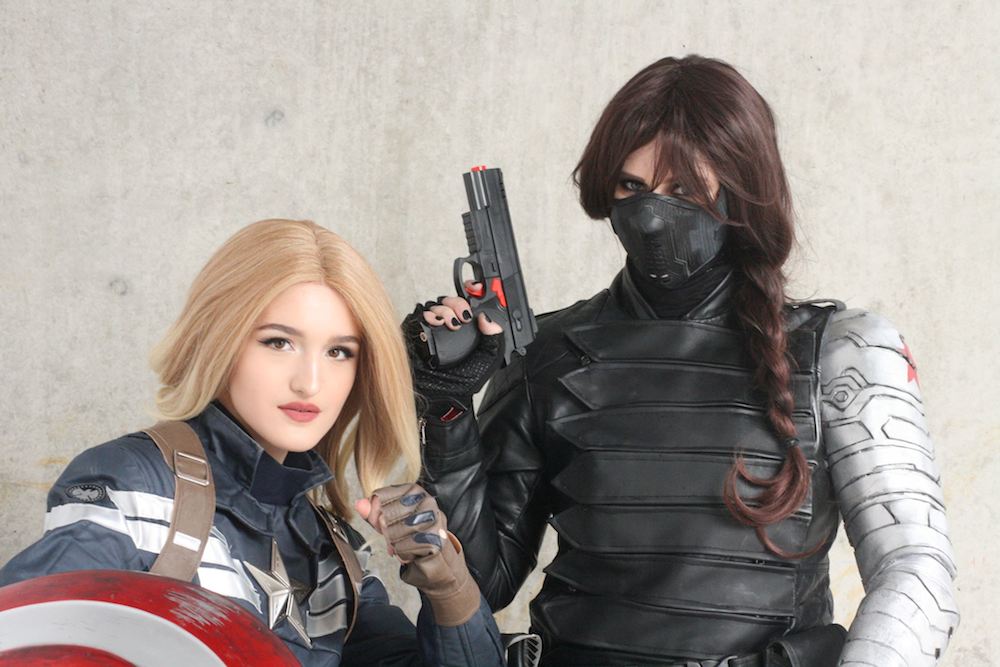 As more and more people attend these events, cosplaying has become not just a way for geek culture fanatics to express themselves but a well-honed art.
Lauren is a minor cosplay celebrity online, since a recent post on her tumblr blog went viral on social media, 'it was like 'hey I'm a girl captain America' and I guess they liked the posing,' she laughs.
Traffic jams
The continually growing awareness of cosplay is everything to do with the success of events like Dutch Comic Con. 'There were traffic jams in Utrecht yesterday, that was because of us' said Thijs van Tienan one of the event co-ordinators of Dutch Comic Con, with more than a hit of satisfaction.
This success has also enabled the event to draw more sponsors, special guests and contributors. This year's stands represented different cosplay societies, selling comics and geek culture merchandise from t-shirts and posters to swords and wands. Visitors could attend lectures ranging from writing work shops to genetic mutation. There was a section for makeup tutorials, a 3D printing zone and even a pop-up tattoo parlour. An entire hall was dedicated to different console demos and competitive gaming.
Of course it wouldn't be a comic con without the obligatory celebrity appearances, and Dutch Comic Con's increased revenue has allowed them to attract a diverse roster of actors, authors and artists. Some notable names include Lennie James of The Walking Dead fame, and Alexander Ludwig from the Hunger Games series.
To the dedicated geeks and participants in events like Dutch Comic Con, the inclusiveness of the cosplay sub-culture that has built up around the events is one of its defining features, but its growing popularity is not universally welcomed.
'When a new zeitgeist comes around everybody wants to join the bandwagon. I'm seeing a lot of models coming in as cosplayers. They're doing the attractive photo shoots, but everybody can see through it,' says Sam, another seasoned cosplayer who this year has gone for a 'genderbend' Storm from X-men. Playing with gender roles is another thing cosplay is known for.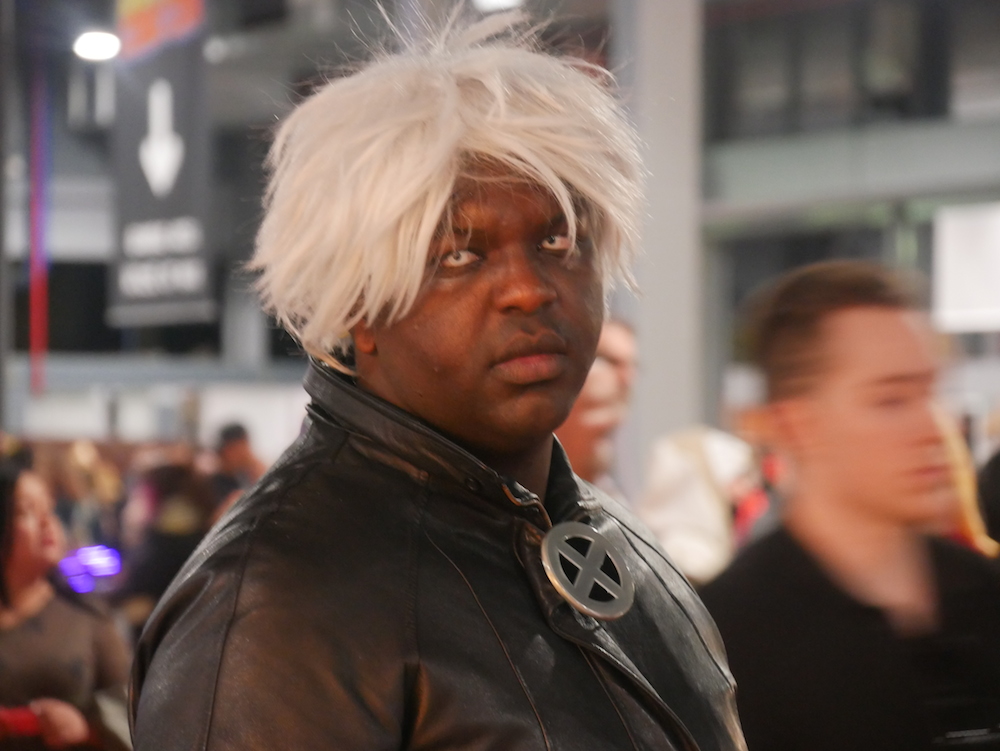 He agrees that in essence the culture is about being free to be yourself, but suggests some are perhaps not in it for the pure joy. 'The real cosplayers are hooked on being more creative or having fun, rather than people who are just coming here to look good,' he says.
Infiltration by models
However, this welcoming and accepting community has suffered slightly more worrying threats to its harmony than infiltrating models. The last few years has seen some controversies in the cosplay and comic con communities to do with sexual harassment.
Part of the fun for many cosplayers is dressing up in costumes that outside these select judgement free environments, would be at best considered somewhat strange and at worst wildly inappropriate. Outfits often leave little to the imagination and that has led to the unwanted attention of people interested in more than a photo with a scantily-clad woodland elf.
'Luckily we've never had any problems here, we have rules of behaviour', says event co-ordinators Thijs. 'It's a very tight community, so if anyone tried anything they would be in trouble.'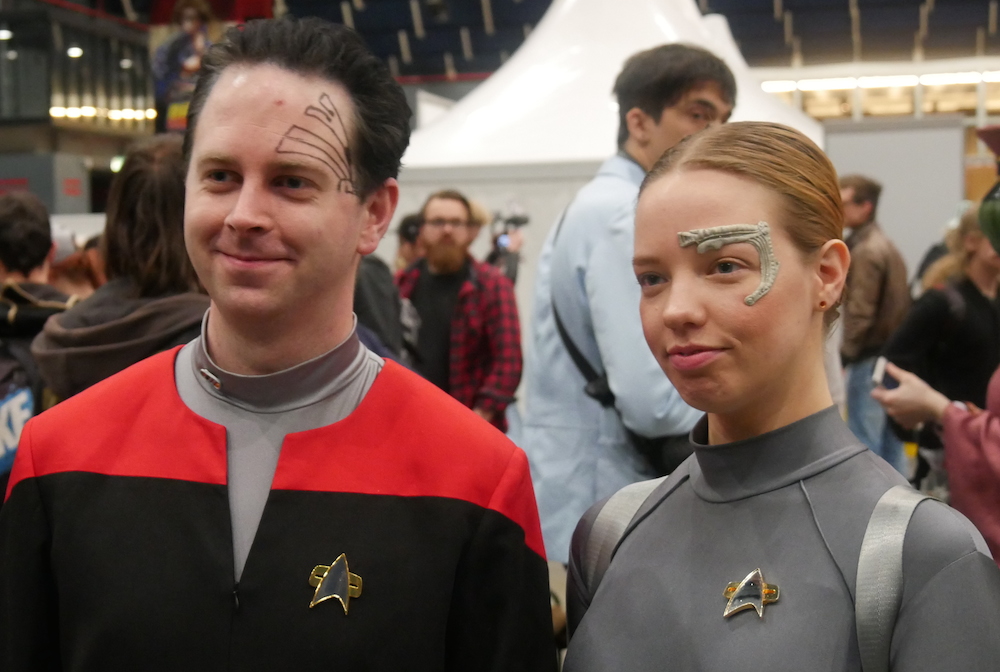 Jeroen and Maaika, a couple whose romance began in a Star Trek chatroom, attended this year's event together. Maaika—dressed as Star Trek character 'Seven of Nine' in a spandex body suit—was pleasantly surprised by the reception to her costume, 'I expected that because it's sexy cosplay people would be trying to touch me, but it's not at all the case, people are really good and respectful,' she says.
Despite all the zombies and aliens stalking the halls of Utrecht's Jaarbeurs Convention centre, perhaps the only real oddity of the weekend was the rambling half-hour monologue of guest star Dirk Benedict—known to those old enough as The A-Team's Lieutenant Templeton 'Faceman' Peck.
He delivered what appeared to be a completely unprepared speech from the convention's main stage. Nevertheless, even this bizarre performance provided one of the most enjoyable moments of the weekend – the wonderfully satisfying sight of a six foot Gandalf stroking his long grey beard in puzzlement, trying his upmost to decipher the incoherent stories of the A-team's 'Faceman'.
Thank you for donating to DutchNews.nl.
We could not provide the Dutch News service, and keep it free of charge, without the generous support of our readers. Your donations allow us to report on issues you tell us matter, and provide you with a summary of the most important Dutch news each day.
Make a donation