In 'Holland's most right-wing town,' nothing is black and white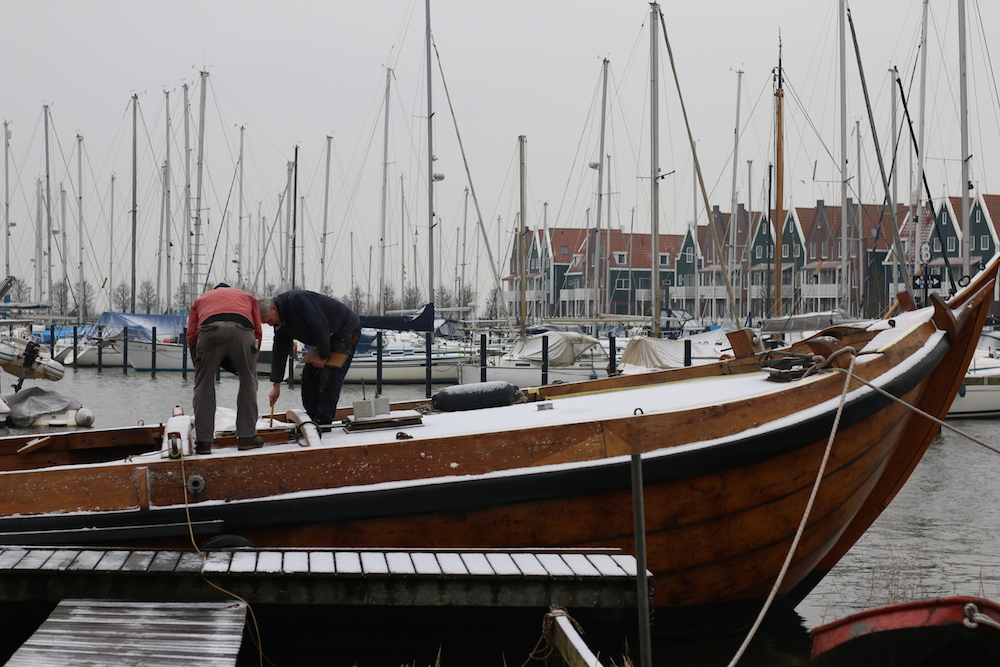 Nestled alongside a picturesque seafront just a few kilometers outside Amsterdam, Volendam draws tourists with its hammed-up depiction of the Netherlands of old; all fishing boats, clogs and cheese shops. But there's a new kind of gawker in town: the foreign journalist hungry for some homegrown Dutch xenophobia, as Graham Dockery reports.
Volendam has become known to the foreign press as a bastion of conservatism in an otherwise liberal country. Far-right populist Geert Wilders may have won 17% of the popular vote in the last election, but in Volendam one in two people voted for his party, the PVV.
With a general election approaching and Wilders topping polls, the eyes of the foreign press are naturally focused on the Netherlands. Following Brexit and the election of Trump, the wave of nationalism sweeping the western world could potentially break here next.
Smear Campaigns
Wim Keizer is angry at his town's portrayal in the media. 'They smear us!' he exclaims. 'We're friendly people, and foreigners have been coming here for 200 years, but because we say no to the EU and no to immigration, we're smeared as racists.'
82-years-old, Keizer is a retired local politician who now manages a museum in Volendam. Taking a break from preparing an upcoming exhibition, he holds court as a steady stream of locals drop by for a chat and coffee.
Keizer reckons that many of these visitors will vote PVV on March 15. Over his years in politics, Keizer has seen the town's eel-fishing industry decimated by EU regulations, while the political leanings of hard-done-by Volendamers swung to the right.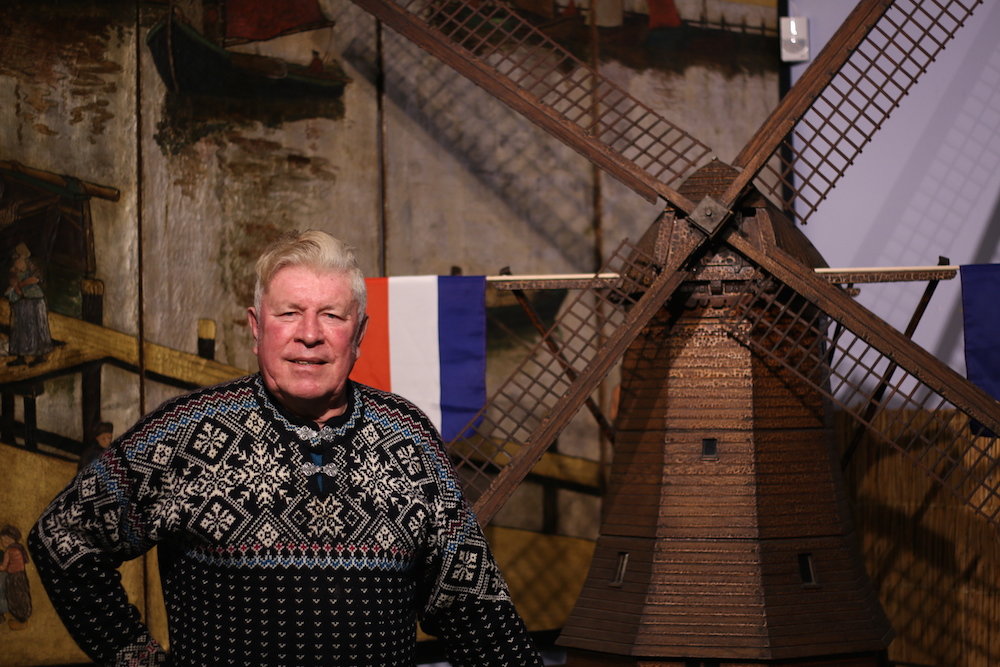 'Here people don't march on the street. They protest in the voting booth,' he says. 'They're angry at the establishment and Wilders is the only politician who listens to the people.'
Shades of grey
Walking south along the seafront, cafes and souvenir shops give way to warehouses and shipyards. In one of these yards, a crew of volunteers are busy restoring an old fishing boat to its former glory. Among the men, opinions on Wilders are mixed.
'Is Geert Wilders the devil or our savior? Probably somewhere in between' says Dirk Appel (61) with a laugh. Appel doesn't support Wilders' anti-EU rhetoric, but agrees with his hardline stance on immigration.
'He's been saying for 20 years that there's too many Muslims coming to the Netherlands and Europe, and I think he's right.' Recently, Wilders' anti-Islamic speech earned him a court appearance, where he was convicted of inciting discrimination against Moroccans.
However, Appel's stern demeanour breaks when he talks of Mohammed, a Syrian refugee who volunteers with the restoration crew. 'I don't think he's even from Syria,' he says with a chuckle, 'But he comes here to work every Wednesday, and I have no problem with that.'
Hard Working
Freek Sloot (57) ducks under an upturned boat to roll a cigarette, taking shelter from the freezing rain. He laughs when Wilders' name is mentioned. 'He's not my friend,' he says, shaking his head. 'Some people here want to close off the borders and keep everything to themselves. I think the world is for everybody.'
Nearby, Theo Van Geffen (46) works with an angle grinder, a shower of sparks bouncing off his jacket. After losing his job several months ago, Van Geffen now volunteers in the shipyard and teaches Dutch to refugees in Amsterdam.
'I doubt him,' he says of Wilders. 'I'm not satisfied with his ideas but Volendam has this issue [PVV support] because people here are hard workers. They expect the same from others and this isn't always the case.'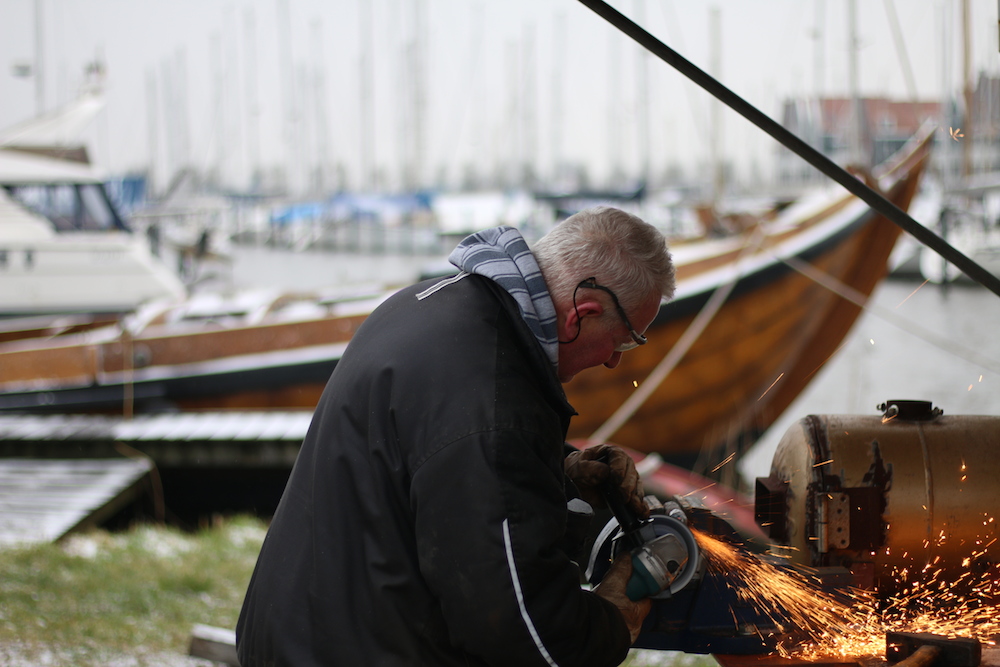 All the men in the yard are proud of their town's hardworking, blue-collar reputation. Some see refugees as getting an easy ticket in the Netherlands, and some see Brussels bureaucracy as holding back their ability to work efficiently.
But none see the PVV as offering a clear-cut solution, nor do they see the political landscape in Volendam as an isolated anomaly. 'This town is well known,' says Van Geffen, 'but there are towns and villages like this all over Holland.'
Integration
Wilmie Doornbos (60) has worked with refugees in Volendam and the surrounding countryside since the Yugoslav wars of the early 1990s. Then, like now, some locals were suspicious of the new arrivals in town.
'Volendam was always a closed village,' she says. 'Everyone who comes from outside is a stranger. But if you try to make contact with them, and you're persistent, you can have a good relationship with the locals. It's no different for refugees.'
Doornbos has a lot on her plate. While the amount of refugees coming to Volendam has fallen this year, her organization – Vluchtelingenwerk Nederland – always needs more volunteers. Together with Naira (36), an Armenian refugee, she prints out training material for new volunteers as she speaks.
Doornbos is idealistic. 'I have a problem with the PVV because they divide us. We need to live together and accept each other's differences, globally and locally,' she says.
However, she acknowledges that integration takes effort from both sides. She has encountered problems as some refugees struggle to adapt to Dutch values, particularly regarding the role of women in society.
But she has also seen some reward for her work. She has watched refugees settle into life and work in Volendam, becoming neighbours, friends, and colleagues of the locals. "They get contact with the neighbours, the children play on the football team, and they get to know each other," she says with pride.
Election uncertainty
Just as opinions on Wilders in Volendam are mixed, so too are predictions for next month's election.
'People are afraid that they're losing what they know, and Wilders is feeding that fear,' Doornbos says. 'A lot of people think the PVV will win, but if they see what's going on in America, I don't know if they will.'
Back on the docks, sail maker Frans Keizer (58) sees Dutch voters taking the election of Trump as an inspiration rather than a warning.
'Wilders talks a lot but doesn't do very much,' Keizer says, rolling his eyes. 'But there's a lot of fear here, and there's a lot of hidden voters. People won't say they'll vote for him, but they will.'
Dutch voters go to the polls on March 15. For more information, read DutchNews' election coverage here.
Thank you for donating to DutchNews.nl.
We could not provide the Dutch News service, and keep it free of charge, without the generous support of our readers. Your donations allow us to report on issues you tell us matter, and provide you with a summary of the most important Dutch news each day.
Make a donation