Doctor reprimanded for 'overstepping mark' during euthanasia on dementia patient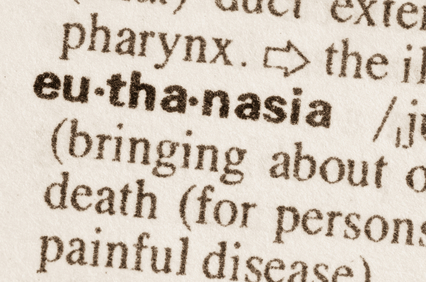 A Dutch doctor has been reprimanded for carrying out euthanasia on a patient with severe dementia but who could not make her wish to die clear.
It is the first time a doctor has been formally reprimanded for failing to ensure that euthanasia was carried out in line with the rules.
In addition, the doctor 'crossed a line' when not stopping the process when the patient 'reacted negatively' to being given an intravenous drip, the regional euthanasia assessment committee said in its review.
The case has now been handed over to the public prosecution department and health ministry inspectors who will assess whether the doctor should face criminal charges or other sanctions, Dutch media reported.
The case centres on a woman in her 70s, who was diagnosed with dementia four years ago. At the time she completed a living will, saying she did not want to go into a home and that she wished to die when she considered the time was right. After her condition deteriorated, she was placed in a nursing home where she became fearful and angry and took to wandering through the corridors at night.
The nursing home doctor reviewed her case and decided that the woman was suffering unbearably, which would justify her wish to die.
However, the assessment committee said that the woman's wish to die when she was admitted to a nursing home did not demonstrate a well-informed wish for euthanasia. In addition, she had told her doctor before being admitted that she did wish to die 'but not now'.
Coffee
The committee ruled the doctor had overstepped the mark by secretly putting a drug designed to make her sleep into her coffee. In addition, when the woman tried to stop the drip being inserted, the doctor should have stopped the process, the committee said.
Instead, however, she asked family members to hold down the woman while she administered the drip.
Trouw columnist and pro-euthanasia doctor Bert Keizer told the paper the death is typical of the problems facing doctors when confronted with patients with severe dementia.
'In retrospect, her written wish to die should have been formulated differently,' he said. 'People absolutely don't want to go into a nursing home. "I'd rather die," they say, "but not now".'
Guidelines
Earlier this month, the Volkskrant reported that doctors still do not dare to perform euthanasia on people with severe dementia who have made living wills expressing their wish to die.
A year ago, the justice and health ministries said the guidelines for performing euthanasia on people with severe dementia had been relaxed a little so that patients can be helped to die even if they incapable of making their current feelings known.
However, they do have to have signed a euthanasia declaration with their family doctor before they became seriously ill to be considered for help in dying. 'In such cases, a doctor may carry out euthanasia, even if the patient cannot make this clear by word or gesture. But there must be a written euthanasia request which the patient completed earlier,' the new guidelines state.
Legal
Euthanasia is legal in the Netherlands under strict conditions. For example, the patient must be suffering unbearable pain and the doctor must be convinced the patient is making an informed choice. The opinion of a second doctor is also required.
In 2015 some 5,500 people, mainly cancer sufferers, were helped to die under the euthanasia legislation. Of them, 109 were suffering dementia and were in the early stages of the disease.
Since the legislation was introduced in 2002, there have been a number of controversial cases, including a woman suffering severe tinnitus and a serious alcoholic.
Thank you for donating to DutchNews.nl.
We could not provide the Dutch News service, and keep it free of charge, without the generous support of our readers. Your donations allow us to report on issues you tell us matter, and provide you with a summary of the most important Dutch news each day.
Make a donation