'I think any city built on water has something magical about it'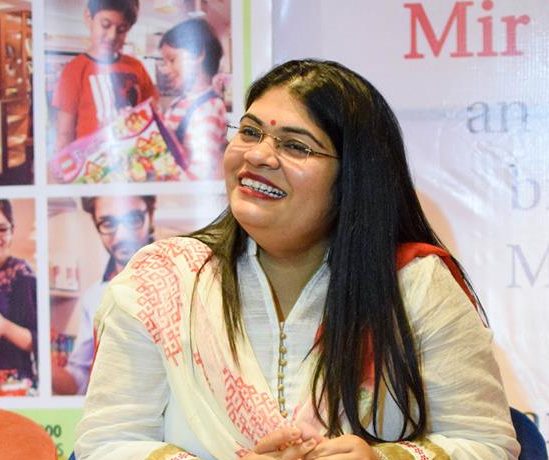 Satarupa Bose Roy, 37, is from India and has lived in the Netherlands for around 10 years. She is the founder of Indyana, a magazine for Indian nationals in the Netherlands, can't ride a bike and would like to meet Ruud Gullit because her grandad is his biggest fan.

How did you end up in the Netherlands?
I accompanied my husband who had come over as a knowledge migrant. He is an IT consultant. He came over from Calcutta and I joined him about 6 months later. We were first based in Utrecht and then Eindhoven, and now we're in Almere. It's been a bit of a journey for us in the Netherlands.
How do you describe yourself – an expat, lovepat, immigrant, international?
I would consider myself first as an Indian, and then perhaps an international, but I don't really consider myself an expat.  Since I set up my 'expat' magazine I feel I have come much closer to Dutch society. I do call myself an international. I feel very fluent in the ways of the world having lived and studied in the UK too.
How long do you plan to stay?
This is always the trickiest part, actually! I've always felt this strong force that drives me back to my roots. But, I find it very peaceful here, especially when it comes to thinking about my kid's future. We have strong family ties back home and I know it's all ticking along there at the same time as my life moves forward here. We do have responsibilities back home, ageing parents (I'm an only child) and there is always the undeniably strong pull of our roots. I always thought I would go back, perhaps when my daughter starts university. I´ll definitely stay here a few years longer but perhaps then I'll shift again, closer to where I feel I belong.
That said, I do not feel in transit in the Netherlands.  My daughter was born here and she is really leaving her footprints here already; she speaks Dutch, has Dutch friends. So, the real answer is – I really don't know at the moment, I will have to see what my destiny turns out to be.
Do you speak Dutch and how did you learn?
I speak Dutch but with a foreign accent, and I'm definitely not fluent. I still think in my mother tongue (Bengali), translate it into English and then into Dutch in my head, and then speak. That´s an elaborate process, and makes me a bit slow. I remember when I went to the UK to study I had a strong Indian accent and so I probably speak Dutch with an Indian-British accent. I picked up the language from the supermarket, the bus drivers, my friends at the gym, roadside joggers, and then I went to a language institute to get diplomas and make the bond stronger.
What's your favourite Dutch food ?
I like kibbeling! I first had it at one of the beaches Holland is famous for, I forget which one.  It so reminded my of the street food in India. It was from a fish vendor's cart. I remember it was in the summer-time, and the sun was shining bright on my face, and there was a salty breeze in my hair.  I sat on the sand with a paper plate on my lap, with this greasy, oily, salty, hot kibbeling; it felt great. It´s also a good contrast with the normal ideas about Dutch food.
How Dutch have you become and why?
I wish I had become more Dutch. But, I don't go for a jog in the rain, I cannot drink milk and then orange juice at lunch, and I can't ride a bike. What I do now however, is speak my mind unabashed, so perhaps that makes me more Dutch. I speak loud and clear and choose words that are more direct. Wherever you go people will tell you they're very 'in your face'; they´re proud of their directness.
Which three Dutch people (dead or alive) would you most like to mee?
Mata Hari: You may be shocked by that answer, but I really was intrigued to read about her.  Europe's queen of unbridled eroticism! An exotic dancer, a courtesan, liar, deceiver, harlot, she was a true femme fatale. I wish I could meet her, interview her and write her biography. There must have been so many masked realities under the guise of that mysterious, seductive dancer; behind her performances, both onstage and off.
Anne Frank: As a child I remember reading Anne Frank as part of our English literature syllabus, it was the first European diary I had read. My copy probably came from my grandfather´s collection. The first thing I did in Amsterdam was to visit the museum dedicated to her. I would have loved to have met her in person.
Ruud Gullit: I really remember watching him in the world cups, as a teenager. I just loved his pace and passion for the game. He was my grandfather's favourite football player. I´d like to tell him that in some remote corner of the world, miles away across the ocean, he had a fan who thought he was the best football player the world had ever witnessed.
What's your top tourist tip?
Walk by the canals; explore the bridges built on them, and the narrow alleys. I think as a whole the Netherlands is a really picturesque country. Walk around for any length of time and you will find beauty in abundance. The old city centre in Utrecht is lovely but I've always loved walking by the canals in Amsterdam the most. I think any city built on water has something magical about it. I've been to Venice too, but I think Amsterdam has something really amazing and special about it.
Tell us something surprising you've found out about the Netherlands
How the entire country follows the clock! They are very time efficient here. When I say that, I mean, like at the train station – you´re a minute late and the train doors will be closing! It´s so punctual! I really feel that the entire transport system is so efficient. I follow Indian stretchable time. If I go to a Dutch meeting I really have to try and be on time. Sometimes I feel it can have negative connotations too, as it has a mechanised quality about it, but it is astonishing.
If you had just 24 hours left in the Netherlands, what would you do?
I would go for a drive over the Afsluitdijk, preferably at sunset. I have always felt a strange one-ness with nature whenever I have visited it. I´d love to bid my final adieu to the country from there!
The new issue of Indyana Magazine has just been published.
Thank you for donating to DutchNews.nl.
We could not provide the Dutch News service, and keep it free of charge, without the generous support of our readers. Your donations allow us to report on issues you tell us matter, and provide you with a summary of the most important Dutch news each day.
Make a donation