What happened when fraudsters put my home on Airbnb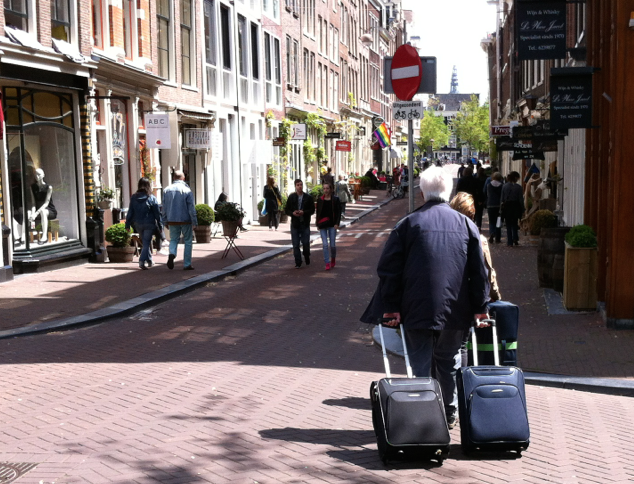 Living in a foreign city, away from family and friends, means you get a steady stream of visitors. But not everyone turning up at Deborah Nicholls-Lee's home has been expected.

When you live in a city as beautiful as Amsterdam you get lots of house guests from all over the world, but on previous occasions the guests were known to me.
So I was surprised when one Saturday in October a Korean couple with a toddler appeared on my doorstep and announced that they had booked my city centre apartment through Airbnb. Our chaotic household, with the washing-up piled high, floors littered with unfinished Lego projects and my husband's pants drying on the radiator was no place for paying guests. It was our home. There must be some mistake.
The mistake was a scam, and a clever one. Our house had been advertised by a smiling couple, Marijn and her partner, set against a background of stock photographs and fake reviews. None of it had any connection with us and the place we have called home since 2009.
It was cold outside, so I ushered the family in. The daughter played merrily with my children while the parents frantically tried to organise new accommodation over a cup of coffee. They politely refused the charming B&B that my friend runs nearby and instead – unbelievably – booked with Airbnb again.
More visitors
Fast forward four days and more strangers appear at my door. This time it was two German lads. I broke the news and held my breath as I awaited their reaction. Their optimism and eagerness to begin their vacation, having reached their holiday bolt-hole, gave way to dejection and despair. They trudged off into the jungle of fully-booked hotels and seedy youth hostels outside and I felt awful.
It is their fault for exchanging emails and money outside the website. It is Airbnb's fault for not making their security more robust. But I am left to pick up the pieces and tell people who have travelled, sometimes thousands of miles, that their holiday plans are ruined and their first impression of this wonderful city is crime, deception and disappointment.
On Sunday it happens again. This time I buzz them straight in, believing my husband, who has just left, has forgotten something. And there they are, two random men in my hallway, asking me with desperate expressions if any of my other unexpected guests got their deposits back from Airbnb, while my cooking, interrupted, blackens upstairs.
While the exhausted Korean couple quietly accepted their mistake, I thought these two were going to punch a hole in my wall. I was frightened. They had nine friends outside who thought they had booked my 'party' house. Instead they faced a middle-aged mum in a pinny condemning them to some humiliating news they must share with their peers and an uncertain evening in whatever lodgings they could scrabble together before dark.
Airbnb's response
Airbnb Help replied promptly to me via Twitter. I gave them some leads: the location of the property, the time that the profile was removed. They were friendly, apologetic, but unable to help.
'Something needs to be done to reduce the number of fraudsters abusing your website and your name,' I banged out, with exasperation, in a tweet.
'We do have an alert to tell people not to make any off-site transactions,' they replied, 'However, some people still do.'
This was confirmed by a member of their local communication agency, Kim Zoon, who showed more interest in the case once it was published in Het Parool a few days later. 'I'm very sorry this has happened to you,' she said. Easily said.
Airbnb is a problem for residents
Amsterdam was one of the first cities to make peer-to-peer renting legal, but as its grip on the city tightens, residents like me are beginning to regret this move.
My fake rental was one of some 14,000 Airbnb lettings in the city and my experience is a symptom of how difficult it is to regulate these sprawling platforms and the detrimental effect they have on residents.
I love this city and I hope that the privacy and day-to-day needs of its residents will be more respected in the future. Until then, each time I hear wheelie cases outside my door, I shall still wonder if I ought to put the kettle on.
Deborah Nicholls-Lee is a writer and the content manager for Amsterdam Mamas.
Thank you for donating to DutchNews.nl.
We could not provide the Dutch News service, and keep it free of charge, without the generous support of our readers. Your donations allow us to report on issues you tell us matter, and provide you with a summary of the most important Dutch news each day.
Make a donation