'I speak Dutch with a foreign accent and English with a Dutch accent'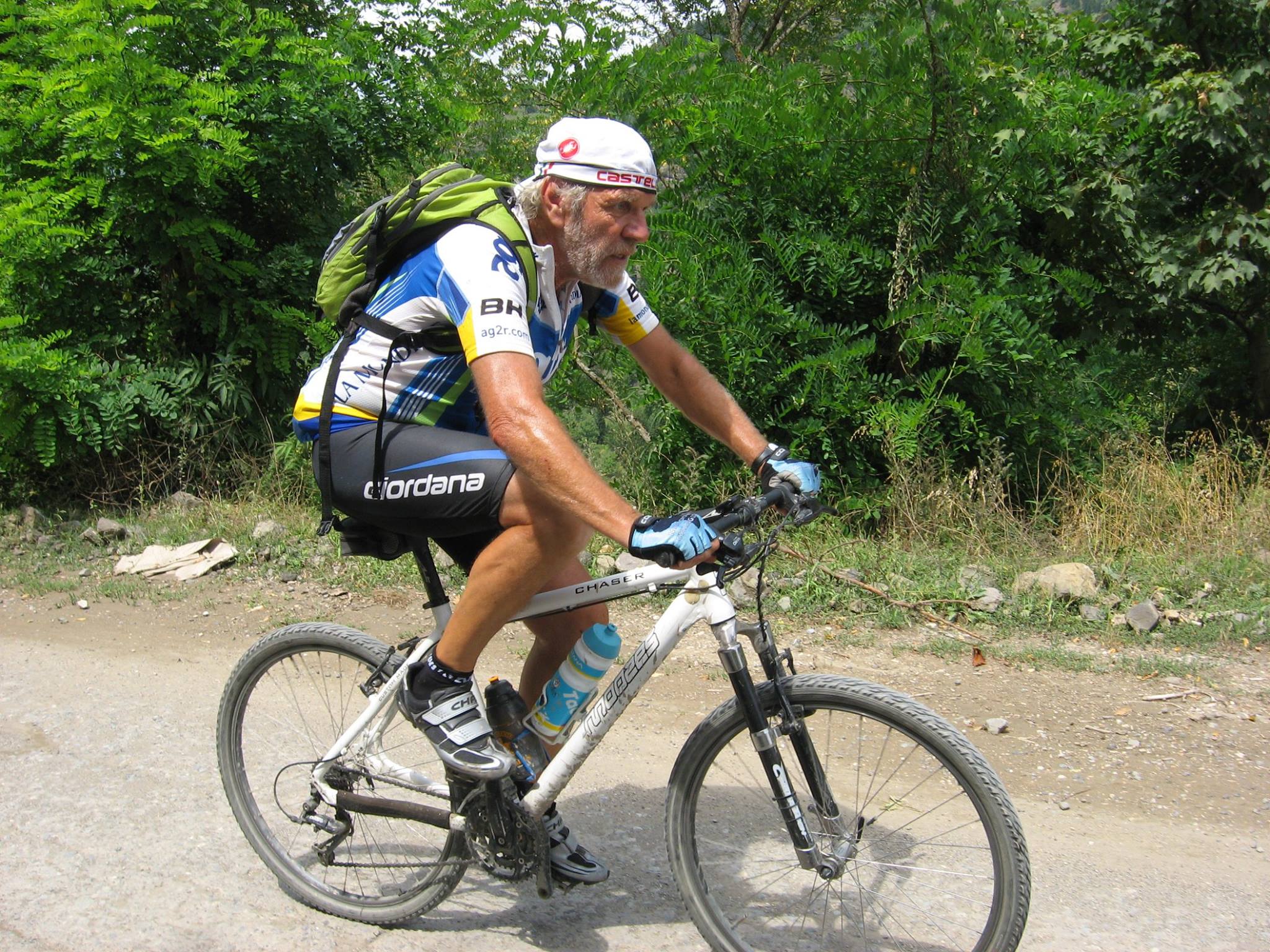 Cycling fanatic Bob Powers (70) arrived in Breda in 1972. He was only supposed to be visiting a friend but, apart from numerous international cycling tours, he's been based there pretty much ever since. A cartoonist, illustrator, writer and translator, he recently retired as the oldest cycle courier in the Benelux – unofficially at least.
How did you end up in The Netherlands?
Like most things I do – by chance! I'd finished teacher training college in England but realised I didn't fancy teaching after all, so I joined an American friend in the south of France for the grape harvest in 1972. After a few weeks hitchhiking around Spain and France I met up with him again, but this time in Breda, where he had a girlfriend. I'd started drawing cartoons and the people who lived with them in their house asked if I could do some designs for a ceramics factory where they worked. One thing led to another, a few weeks led to a few months, and I just never left Breda. After a few years some friends and I decided we fancied becoming cycle couriers, and that really took over. I had regular clients like the local council and some law firms, and it's only recently that I have retired. I was, or so I'm told, the oldest courier in the whole of the Lowlands.
How do you describe yourself – an expat, lovepat, immigrant, international?
I've never really thought about it to be honest. I guess… international European? I've rarely used the word expat as it conjures up – perhaps a little unfairly – the wrong images for me: groups of foreigners clinging together, retaining all their home habits and customs while resisting the culture of the country they are living in. However, I do occasionally use the word to show some affinity with my many young friends from central Asia who are trying to find their feet while studying and/or working in Europe. I got to know a lot of students in Kyrgyzstan on cycling holidays there and I began writing a regular column for them in English. A lot of them focus on my experiences as an Englishman living in The Netherlands, and last year a collection of them was published as a book, Letters to Kyrgyzstan.
How long do you plan to stay?
I have no plans to leave.
Do you speak Dutch and how did you learn?
Yes, I speak Dutch pretty much fluently, although my grammar is not always quite as it should be. I never took any lessons, I just picked it up as I went along – which perhaps explains the grammar! It was very gradual, and there was a long period where I was speaking Dutch, and the Dutch people were replying in English, and I found that amusing. It's funny, an English friend and I were in a bar once, and suddenly we realised that we'd been automatically speaking Dutch to each other. English just felt strange.
What's your favourite Dutch food?
That's a difficult question to answer. I think I would have to say boerenkool stamppot.
How Dutch have you become?
I have not become Dutch at all – I think – but I have just about lost all of my 'Britishness'. What that makes me I'm really not sure at all. I speak Dutch with a foreign accent. When speaking English I now have a slight Dutch accent. My Dutch friends still joke about me being English. My English friends think of me as a foreigner. I like the directness of the Dutch when it isn't an excuse for rudeness. I find England scruffy and untidy but The Netherlands over-regulated. I once heard an American speaking on the radio who had lived more than half her life in England, and she was asked a similar question. So my answer is largely based on her reply, which sums up how I feel. I haven't become Dutch, but I am no longer English…
Which three Dutch people, dead or alive, would you most like to meet?
The first two are easy: M.C.Escher, a graphic artist (1898-1972) who was famed for his realistic, detailed prints that conjured up optical illusions and special effects. Second, Mata Hari (real name Margaretha Geertruida Zelle), the archetypal image of the seductive female spy, who was executed by a French firing squad in 1917. Third? A beautiful girl I saw on the train a couple of months ago!
What's your top tourist trip?
Zuid-Limburg (south Limburg) – but not at the weekend or on bank holidays.
Tell us something surprising you've found out about The Netherlands
I am not so easily surprised, though maybe after my first few weeks here I was surprised to discover that Dutch people were not actually arguing all of the time, but that it is just their normal way of speaking.
If you had just 24 hours left in The Netherlands, what would you do?
Pack.
Bob's columns can be read at on his blog and you can order his book by emailing bpillustrations@hotmail.com
Thank you for donating to DutchNews.nl.
We could not provide the Dutch News service, and keep it free of charge, without the generous support of our readers. Your donations allow us to report on issues you tell us matter, and provide you with a summary of the most important Dutch news each day.
Make a donation