'On my first day at work I told my colleagues not to speak English to me'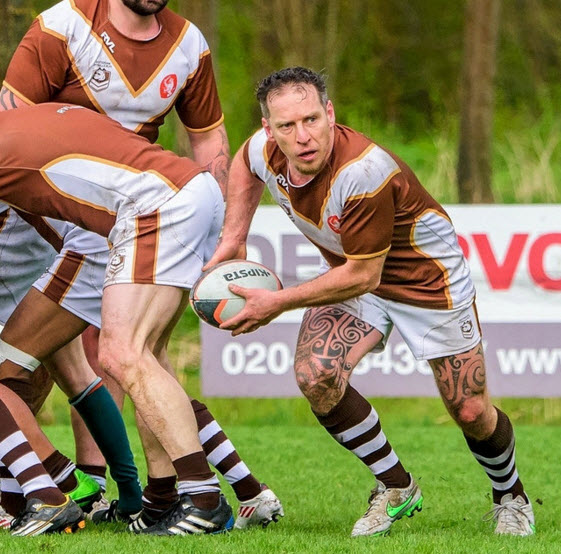 New Zealander Jason Bruygoms has been living in the Netherlands for over 10 years, and is a leading light in Dutch rugby league. He learned Dutch by banning his colleagues from talking English to him, is a vanillevla addict and relishes Rotterdam's melting point society.
How did you end up in the Netherlands?
My father is actually Dutch and when I was 27 a workmate of mine back in New Zealand told me I was eligible for a Dutch passport but had to apply before I turned 28. So I applied and a couple months before my 28th birthday a Dutch passport arrived for me. At the time I didn't have any children so took this as a sort of sign to fulfill my dream of travelling and checking out my father's homeland. That was over 10 years ago now. Before I traveled though I checked out the national rugby league situation and I actually ended up playing for the Dutch national squad for a bit. Then I started to help develop rugby league in the Netherlands.
How do you describe yourself – an expat, lovepat, immigrant, international?
To be perfectly honest I am a Kiwi through and through and always will be. I guess it is that connection we have with our homeland, tangata whenua. But here in the Netherlands I now have a beautiful daughter with an awesome Dutch lady whom I am actually going to marry in a couple of months. So I now have my own strong family roots here in the Netherlands as well. I guess the term lovepat would be suitable.
How long do you plan to stay?
The original plan was a maximum of two years…..I guess plans change but if I can find a job back in New Zealand that can support me and my family then I would go back to New Zealand in a heartbeat. But I have now started a rugby league club called the Rotterdam Pitbulls RLFC, which I am really enjoying. This season we became the Dutch champions and did not lose a game. I would like to stick around for a bit to see how far we can go with the club and the sport.
Do you speak Dutch and how did you learn?
Yes, I speak Dutch but writing I still find very difficult. I am self taught. The first few years here I was living in a house full of expats so I didn't learn much as I didn't need to. When I started the job I am still doing now about six years ago I made a decision to tell the other workers on my first day that they were not to speak English to me. Full submersion basically and that is when I really picked it up fast. Plus reading the Dutch subtitles when watching television and reading Dutch newspapers helped a lot.
What's your favourite Dutch food?
That would have to be roti. It might be Surinamese but I love it, and my girlfriend makes a mean one. Second on my list would be vanillevla. I got addicted to that stuff when I first arrived here and I'd drink a litre a day.
How Dutch have you become?
I might be half Dutch by birth but I don't think I'm very Dutch at all. My identity as a Kiwi is very important to me and makes me who I am. I do think that when I eventually move back to New Zealand that it will take some time to adjust to the laid back lifestyle there again. It is something I really miss.
Which three Dutch people (dead or alive) would you most like to meet?
Vincent van Gogh – I am a bit of an artist and he was awesome plus a bit of a crazy mofo so I think it would be cool to meet him.
I guess my opa (grandfather) as I was too young to remember him when he was alive and I never really got a chance to see him anyway because I was living on the other side of the world.
And the 3rd one…..Maybe Abel Tasman…..just so I could laugh at him because he got his ass kicked by the Maoris when he first tried sending his men to the shores of New Zealand.
What's your top tourist tip?
Don't just visit Amsterdam. Amsterdam is great but there is so much more to the Netherlands. It's the same as going to New Zealand and only visiting Auckland. Explore and you will find little gems all over the country
Tell us something surprising you've found out about the Netherlands
I guess it's the melting pot of cultures here. I was expecting it to be a very European white culture but that is not the case, especially Rotterdam where I live. There are so many different cultures, races, creeds, colours and religions which I really like. As an immigrant myself, its nice to be surrounded by other immigrants too. It makes the Netherlands a very diverse country. And it is the way things should be, side by side no matter where you come from, embracing and sharing each others differences and cultures.
If you had just 24 hours left in the Netherlands, what would you do?
I would throw a big party and invite all the people that have been a part of my life for the past 10 years here.
You can find out more about the Rotterdam Pitbulls via their Facebook page.
Thank you for donating to DutchNews.nl.
We could not provide the Dutch News service, and keep it free of charge, without the generous support of our readers. Your donations allow us to report on issues you tell us matter, and provide you with a summary of the most important Dutch news each day.
Make a donation