It's Father's day, and this Dutch professor is exploring the real role of Dutch dads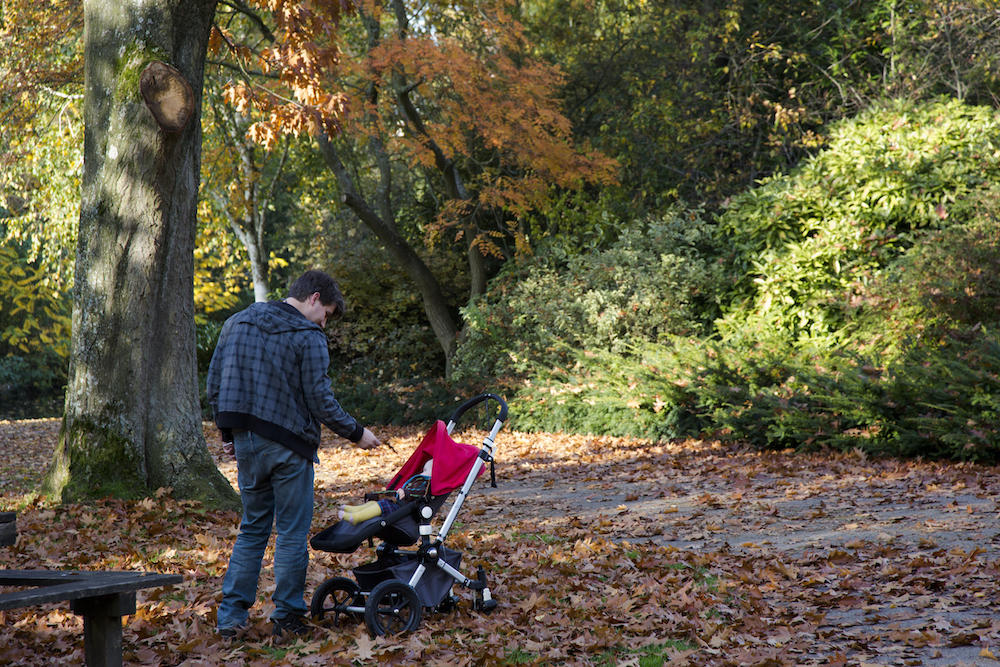 Go to any park in the Netherlands on a sunny Wednesday afternoon and you are sure to find a good sprinkling of dads and their offspring, enjoying what has become known as a papadag. But despite the apparent popularity of daddy day, just one in four new Dutch fathers takes the unpaid paternity leave they are entitled to by law. 
In April, Renske Keizer (32), made headlines when she was named the world's first professor of fatherhood or, to be more formal, she was appointed a professor of child development at the University of Amsterdam's social and behavioural sciences department.
Keizer's research focuses on the role fathers play in the early development of their children and how policy towards all parents can be improved. 'As a professor of fatherhood, I aim to provide insights into the questions of whether, why, and in what ways, fathers influence their children's development.' Keizer told DutchNews.nl.
Who gets the kids dressed?
Earlier research by Keizer highlighted the 'old fashioned' division of roles in Dutch families. Compared with other Western countries the Dutch are very traditional, with mother working part-time and father as the breadwinner.
And research last year by the national statistics office CBS showed that even in households where both parents work the same hours, mothers are much more likely than fathers to get their children dressed, put them to bed and stay home when the kids are sick.
However, there are signs these entrenched attitudes are changing. New CBS figures show that 66% of young Dutch men plan to reduce their working hours when they become fathers – currently only 15% of dads do so.
They may change their minds when confronted with the financial reality. Dutch fathers are only entitled to two days of paid leave, a sharp contrast to their counterparts in Belgium, who enjoy 19 weeks, or Germany, where nine weeks paid leave is the norm.
Money is key
Keizer suggests specific elements need to be incorporated into legislation on paternity leave if it is to be effective. These include making sure the leave is non-transferable and that there is adequate financial compensation. Time is also key. After all, she points out, paternity leave in Norway has taken nearly 30 years to become normal.
Even with a strong financial incentive 'we still have to realise that it will most likely take one generation for the effects to become really visible in society' Keizer says.
Some fathers are actively campaigning for change. Peter Tromp, chairman of the Vader Kennis Centrum (VKC) in Utrecht, says he is pleased that the importance of a father's role in child rearing and child development is finally becoming more widely understood.
In 2005, Tromp was among the first Fathers for Justice activists in the Netherlands who, armed with their superhero costumes and headline catching protests, tried to raise public awareness of imbalance in the legal and social attitudes to fathers as parents.
Rising divorce rates
In the Netherlands, more women have entered the workplace and divorce rates have risen steadily since the 1960s. Currently, best estimates suggest 70,000 children a year are directly affected by divorce and the VKC estimates that around 40% of those children lose contact with their father by the end of the first year.
'There's been an enormous breakthrough in awareness around shared parenting,' says Tromp. 'The fathers we help often don't know what rights their children or they themselves have.'
So, what is being done with all this new understanding? There is, for example, mounting pressure in the Netherlands for better paid paternity leave and the government has committed itself to a three-day increase.
Tromp also points to the Council of Europe resolution on equality, shared parental responsibility and the role of fathers which passed unanimously last October.
Unmarried fathers
In the Netherlands itself, the liberal democratic party D66 is campaigning to change the paternity laws so that unmarried fathers automatically gain parental responsibility when they formally acknowledge a child and register it with the council.
If adopted, the law would also apply to families with same sex couples and is intended to bring Dutch law up to date and better reflect modern societal attitudes to family structure; half of first born Dutch children are now born outside a formal marriage or registered partnership.
Meanwhile, the VKC recently launched a new hallmark scheme for 'father-friendly' businesses in the Netherlands. 'It's like the Michelin guide for father-friendly companies' says Tromp. 'We seek to support every group of fathers; working fathers, migrant fathers, native Dutch fathers, young fathers, teenage fathers, divorced fathers, all of them and their children'.
The VKC is holding its annual Fatherhood Symposium in October and Renske Keizer will be one of the keynote speakers.
Thank you for donating to DutchNews.nl.
We could not provide the Dutch News service, and keep it free of charge, without the generous support of our readers. Your donations allow us to report on issues you tell us matter, and provide you with a summary of the most important Dutch news each day.
Make a donation