Shored-up homes are a common sight in earthquake-hit Groningen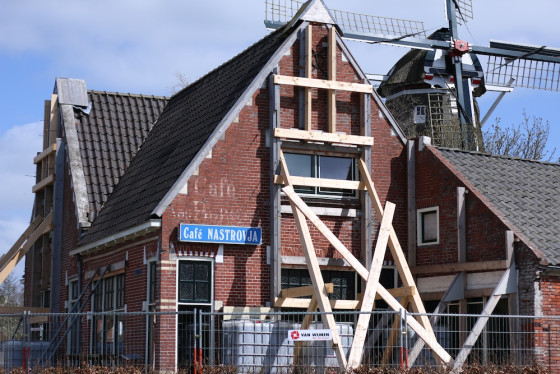 Tens of thousands of homes in Groningen province have had to be shored up because of damage caused by earthquakes stemming from gas extraction. Graham Dockery went to the northern province to meet home owners and activists.
Cans of spray paint rattle in the back of John Lanting's van as we drive over roads pockmarked with cracks and fissures. 'I'm a bit of a bad boy around here,' he says with a childlike grin. Climbing over fences, obstructing work traffic, graffiti tagging multi-million euro machinery, and slashing tyres are all in a day's work for the 55-year-old activist.
The target of Lanting's hooliganism is the conglomeration of energy companies exploiting Europe's largest natural gas field in the province of Groningen. Natural gas drilling in Groningen provides 70% of the Netherlands' gas supply, but has caused thousands of earthquakes, escalating in intensity over the last few decades.
Residents of the area are angry at the structural damage to their houses, lowered property values, and threat of further and more serious earthquakes. Lanting's anti-drilling shenanigans have landed him in the back of a police car multiple times, and made him public enemy number 1 among gas drillers and their supporters in government.
On a clear spring day, he picked me up at the station in Loppersum, one of the hardest-hit areas in the province, and took me on a tour of his battlefield.
Striking gold
In 1959, exploratory drilling discovered a gas field of 2.8 trillion cubic metres, the tenth-largest in the world. With the state's blessing, Nederlandse Aardolie Maatschapij BV (NAM), a joint venture between Royal Dutch Shell and Exxon-Mobil, began extraction in 1963 and still oversees production today.
Production began at a staggering 100bm3 per year in the first decade or so, but problems arose as the gas field emptied. Since 1986, the area around the field has been hit by over 1,000 earthquakes. Groningen doesn't sit on any natural seismic fault lines. The quakes were induced by gas drilling.
Fairy tales
In 2012, a magnitude 3.6 quake hit the region, the strongest on record. However, initial warnings about the link between drilling and seismic activity were dismissed by NAM as 'nonsense' and 'fairy tales.'
When independent geologist Peter van Gaag began studying the area in the early 1990s he found a deadly combination. The relatively shallow focus of the earthquakes combined with the presence of a unique type of soft clay in the area means that low magnitude quakes in Groningen do considerably more damage than their numbers on the Richter scale would suggest.
His warnings fell on deaf ears.
'We were a small company, and paid for the study out of our own pockets,' Van Gaag told DutchNews.nl. 'We gave it to the commissioner at the time, and then two institutions were assigned to prove our report wrong. It didn't make any sense. The reports that followed were very bad reports, scientifically.'
'Between 1994 and 2012, I only saw reports mitigating everything. There were a lot of institutions and they were always writing reports downplaying the intensities, magnitudes, etc. The minister always trusts the institutions.'
'It's a vicious circle. The former deputy director of NAM, Rien Herber, is on the board of KNMI (Royal Netherlands Meteorological Institution), and the former boss of the seismological institute of KNMI, Hein Haak, is the vice president of the TCBB (Technical Commission for Earth Movement), still!'
Negligence
John and I visit local farmer Jun Huizinga, who reported quakes to NAM thirty years ago. 'They denied it was from gas,' he says, shaking his head.
Huizinga's family have lived on the same farm in Loppersum since 1864. Just over a year ago, Huizinga was ordered to evacuate his property immediately, as the persistent earthquakes had made it structurally unsound.
Despite repeated warnings from scientists and residents, the problem was ignored by the Dutch government for years. A report by the Dutch safety board last year found that a correlation between gas extraction and earthquakes was clear since 1993, but 'risks to residents were not recognised' until 2013.
The board concluded that the economic affairs ministry, the mine inspectorate and NAM worked collectively to maximise production without 'due care for citizen safety'.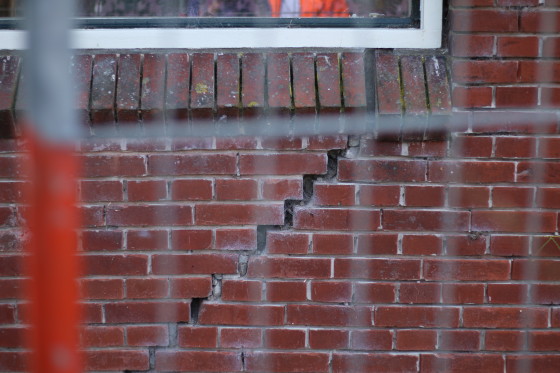 Huizinga's farmhouse still stands, but he and his family now live in prefab container housing on the farm. This temporary accommodation is provided by NAM, who offer affected residents compensation depending on the severity of the damage.
A non-disclosure agreement signed by Huizinga forbids him from discussing exactly how much of the financial burden the company is bearing. 'Almost everyone has to pay part of the cost, and people don't have that kind of money,' he tells me. 'They play with our lives here, and they only care about money.'
Carrots and sticks
On other farms nearby, repairs are underway. We see cranes a kilometer or two across the flat grassland, and John drives over to investigate. When we get there, two barns have almost completely collapsed and the owner declines to speak to the press.
'People are scared,' John tells me. 'They're scared to speak out against NAM in case their compensation will disappear, and they're scared to talk to the press.'
If the threat of removing compensation is NAM's stick, then offering bonuses to homeowners is its carrot. In Loppersum and the surrounding villages, the roofs of many houses are decked out in brand new solar panels. Home owners who suffer more than €1,000 in damage can apply for €4,000 towards home upgrades like solar panels, insulation or new windows.
Paying the price
As we drive through several of these villages, the signs of damage are immediately visible. Buildings are propped up with wooden beams, repair crews are at work earthquake-proofing homes, and rows of houses are punctuated by vacant lots, bought by NAM and levelled.
Directly opposite a vacant lot, now just rubble and quicksand, we stop for lunch at a local woman's house. Every new quake cracks her walls and sinks her foundations further, but it's easier to let the damage accumulate over several quakes before making a claim.
'There's so much paperwork involved, it's really easier this way,' she says. NAM often asks home owners to provide proof that the damage was directly caused by earthquakes, and when the company accepts liability, it determines the payout itself.
The chance of 'the big one' hitting Loppersum is on everyone's lips, and Peter van Gaag doesn't dismiss the possibility.
'I think there will be stronger earthquakes. I can't say if that will be next month, next year or in five years. In some places, because of the clay, there will be much, much more damage. Some people, even Shell, think that a magnitude 4.5 or stronger earthquake may happen, and if it does houses will collapse.'
In the meantime, NAM intends to press ahead with the extraction of 27 billion cubic metres of gas from Groningen this year. NAM estimates that it could safely extract 33bm3 per year, but economic affairs minister Henk Kamp insists on the production cap, claiming the risk of earthquakes would be too large if production was increased.
Reducing production will not do enough to prevent further quakes, according to Van Gaag. '[Reducing production] will not stop earthquakes, but if they totally stop drilling, the chance of strong earthquakes will drastically diminish.'
Indeed, everyone I speak to sees the idea of NAM stopping production as a laughable one. With the Groningen gas field earning one million euros per hour, there's simply too much money at stake.
Thank you for donating to DutchNews.nl.
We could not provide the Dutch News service, and keep it free of charge, without the generous support of our readers. Your donations allow us to report on issues you tell us matter, and provide you with a summary of the most important Dutch news each day.
Make a donation