'Amsterdam's character is being whittled away by council policies'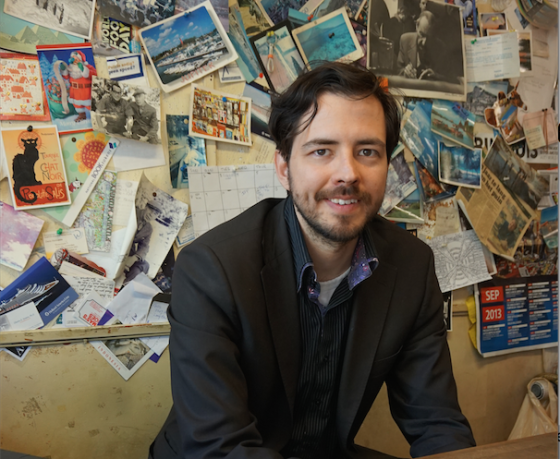 Federico Lafaire, a master's student in philosophy and self described 'bookmonger,' first moved to the Netherlands in 2007. He can often be found working behind the counter at The Book Exchange, a second-hand English bookshop in central Amsterdam.
How did you end up in the Netherlands?
The University of Amsterdam. I had to figure out something to do so I said, 'hey, I'll go study philosophy.' That was in 2007.
How do you describe yourself – an expat, lovepat, immigrant, international?
I was born in Mexico. If that means I'm from there originally or not, I don't know. I often get asked that at the store. I also spent 10 years in California.
As I've learned during my studies, even the simple questions can be tough. I'd be reluctant to call myself an expat because it's a word that's so loaded. If I was a Nigerian guy, I wouldn't be an expat, I'd be considered an immigrant. I've never really felt at home anywhere in particular, as far as nationality goes. I don't classify myself too easily.
How long do you plan to stay?
I think Amsterdam has a good balance, for the time being. It's not too big that you get a sense of anonymity that you would have in a jungle like Mexico City or Los Angeles, but it's not so small that it's provincial. It also has a lot of character, but that's being whittled down by the marketing strategies drawn up by the city council. The story behind this whole 'I amsterdam' thing is fascinating and, if that keeps on progressing, I'd be loathe to say that I'll still be here in 10 years. Aside from that, I feel remarkably and surprisingly at home in this city.
Do you speak Dutch and how did you learn?
I do speak Dutch. I can't write it very well. It's got to be a labour of love if I'm going to write a letter in good, proper Dutch. I learned most of my Dutch through a programme from the University of Amsterdam's language centre. If you've got a friendship circle that's willing to speak Dutch that's helpful. Without that, you're always going to keep struggling or at least I would continue struggling.
What's your favourite Dutch food?
Madre mia, that's a tough one, especially since I don't eat cheese anymore. I like Dutch bread, in different stages of fermentation. How broad are we talking here? I like the sweet and sour drinks at Wynand Fockink, the distillery near the Dam. Either that or frietjes. It's a close call between the two.
How Dutch have you become?
I still don't have a diary since I don't like to write things down, but I do use Google Calendar to send email reminders to myself. I hate planning things ahead of time like the Dutch are said to but it's creeping in there. It's got its foot in the door. When I'm cycling, I can be, to put it diplomatically, somewhat assertive with my fellow cyclists.
Which three Dutch people (dead or alive) would you most like to meet?
Like if I was going to meet them for brunch? I wouldn't mind meeting Baruch Spinoza but I'd probably fall behind in that conversation. I'd love to go watch a film with him and see what he thinks. Obviously, the man would be freaking out though.
I'd love to talk with (prime minister) Mark Rutte and see how much of a true believer he is. I'd also, why not, speak with (painter) Piet Mondriaan.
What's your top tourist tip?
Ask yourself why you're a 'tourist' and not a 'traveller'. No, I'd sugarcoat it a bit but, along those lines, I'd tell them to have the courage to get lost. I was talking with a friend recently about why people still travel, especially when you can get yourself some nice brandy, go on Google Maps and 'street view' your way through a city to see what you already, more or less, had in mind.
One thing I love to do when I'm travelling is, after I arrive at the bus station, the train depot or the airport, is just follow some people and see where that goes. I don't wind up in a crocodile-infested pit, typically. More than anything, people should try to make their travelling their own experience instead of just going to Madame Tussauds, at least here in Amsterdam.
Tell us something surprising you've found out about the Netherlands.
I did not know there was an electrified fence in the first World War that separated the Netherlands from Belgium. For starters, I didn't even know they had the infrastructure to build an electrified fence in those times. I knew they had electric lighting but to separate two countries like that? It's one of those weird factoids, as they call them.
If you had just 24 hours left in the Netherlands, what would you do?
I guess I'd at least try to find my passport. I would say ciao to the people I know. I'd say goodbye to the city in my own way but my main priority would be to close things off here. Maybe I'm taking the question too seriously. Philosophy doesn't prepare you for one like this. Maybe I'd go to Middelburg. If I had to consider the Netherlands as an 'experience,' I'd go 'experience' Middelburg. I've never 'experienced' Middelburg, nor has it 'experienced' me.
Thank you for donating to DutchNews.nl.
We could not provide the Dutch News service, and keep it free of charge, without the generous support of our readers. Your donations allow us to report on issues you tell us matter, and provide you with a summary of the most important Dutch news each day.
Make a donation