Former refugee boats now sail on calmer waters in Amsterdam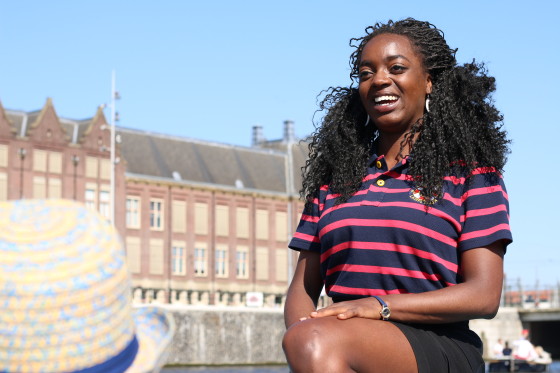 A cruise around Amsterdam's canals is one of the most popular tourist attractions in the city. Graham Dockery took a different sort of tour of the city's waterways, on a boat which had carried asylum seekers to Sicily.
'My name is Sami and I came here from Eritrea,' our tour guide tells us. 'Before I made it here, I spent a year in a Libyan jail for nothing, just for being a refugee.' Sami himself is not here, but his story is one of many told to us by our guide Stacyian, as we sail through Amsterdam on a boat that used to carry desperate migrants across the Mediterranean to a new life in Europe.
As we cruise along the city's idyllic canals, Stacyian tells the story of Amsterdam through the eyes of its immigrants and outsiders. With over 180 nationalities living here, there are plenty of stories to tell.
The boat we sail on is a small fishing craft which was picked up by the Italian coast guard south of Sicily with 76 migrants on board. The Dutch authorities declared it to be unfit to carry more than fourteen passengers.
Service
'When the Dutch inspectors first saw it, they took one look and said no,' said Sahand, an Iranian-born actor and Stacyian's fellow tour guide.
Eventually the six-metre long boat was deemed fit for service, but could not operate along the same routes used by Amsterdam's established canal tour companies. Sahand doesn't mind though.
'The beauty of this project is that while Amsterdam is so shiny, we dive into some issues that aren't so clean. Most tour companies talk about the Golden Age of the Netherlands and point out the old buildings. We talk about the immigrants who built them.'
Ownership
Our nameless boat is one of two used by non-profit tour company Lampedusa in Amsterdam. Lampedusa also organises tours on a larger vessel, the Meneer Vrijdag. Both were sourced from Italy by the company's director, Teun Castelein.
The boats had been impounded on the Italian island of Lampedusa, a tiny rock 205km south of Sicily and just over 100km east of Tunisia. Castelein was given the boats, but faced some issues with paperwork.
'We don't know who the owners are,' he told DutchNews.nl. 'The Italians needed the proper documentation, but the smugglers aren't going to come forward and say "hey, this is my boat!"'
The smaller vessel was found with no captain. A diving mask was on board, which led the Italians to suspect that whoever was in charge put on scuba gear and bailed before the coast guard intercepted the craft.
A risky invitation
The journey from North Africa to Italy has claimed countless lives. In just one case last year, a boat carrying migrants sank near Lampedusa, killing an estimated 800 passengers. In the first four months of 2015, about 1,600 migrants died on the Libya-Lampedusa crossing, prompting the Wall Street Journal to call the passage 'the deadliest migrant route in the world'.
Previously, the Italian authorities had set up a search and rescue programme called Mare Nostrum (Our Sea in Latin). The programme saved an estimated 130,000 lives before it was shut down in late 2014.
Critics claimed planned search and rescue operations create 'unintended pull factor[s]', encouraging more migrants to attempt the dangerous sea crossing and thereby leading to more tragic and unnecessary deaths'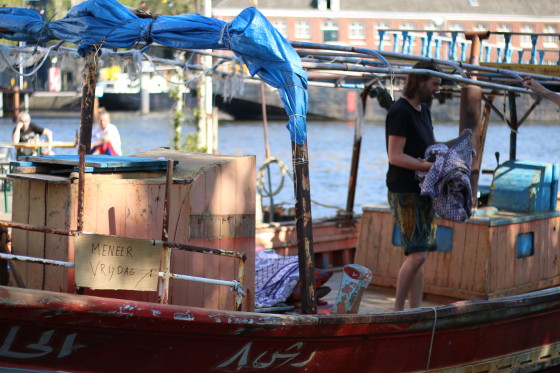 Peaceful Waters
Our afternoon journey through Amsterdam is decidedly less risky. The sky is clear, the water is calm and spring blossom blows from the streets into the water.
'There's a sort of contrast there,' said Castelein. 'These boats are a symbol of tragedy, but when you see them they're quite romantic. Beyond the obvious statement they make, it's really relaxed.'
Even with fourteen people on board, the boat feels a little cramped. The 76 migrants who set out for Italy on the craft had to endure three days packed together on the open sea.
Storytelling
On board, Stacyian holds the passengers' attention with stories of the city's immigrant past and present. She talks about neighbourhoods built by Italian immigrants, the plight of the city's Jews during World War 2, and the acceptance that the gay community found in Amsterdam.
Stacyian is a trained actor, and her performance draws attention from curious onlookers relaxing on the canal banks. Although born to Jamaican immigrants, she considers herself Dutch through and through.
'Some of the stories are completely true to life, while some are exaggerated,' she told DutchNews.nl. 'They're so much fun to rehearse though, and they're written so well that you can really feel the soul of each character.'
Lampedusa's guides are all trained by a theatre production company. Teun Castelein sees the tours as part sightseeing, and part performance. 'People see these nice hippy-looking boats and want to join us,' he said. 'Then we tell them the story behind it.'
Sailing Onward
After the two-hour tour, we pull up at a dock on the bank of the river IJ. For Stacyian, Sahand, Teun and the crew, it's their boat's first successful voyage. For our captain though, it's no big deal. Abdul is a Syrian sailor more used to commanding giant container ships than tiny canal boats.
After leaving Syria three years ago, he had to apply for a licence to drive a tour boat in Amsterdam. 'After he got his diploma, they told him that he should be teaching the class,' said Sahad.
'This project gives refugees the opportunity to work,' Castelein explains after the tour. 'If it becomes a success, then Abdul has a job. That's what I like.'
'My goal is to keep employing newcomers, and take people on a journey through the canals and talk about immigration.'
Thank you for donating to DutchNews.nl.
We could not provide the Dutch News service, and keep it free of charge, without the generous support of our readers. Your donations allow us to report on issues you tell us matter, and provide you with a summary of the most important Dutch news each day.
Make a donation