Hazy legality: how legal is Dutch weed really?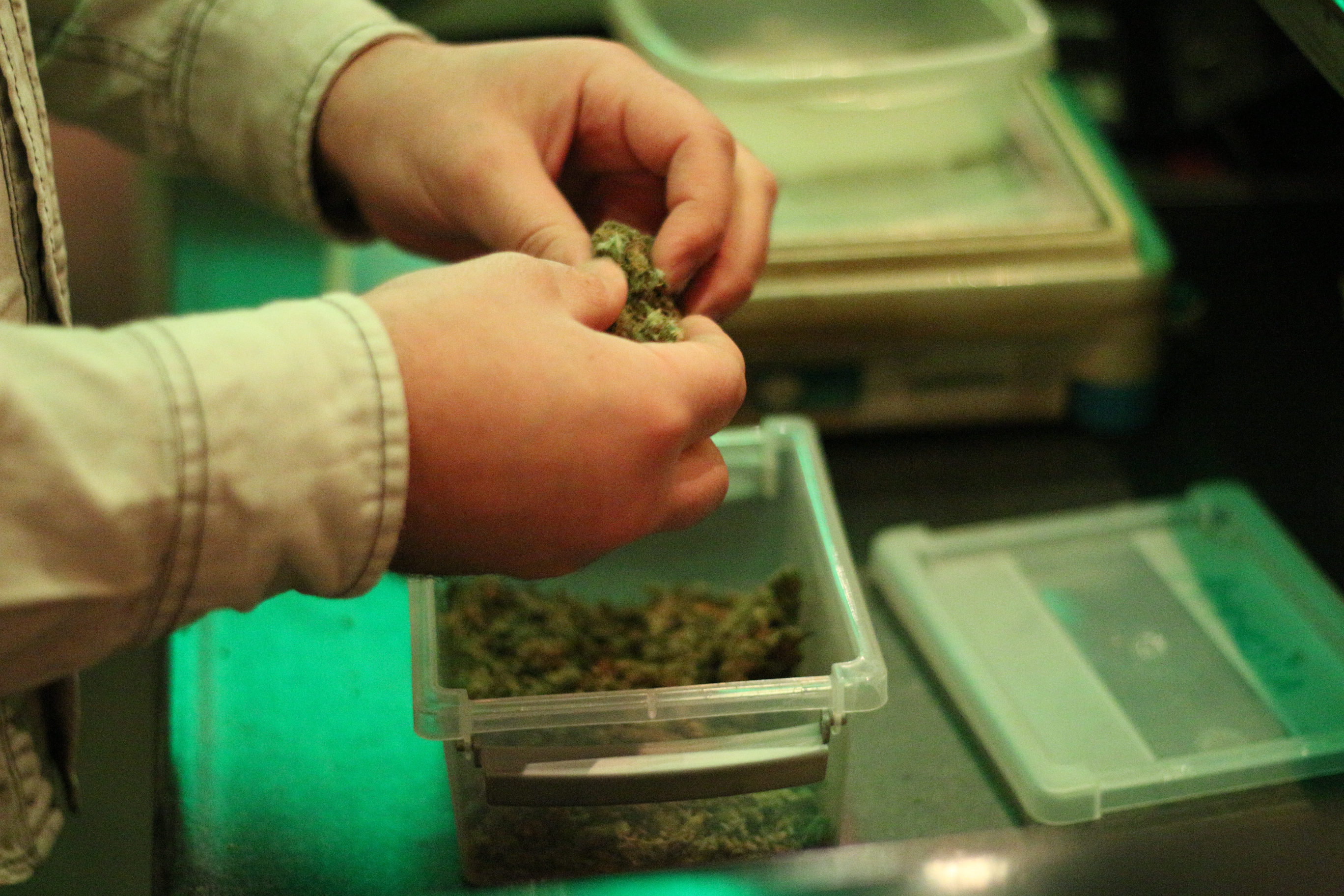 In the Netherlands, officials turn a blind eye to the sale of small amounts of cannabis in licenced cafes, known as coffee shops. Marijuana is, after all, a multi-billion euro business. Graham Dockery looks at the grey area between this pragmatic approach to demand and the supply side, which is still very much against the law.
The working day of a coffee shop manager in Amsterdam is a hectic one. As well as the steady stream of customers to serve, Daan* has to meet with suppliers and drive to and fro across the city, transporting his wares from his stash house to his coffee shop.
Daan's shop, Happy Days, is a small one in the south of Amsterdam. Coffee shops are free to operate, as long as they refrain from causing a 'nuisance', selling hard drugs, advertising, selling large amounts, and selling cannabis to minors. All coffee shops in the capital are licensed by the city council.
However, all of the weed he sells is sourced illegally. 'I meet [the dealer] somewhere quiet, do the deal, and then stash the weed in a different location.' This is a necessary precaution, as coffee shops must have no more than 500 grammes in the shop at any one time, and the police make sure this rule is obeyed with random inspections.
'Every coffee shop owner is a criminal,' he told DutchNews.nl. 'The current laws mean I have to drive across the city transporting the weed and hash with no licence to do so. It's impossible to work normally this way, and I'm more scared of the police than the dealers I buy from.'
There is no alternative to sourcing illegal cannabis. While Dutch policy allows coffee shops to sell cannabis, cultivation remains illegal. 'I'd like to see things change a lot,' said Daan. 'It's not easy to run a company this way.'
Back door
Much of the Netherlands' cannabis comes from the southern province of Brabant, where criminal growers turn over an estimated €1b annually.
As well as producing 340 tonnes of cannabis per year, the open farmland of Brabant is home to much of the Netherlands' methamphetamine and ecstasy production. Last year police closed down 14 labs and 30 storage points. Last week they raided a further six and arrested 55 people.
Law enforcement has for the better part of two decades maintained a 'don't ask, don't tell' policy regarding where coffee shop owners source their products. Large-scale grow operations are most definitely illegal, but police usually won't press coffee shop owners to reveal their suppliers.
Growers, however, will usually be prosecuted to the full extent of the law if caught.
'The current system, in which you can sell cannabis but not grow it, is unsustainable,' said D66 MP Magda Berndsen last year. 'It ensures high health risks, costs too much police capacity, and is a threat to public safety.'
Heads in the sand
Many politicians and law experts think the government is not doing enough to solve this problem and pressure is mounting for change. At least 41 municipalities have endorsed a manifesto calling for the cultivation of cannabis to be legalised and regulated, and 25 have applied to the minister of justice for permission to experiment with legal growth and supply.
Last November, the local authorities' association VNG, which represents all 393 Dutch municipalities, issued a report stating that 'the current situation cannot continue'.
'By turning a blind eye [to marijuana], the government is giving criminals free rein to sell their products. The cannabis industry is closely entwined with organised crime, which is also involved in ecstasy and human trafficking,' the report said.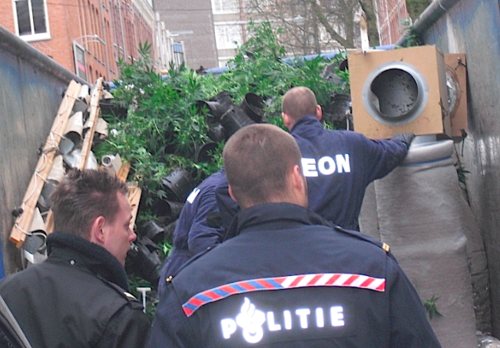 The government has consistently refused to consider any form of licensed growing. Former justice minister Ivo Opstelten in 2014 introduced new legislation making it a crime to help people grow marijuana in the first place. His replacement, Ard van der Steur, has also said 'cannabis social clubs' are not permitted under both national and international law.
D66 MP Magda Berndsen estimates that regulating the growth and supply side of the cannabis industry could net the government €500m per year – €200m from the savings to the police and the courts system, and €300m from tax on legal weed.
The Netherlands, once leader of the pack in terms of cannabis policy, is now being overtaken elsewhere. The American state of Colorado, for example, has granted licences for the cultivation and sale of 'retail marijuana'. The Colorado government collected $98m in taxes from marijuana sales, licences and fees in 2015.
Local knowledge
Just as Colorado's marijuana policy differs from federal policy, which has only recently begun to shake off the hangover of the failed Reagan-era 'war on drugs', local governments and justice officials in the Netherlands have worked within the national legal ambiguity to try and shape drug policy to the unique needs of their areas.
When the government proposed implementing a 'Weed Pass' in 2011, which would only allow registered Dutch smokers to visit coffee shops, it was blasted by the mayors of the Netherlands' four biggest cities, Amsterdam, Rotterdam, The Hague and Utrecht.
The proposal was shelved by the coalition government in 2012 and replaced by a more informal ban on serving non-residents, which has since been upheld in the Dutch supreme court. The back door, meanwhile, is still supplied by illegal growers.
While local mayors have had more power to shape 'front door' policy for their local coffee shops, when it comes to the 'back door' judges have also recently begun to be more flexible in their application of the law.
Enter the altruists
Not all growers consider themselves criminals. Some 'altruistic' growers work to supply local coffee shops with high quality cannabis, grown organically and without stolen electricity and connections to criminal networks.
In 2014, a middle-aged couple in Groningen province who were found guilty of running an illegal plantation were set free by a district judge without punishment. He said that although they had acted illegally, they showed high regard for public safety and the health of consumers.
Last year, public prosecutors appealed the court's ruling, and the green-fingered Groningers were given three-month suspended jail sentences.
Paid taxes
'These were people who decided a long time ago that Dutch cannabis policy was untenable in its current state,' their lawyer, Sidney Smeets, told DutchNews.nl. 'They grew in a very respectful way, with no pesticides. They only sold to licensed coffee shops and paid their taxes.'
'We've always argued that the lack of courage in Dutch politics to provide fitting regulation…shouldn't be something that normal Dutch citizens get punished for.'
In another high profile case last year, cannabis rights activist and altruistic grower Doede De Jong was found guilty of large-scale marijuana cultivation and supply, but had a two-month jail term quashed on appeal.
Despite finding De Jong guilty on all counts, the appeal court judges said he had grown the marijuana plants in the open air, using organic pesticides. 'There was no question of fire safety issues or electricity theft,' the court said. Nor was De Jong involved with criminals who produce cannabis.
'If politicians won't make adequate laws, then judges shouldn't convict people based on inadequate laws,' said Smeets. 'But some judges are more lenient than others.'
Where to from here?
The Cannabis College in the middle of Amsterdam's red light district is a tourist attraction and information centre. There, staff member Tam gives a brief history of Dutch dope policy and makes his case against prohibition to curious visitors, while offering them hits from his vapouriser bong.
'Policy should be developed based on real life experience, but at the moment that's not happening' he told DutchNews.nl. 'I believe that if there's an unjust law, you have an obligation to break it.'
Until the situation changes, Daan will still have to source his weed from criminals, the altruistic growers will still need sharp lawyers and sympathetic judges to escape prosecution, and Tam will still preach against unjust laws to glaze-eyed tourists.
And as other countries, including the USA, Uruguay, Mexico, and Chile, liberalise their cannabis policies, the policy of the once tolerant and liberal Netherlands is beginning to look more and more antiquated.
*Daan is a pseudonym
Thank you for donating to DutchNews.nl.
We could not provide the Dutch News service, and keep it free of charge, without the generous support of our readers. Your donations allow us to report on issues you tell us matter, and provide you with a summary of the most important Dutch news each day.
Make a donation