A guide to some of the Netherlands' best coffee shops (no, not those!)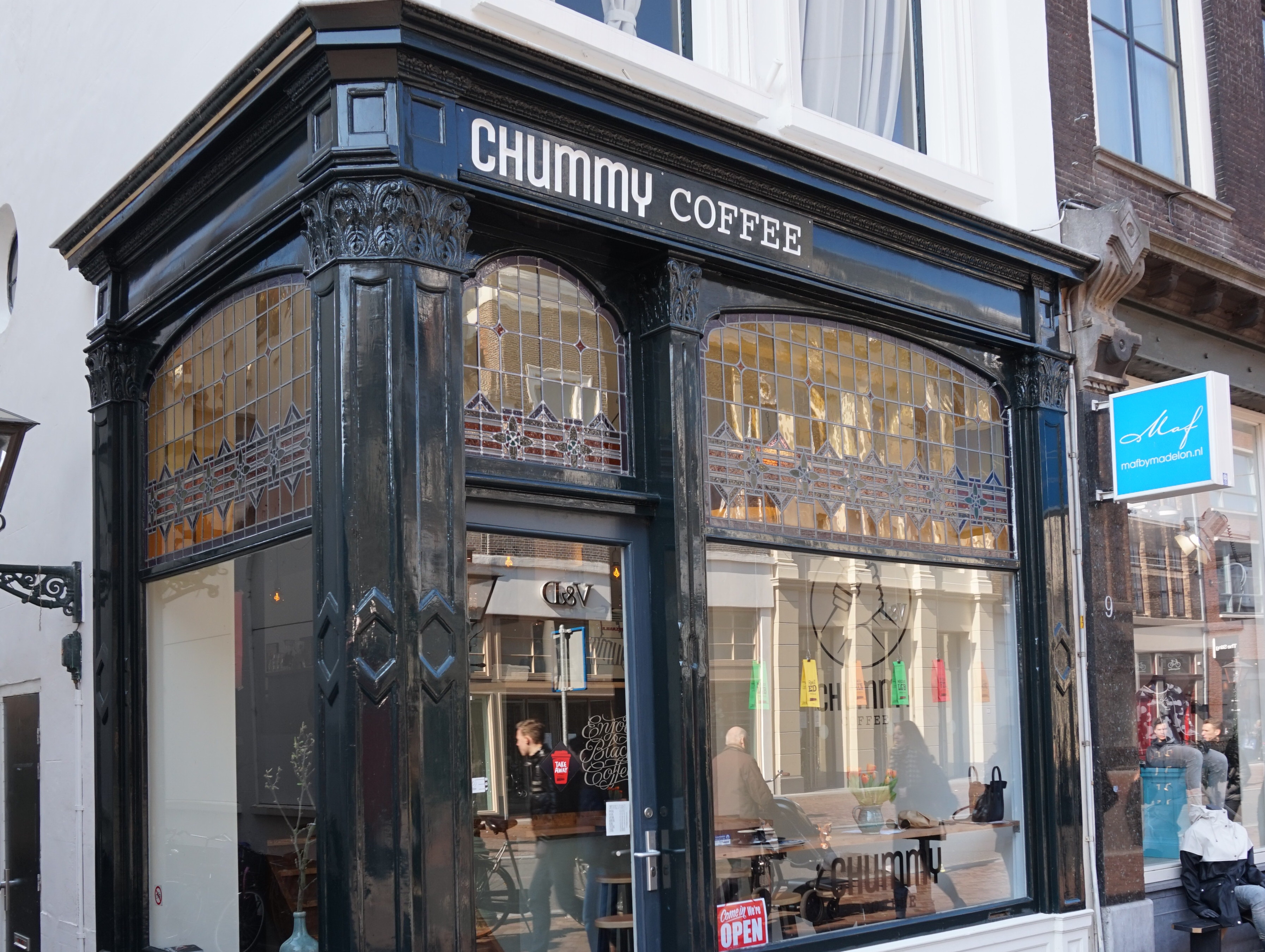 Tired of coffee that comes out of a plastic capsule? If you'd rather down a mug full of Folgers than a cup of coffee spat out of a machine operated by an indifferent waitress, well, keep reading. Here's Brandon Hartley's rundown on some of the best independent coffee cafes in the country. Feel free to include your own picks in the comments section below.
Sweet Cup – Amsterdam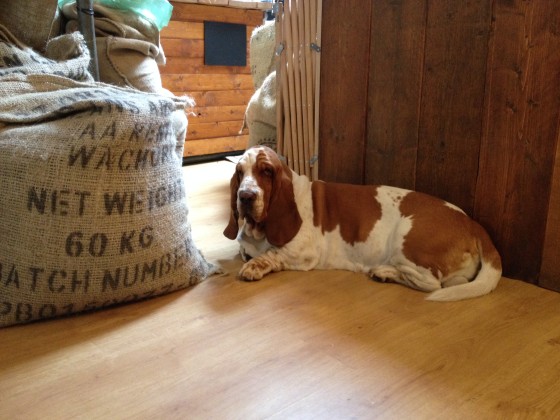 In the Netherlands, the term 'coffee shop' has become synonymous with a certain vice favoured by Willie Nelson and Snoop Dogg. Sweet Cup, along with the rest of the cafes in this article, isn't that type of coffee shop. You won't find any weed at this charming micro coffee bar and roastery located a short walk from the hustle and bustle of the Leidseplein. Oh, and the only dog (literal or otherwise) you're likely to encounter is Sjefke.
Lots of Amsterdam restaurants have a cafe cat but Sweet Cup is one of the few with a cafe dog. Sjefke, a young basset hound owned by Lisa Rooimans and Paul van Duuren, the roastery's proprietors, can often be found snoozing near the counter when he's not begrudgingly having his photo snapped by customers with Instagram accounts. While Sjefke gets plenty of attention, the real attraction at Sweet Cup is the outstanding coffee.
The roastery's Kenya blend won a cupping contest in Dubai in 2014. Sweet Cup's beans can be purchased if you like making coffee at home, but there are plenty of drinks on the menu as well as pastries. In a town where you can't toss a stroopwafel without hitting an artisanal coffee cafe, Sweet Cup's unpretentious staff, fantastic cappuccinos and resident 'coffee hound' set it apart.
Other great places to get coffee in Amsterdam: Two For Joy, Caffeination, Lot Sixty One, Quartier Putain and Espressofabriek.
Man Met Bril Koffie – Rotterdam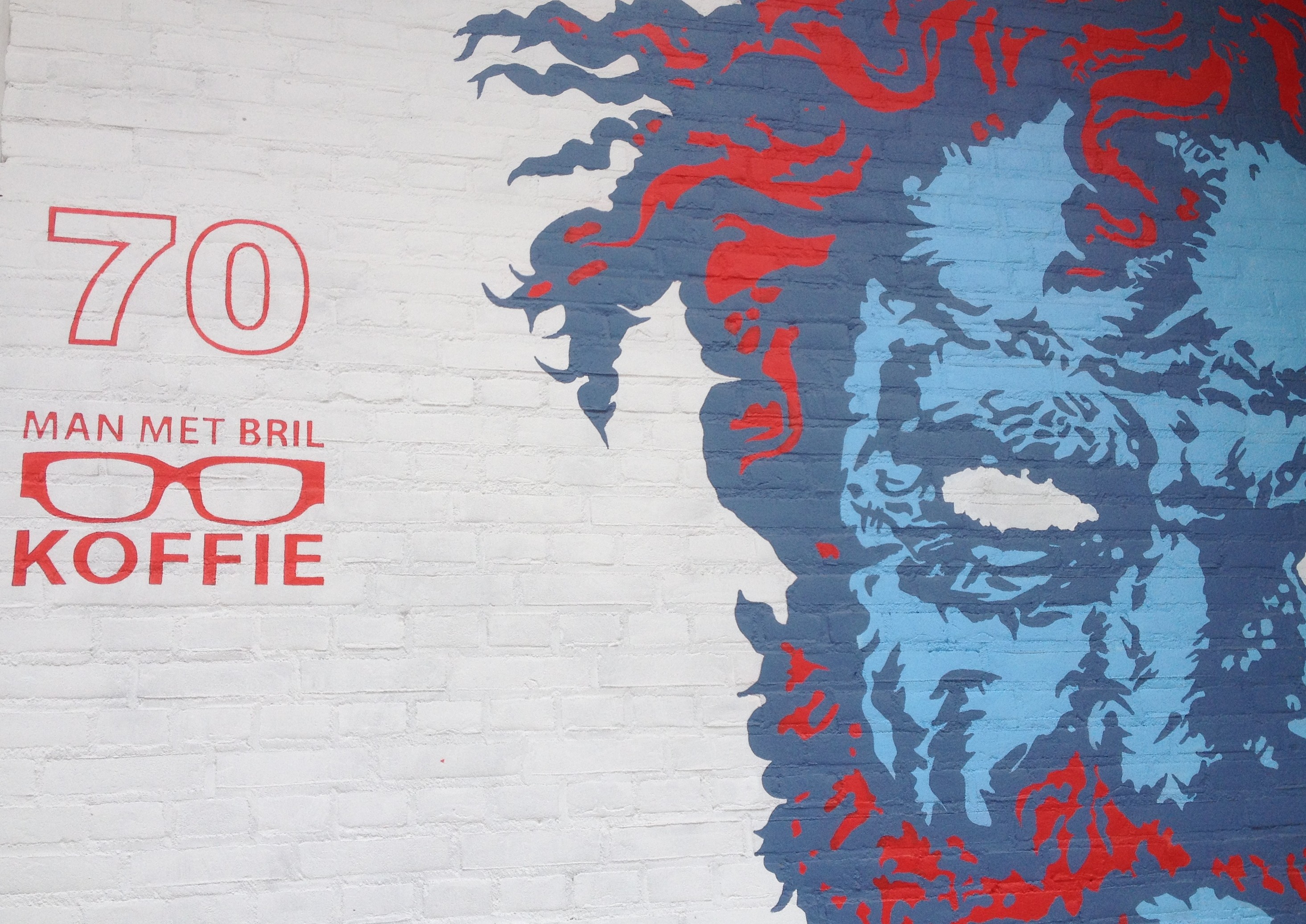 The bespectacled Paul Sharo originally founded this Rotterdam-based roastery in the late '00s and opened an actual coffee bar in the winter of 2015. It's located off the beaten track in Rotterdam's Agniesebuurt neighbourhood in a truly unusual location – the  arch of the former Hofplein Railway viaduct. It's worth the trek if you enjoy exceptional flat whites and some of the best beans you're likely to find anywhere in the country. While it may not be currently available, the roastery has been known to carry a blend dubbed 'Vampier' that, pardon the pun, is bloody good. It comes from a Colombian coffee plantation located in a region populated by vampire bats.
The beans at Man Met Bril (Guy With Glasses) are rapidly becoming a beloved Rotterdam institution and many local cafes and other businesses have begun using them as well. The roastery has also been profiled in the pages of Esquire and won AD's 2015 Coffee Test. Along with various coffee drinks, it also serves breakfast, lunch and pastries.
Other great places to get coffee in Rotterdam: UEB West, Hopper Coffee and Mr. Beans.
Lola's Bikes and Coffee – The Hague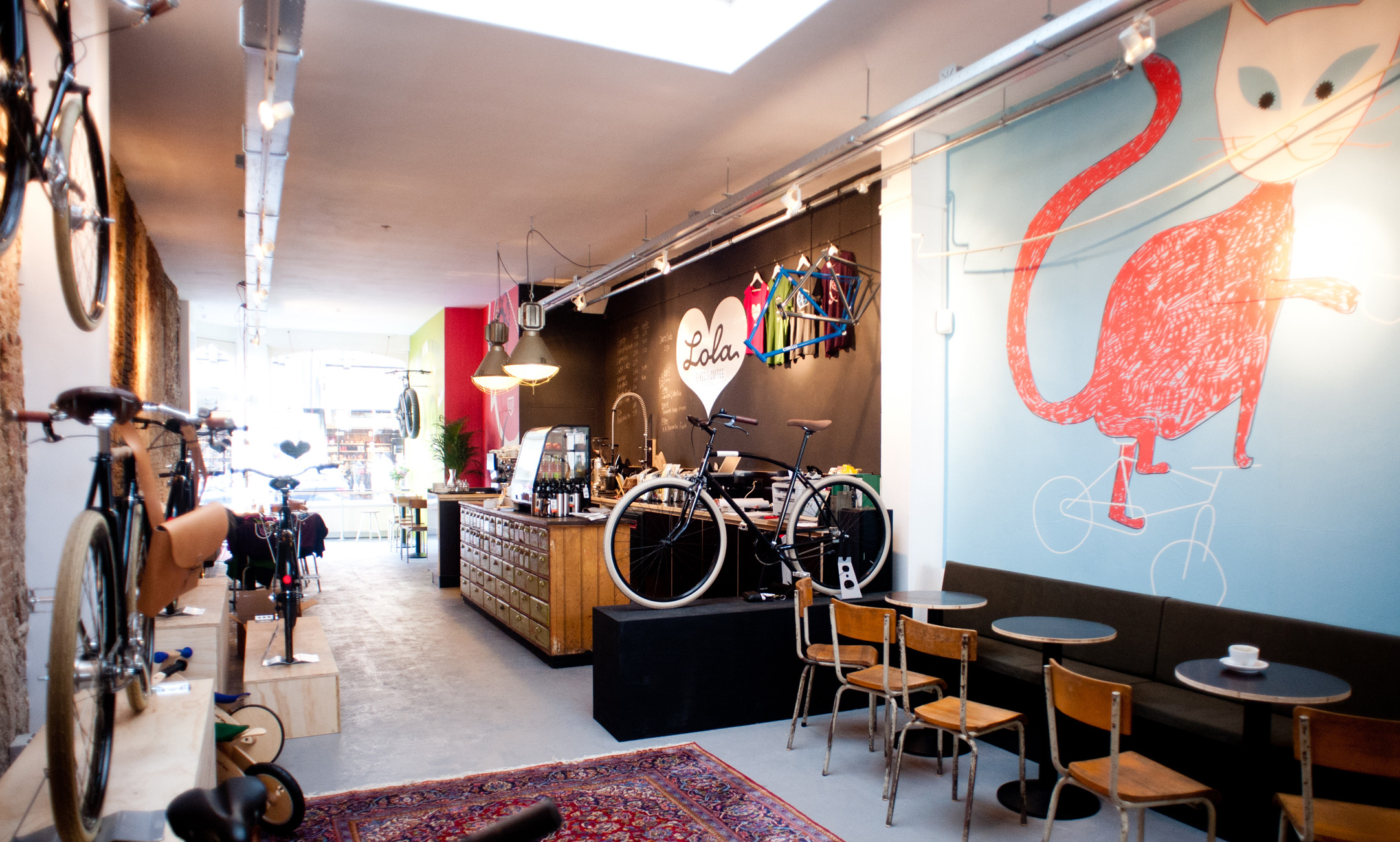 Lots of cafes around the Netherlands mix coffee with unrelated services and products. It's now possible to find hybrid businesses that crank out cortados alongside antiques, records, women's clothing and even taxidermied animals. At Lola's in The Hague, you can toss back a shot of espresso before jumping on a bike for a guided tour of the surrounding region.
One of the most popular among them is the weekly 'Fatbike Experience' on Sunday mornings. Participants can enjoy coffee before a spin over to Scheveningen on a customised rental bike outfitted with large tires that can handle the sand and any potentially difficult weather conditions. Those who would prefer to relax with a latte and a magazine instead of braving the elements are sure to enjoy Lola's quirky atmosphere.
As for the coffee on the menu, it's some of the best that you'll find in the city. Lola's Kampala Gold combines Ugandan, Ethiopian and Brazilian beans for a rich flavour with a sweet aftertaste. Even better, proceeds from the sales of bags of the blend go to help support a cycling club in Uganda.
Other great places to get coffee in The Hague: Brood & Koffie bij Clarence, Pim Coffee Sandwiches & Vintage and Kleine Koffiebranderij.
Chummy Coffee – Leiden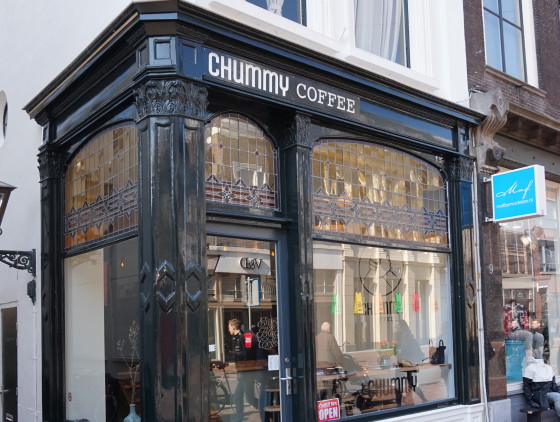 Housed inside a charming former classical music shop with vintage stained glass windows, Chummy Coffee is one of Leiden's newest cafes. Proprietor Jaap van der Schee, who opened the cafe a few months ago, is a definite coffee diehard. He learned the tricks of the trade from his colleagues in the business, among them the founder of Caffeination, a popular roastery in Antwerp that now has a location in Amsterdam as well.
Jaap uses Caffeination's beans at his cafe and can often be found double-checking the settings on his espresso machine with a smartphone app, and testing his coffee with special gizmos far beyond the comprehension of the average latte drinker. He definitely knows a lot about beans and is happy to answer questions about everything from the flavour of certain blends to the specifics of cold brews. Visitors to Chummy Coffee can enjoy straight-up, filtered coffee along with more elaborate drinks like iced frappes and lattes that contain a wide array of flavours and spices.
Other great places to get coffee in Leiden: Borgman & Borgman, Van de Leur, Francobolli and 't Suppiershuysinghe.
Miss Morrison – Delft

If you step inside this small roastery in Delft and ask for Miss Morrison, you'll likely receive a playful answer from one of the friendly baristas behind the counter. Its enigmatic namesake wasn't inspired by the famous former frontman of The Doors or his fellow classic rocker Van Morrison and the staff, even the males, have been known to identify themselves as her.
This mystery has perplexed customers since Miss Morrison opened its doors in the spring of 2014. The roastery focuses on selling its freshly roasted beans for home use but also offers a limited menu of coffee drinks for those who would like to sit for a spell beside the record player in the corner. You won't find a large display case filled with pastries or elaborate lattes here though. Miss Morrison instead specialises in great coffee and teas along with a selection of sweets from Van der Burgh Chocolaad and the Amsterdam-based Chocolatemakers.
Other great places to get coffee in Delft: The Buitenleven Cafe, Uit De Kunst and Kek.
Black & Bloom – Groningen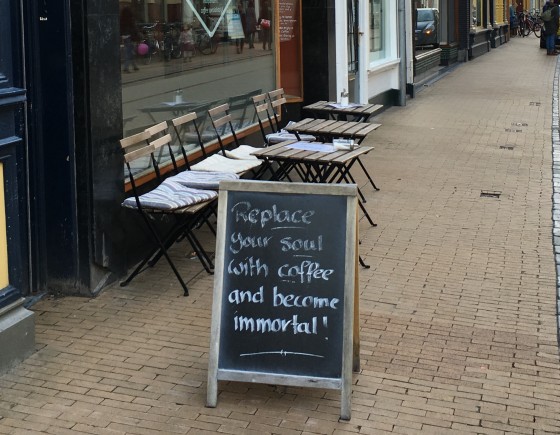 Coffee specialist Gerben Engelkes opened this cafe, the first artisanal espresso bar in Groningen, back in August of 2012. Since then, he's provided his customers with tons of fantastic coffee and tips on how to make their own at home. The beans you'll find here come from some of the best roasters in Europe and they're as freshly roasted as possible. As a result, Blackjack, the house blend, and the cafe's various filtered coffees are only offered in-season.
Black & Bloom offers a tasting menu for those eager to explore different blends, as well as plenty of teas and speciality coffee drinks. Those with a sweet tooth can also enjoy an Oreo mocha or a Toblerone latte. This isn't the cafe to visit with a MacBook though. Wifi isn't offered and laptops are strongly discouraged.
Other great places to get coffee in Groningen: MASMAS Groningen, Bartista and Staadse Koffie Branderij
Thank you for donating to DutchNews.nl.
We could not provide the Dutch News service, and keep it free of charge, without the generous support of our readers. Your donations allow us to report on issues you tell us matter, and provide you with a summary of the most important Dutch news each day.
Make a donation