New calls to release Morgan, killer whale caught off Dutch coast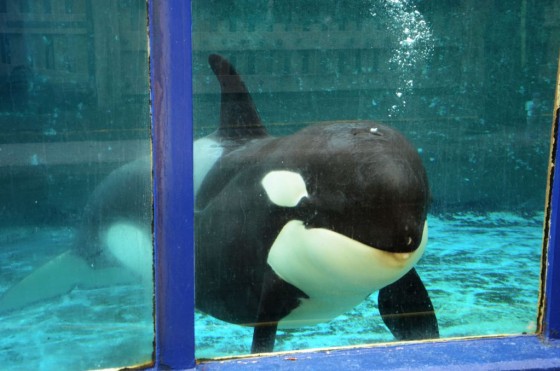 By Senay Boztas
There was a tidal wave of reaction when the American park chain SeaWorld announced it would stop breeding killer whales and end controversial 'theatrical shows' last week.
But scientists and activists are concerned about what this means for Morgan, an orca found off the coast of the Netherlands in 2010. This female killer whale has ended up living 'under SeaWorld's care' at an amusement park called Loro Parque in Tenerife.
SeaWorld, which operates in San Diego, Orlando and San Antonio, built its brand around a leaping, splashing killer whale known as Shamu. But ticket sales suffered and animal rights protests rose after the release of a 2013 documentary Blackfish, about an orca called Tilikum who was responsible for the death of a SeaWorld trainer and two others.
Now, though, the orca known as Morgan is the subject of a new short film that is starting to tour film festivals, giving an impression of what life in a concrete tank might feel like for these massive animals.
Nursed back to health
Morgan was found in a severely weakened state in the Wadden Sea and she was nursed back to health at the Dolphinarium in Harderwijk. Although activists say she was brought into the Dutch facility on a 'capture, rehabilitation and release' permit, she was then transported to Loro Parque on the Spanish island.
In 2014, the Dutch Council of State ruled this decision was correct as there was no 'realistic alternative' or possibility to release her into the wild: Morgan's family group had not been tracked, they said, and they believed she was too young to find enough food for herself.
Now, the Dutch government says Morgan is nothing to do with them. A spokeswoman for nature and animal welfare at the Dutch government says: 'Since she went to Spain, the responsibility is with Spain.'
Meanwhile, the Free Morgan Foundation campaign group alleges that Morgan's capture and transfer were effectively 'whale laundering', in a white paper published last year.
Dr Ingrid Visser, founder and principal scientist of the Orca Research Trust in New Zealand, says the SeaWorld announcement only increases the impetus for Morgan's release, and is convinced scientists could find her family.
'One of the big issues is how Morgan's ownership falls under Seaworld, because wild-born orca cannot be sold and traded or used for primarily commercial purposes under EU law, and she is a wild-born (annex A) orca (Appendix 2 species),' she explains.
'These animals travel 100km a day, dive to 300 or 400m depths and have intense social structures and dynamic lives: they are deprived of all this in a barren tank that doesn't even have a fish painted on the wall. They do the same show three times a day; nothing changes. It is Groundhog Day for whales. Morgan is a poster child for all that's wrong in the industry.'
Campaigners believe Morgan was considered valuable in captivity as she brought a new blood line to captive animals that were widely in-bred.
A spokeswoman for SeaWorld confirms that she would be covered by the new announcement to stop breeding. However, Loro Parque – which would not respond to inquiries directly – is sending mixed messages.
On March 18, it said in a press release: 'Since the orcas are not the property of Loro Parque, we have to respect the decision made by SeaWorld.'
Reproduction rights
Then it cited Spanish and European Community law 'considering reproduction as an inherent right of all the animals.' So, it said, 'it is one of the principal functions and obligations of the zoological park to ensure that the right to reproduction is respected.'
A member of the public who recently attended Loro Parque has posted a video online that Visser claims is of Morgan receiving an ultra-sound, which can be used to check for ovulation or pregnancy.
But Heiko Grimm, director of the short film I am Morgan – Stolen Freedom, believes that if breeding attempts stop, the way is clear to release her.
'The whole situation could now change for Morgan with SeaWorld's latest announcement to stop their breeding programme,' he says. 'Because of that, Morgan is not essential for SeaWorld any more. Additionally Morgan is a good candidate for a sea pen or sea sanctuary because she was born in the wild.
'Can the last part of her 'capture, rehabilitation and release'  permit now be fulfilled? I believe so,' he said.
Thank you for donating to DutchNews.nl.
We could not provide the Dutch News service, and keep it free of charge, without the generous support of our readers. Your donations allow us to report on issues you tell us matter, and provide you with a summary of the most important Dutch news each day.
Make a donation