The visions of Hieronymus Bosch are centre stage in landmark exhibition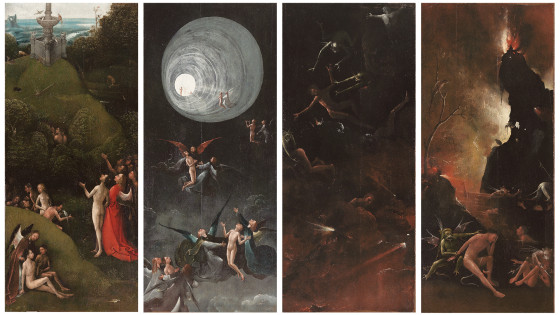 Welcome to the weird and wonderful world of Hieronymus Bosch (1450-1516) whose bizarre creatures struck awe and admiration into the hearts of his contemporaries and continue to do so today. Here are ten facts about this extraordinary painter whose work will be on show in a landmark exhibition at the Noordbrabants Museum from February 13 to May 8.
1 What is his real name?
Jheronimus/ Hieronymus/Joen/Jeroen van Aken, as he is variously called, hailed from the city of Den Bosch in the province of Noord-Brabant. In 1488 Jeroen van Aken began signing his work using the name of his native city and became Jheronimus Bosch.
It is said that this was actually a clever marketing ploy: Bosch wanted his patrons to know where to find him (and presumably not go looking for him in Aken (Aachen), Germany, where the family originally came from). Bosch did indeed live in Den Bosch all his life and died there in 1516. The 500th anniversary of his death is the reason the Noordbrabants Museum is mounting this unique exhibition.
2 Bosch was in demand in his lifetime
Born into a family of painters, Bosch was unlikely to turn to another profession. Fortunately he was extremely talented, and very successful during his lifetime. His outlandish iconography, so different from what was on offer from his contemporaries, far from repelling his wealthy clientele actually drew their admiration and Bosch paintings were in great demand. Aristocratic patrons included Philip the Handsome, Duke of Burgundy and Brabant and Henry III of Nassau.
3 Where did the images come from?
So how can someone who stepped outside his house to walk the short distance to his studio every day come up with such hallucinatory images? Man-machines and monsters engage in such bewildering activities that 'a lively imagination' just doesn't seem to cover it. And yet that is all we are left with, although some hold that Bosch's visions sprang from eating mouldy rye bread.
Bosch's depiction of cities on fire is said to spring from his witnessing a great fire in Den Bosch in 1463 – 4,000 houses were burned to the ground – as a child but even that is unproven. In fact, very little is known of his life at all.
4 Was Bosch a heretic?
What is certain is that subsequent arbiters of taste did not quite know what to make of Bosch and his images. In 17th century Spain he was branded a heretic for his 'devilry' while the psychoanalytic movement of the 1930s had him down as a loony obsessed with guilt and sin (Bosch was a Roman Catholic).
Others thought he must have been a member of the Brethren of Free Spirit, a sect trying to create a new garden of Eden mainly by means of unbridled sex. Later Salvador Dali and his fellow surrealists hailed him as a kindred spirit.
5 Symbolism
Much in the paintings continues to defy interpretation but here's what Stanley Meisler of the Smithsonian says about some of the symbols in Bosch's work: 'Although scholars don't always agree on interpretations, this sampler suggests possible meanings for some symbols found in the paintings: pig: false priest; gluttony, fruit: carnal pleasure, rat: lies against the church; filth; sex, fish: false prophets; lewdness, closed book: futility of knowledge in dealing with human stupidity; flames: ergotism; fires of hell, flying monsters: hallucination of ergotism sufferers; devil's envoys, keys: knowledge, lute and harp: instruments for praise of god and pursuit of love; breasts: fertility, mussel shell: infidelity, black birds: unbelievers; death or rotting flesh, knives: punishment of evil, rabbits: multiplication of the race, egg: sexual creation, key symbol of alchemy, ice skater: folly, funnel: deceit and intemperance; false alchemist or false doctor, strawberry: fleeting joys of life, love, owl: great learning, ears: gossip, spheres: alchemical apparatus.'
6 How many Bosch works are there?
How many works Bosch painted is unknown. A number of them perished; 24 have now been attributed to him with any certainty. Copies abounded, made to look conveniently older and authentic by exposing them to smoke, according to disgruntled art collector Felipe de Guevara who owned no fewer than 6 'El Boscos'.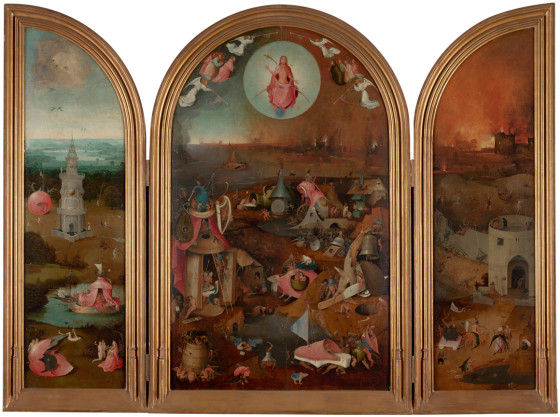 7 Analysis and restoration
The Bosch Research and Conservation Project  has been busily analysing and restoring Bosch's work for the last five years. This has led to new insights and a 'new' painting was added to the oeuvre, no doubt to the delight of present owner – the Nelson-Atkins Museum of Art in Kansas, Missouri. This tiny rendering of the Temptation of St Anthony was previously attributed to one of his apprentices.
8 Persuasion
Intrepid museum boss Charles de Mooij has managed to persuade museums all over the world to part with 20 of Bosch's 25 surviving paintings, using participation in the prestigious project as his lure. Not included is his famous Garden of Earthly Delights (painted between 1480 and 1505) which was considered too fragile to travel. The Prado was kind enough to send the Haywain (1516), however, which is leaving Madrid for the first time in 450 years!.
9 Marketing
Like many other painters Bosch has spawned a sea of tat, but tat, it seems, mainly targeting the young: Garden of Earthly Delight Doc Martens, leggings and skateboards, for instance. For the present craze for colouring books there is even a Garden of Earthly Delight colouring book for hours of colouring fun.
10 His Year
2016 is Hieronymus Bosch year. Apart from the exhibition, Den Bosch will be the scene of artistic interpretations of the painter's work in theatre, dance and film.
Thank you for donating to DutchNews.nl.
We could not provide the Dutch News service, and keep it free of charge, without the generous support of our readers. Your donations allow us to report on issues you tell us matter, and provide you with a summary of the most important Dutch news each day.
Make a donation