Taking the integration test: how do you deal with a noisy party next door?
In the final part of his series on the formal Dutch integration process, Brandon Hartley visits an examination centre and looks at suggestions from people who have gone through the process on how it could be improved.
Part 3: The Future
Some who have gone through the inburgering process have welcomed the opportunity to become better acquainted with the Netherlands and to learn its language in a formal setting. For others, it has been an overpriced, ineffective and even humiliating experience.
But whatever happens, the process is unlikely to be phased out or substantially reformed in the near future. The arrival of thousands of immigrants from Syria and Iraq has again focused attention on how the Netherlands absorbs its new arrivals.
Meanwhile, xenophobic groups across Europe are ramping up efforts to 'strike back' with demonstrations. Here in the Netherlands, the government has been struggling to come up with solutions, while Geert Wilders, the controversial leader of the PVV who's currently awaiting trial on charges of hate speech, continues to rise in popularity.
Norms and values
No Dutch party queries the need for integration courses and compulsory language lessons. Indeed, the government is pressing ahead with its plans to ask all new arrivals to sign a 'participation declaration', pledging to uphold Dutch norms and values and participate fully in society.
'The Dutch government and parliament are already discovering that the sky is not the limit in how they can treat non-EU citizen immigrants,' said Jeremy Bierbach, a lawyer currently working on a court case involving two long-time residents who are refusing to take the integration exam. 'They are increasingly limited by EU law. In EU law, one of the core principles is called "proportionality". Integration requirements are perfectly OK to achieve certain goals, but they can't go beyond what is absolutely necessary.'
Given recent additions, like the 'Orientation on the Dutch Labour Market' section, there's also the question of what could possibly be added to the already overstuffed exam programme.
'[The programme] is already pretty damn strict, so I think it's about reached its limit,' Bierbach said. 'Besides, it's already clear that by making people answer multiple choice questions about what the proper way to behave is in certain social situations, you're not actually changing their mentality. You're just forcing them to learn to regurgitate what the authors of the test want to hear.'
Taking the test
So what about the test itself? It's a few days before Christmas and there are many unhappy faces inside the inburgering test centre in Rijswijk. A stern-faced clerk quickly rattles off a series of rules to a perplexed test-taker. He's extraordinarily reluctant to repeat them or slow down. Meanwhile, a computerised coffee machine in the adjacent waiting room conveniently offers instructions in both English and Dutch.
A cheerful Christmas tree in the corner can't brighten the spirits of those waiting to take the 'Knowledge of Dutch Society' portion of the exam. Some test-takers are nervously tapping their feet or going over their notes one last time. A middle-aged man stares into space while listening to Dutch lessons on an mp3 player and quietly repeats various phrases under his breath. A jittery young man who has come to take the test with his girlfriend looks like he's about to vomit.
A moderator eventually ushers the test-takers into an examination room lined with kiosks, each one with a pair of headphones and a computer. Mirrored spheres posted on walls around the room obscure security cameras pointed in various directions. After signing a form and showing their identification, each test-taker is led to a kiosk. The computer screens feature a peculiar photo of four people sitting in front of a tulip field. Each one of them has their back turned.
Quick fire questions
After the moderator goes over the rules, the test begins. The test-takers are given 45 minutes to answer 42 questions. Before each section, they must watch a 30-60 second video scenario followed by further audio instructions. The automated test then quickly 'speaks' each question and all three potential answers.
After watching the video and hearing the instructions, test-takers only have a few seconds to click on an answer. If they miss a detail and try to go back, the test's  interface will start playing multiple bits of audio at once. There are some who can't keep up with the frantic and unforgiving pace.
Then there's the questions themselves, many of which are entirely subjective and have multiple answers all of which are arguably correct.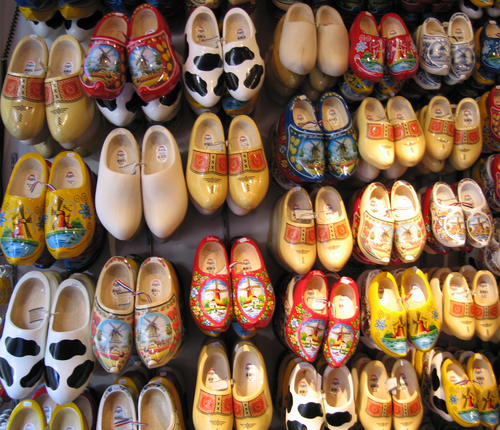 Party
In one scenario, a garbage man gets a mysterious headache during his work day. The test asks if he should go to an emergency room, his doctor or make do with some paracetamol instead. In another, a frustrated apartment dweller frets over how she should deal with a loud party next door. The potential answers: 'call the police', 'ask when the party will be over' or 'tell the neighbours to turn their music down'.
The test also still contains the oft-discussed 'what do you do if you see two men kissing?' question. The potential answers for this one: 'call the police', 'ignore them' or 'tell them to go home'.
Almost all of the videos feature Middle Eastern or African actors. It's hard to leave the examination room without feeling like the 'Knowledge of Dutch Society' portion of inburgeren is primarily geared towards these particular subsets of the Netherlands' immigrant population.
'The exams are so racist – I was truly shocked,' says American national Anne.  'Every person who does something crazy is a non-white person with a non-Dutch name – Mohammed beating his son, Abdhi getting very angry at the doctor (to the point of yelling), Aarifah not taking her medication, or, worst of all, a non-white Muslim-looking man saying the Holocaust wasn't really that terrible.
'Every person who needs to be taught a lesson or have something "explained" to them was a non-white person. Every person in a position of power (like the boss or the doctor) was white.'

Moving forward

So how can the integration programme be made more relevant to more of the immigrants who are required to go through it?
'I don't know what the answer is. Perhaps split it off into two separate groups somehow?' says American national Pamela, who passed the test in 2014 and is now a Dutch citizen.
'Perhaps everyone has to take an entrance exam to gauge how much they know of the language and culture, with additional points if they have a job already. Or let people that actually have jobs and meaningfully contribute to society have a pass until they no longer have a job contract or apply for welfare benefits (bijstand).
'And, of course, if they want to keep the current system, they need to make it more human. Instead of "rules are rules'' on not being able to pass the speaking test via the computer, give people a reasonably priced option to have a human evaluator. The "one size fits all" approach pisses people off and makes them hate the process.'
People who claim welfare benefits must now learn Dutch, if they don't already speak it, to a reasonable level.
Optional
'First of all, the exams need to not be overly difficult and only cover the Dutch language,' says Philip, who has lived in the Netherlands for 25 years and refuses to take the test.  'In most cases they should be optional but, for example, could be mandatory for naturalisation, some university programmes and some forms of employment.
'The costs for exams, classes and study materials need to be significantly reduced or offered for free. People learning Dutch often have very different backgrounds, ranging from not being able to read or write in any language to being university educated. Classes need to be made available that are suitable for the people taking them.
'Learning Dutch needs to be thought of as a lifelong learning process for most people, and integrated into an entire programme of lifelong learning and community development that includes Dutch people too.'
Worthwhile
'I strongly believe that inburgering is a worthwhile programme,' says Rita, who moved to the Netherlands from Jamaica in 2013.
'I don't think it is too much to ask that immigrants learn the language and about the culture of their new country. I would not change a thing about it as I consider the requirement quite fair. Learning the language and as much as possible about the culture is the best way to be able to get along in any country. I think it is also only polite.'
Cultural focus
'I think it should be completely overhauled,' says Roger, who passed the test in 2013.  'If you want to live here in Holland, the language plays a big part, but are you going to learn the language in a once or twice a week class for six months or a year?
'I don't think you're going to learn Dutch in a couple of hours a week in a class. I work and was working full-time back then and you're expected to do a lot of homework. That's fair enough but your job is going to come first.
'I would overhaul the programme in terms of what living here means, still with a strong emphasis on language lessons, but with the expectation that people aren't going to learn a language in a short period of time. I would focus more on the cultural part.'
Relevancy
'I think it's a good idea which is executed terribly poorly,' says lawyer Jeremy Bierbach 'In particular, expats, by which people generally seem to mean English-speaking migrants from rich countries, could do with more integration in Dutch society for their own happiness.
'Yes, you can live here for 20 years speaking only English, but then your interaction with Dutch people becomes limited to just superficial transactions. I think it would be nice if the government funded a form of education that inspired people to really learn Dutch rather than just go through the motions.'
The names of the foreign nationals in this article have been changed.
If you have been through the integration process, we would welcome your comments. Read the previous entries in this series here:
Thank you for donating to DutchNews.nl.
We could not provide the Dutch News service, and keep it free of charge, without the generous support of our readers. Your donations allow us to report on issues you tell us matter, and provide you with a summary of the most important Dutch news each day.
Make a donation