'After 22 years here, I'm no longer as materialistic as I used to be'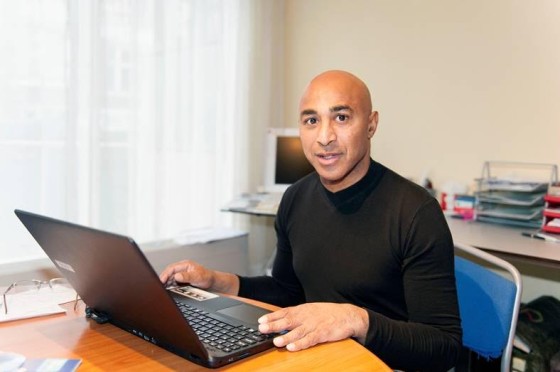 Londoner Billy Allwood is the founder of website The Hague Online and organiser of the Feel at Home in The Hague fair, which celebrates its 10th edition on Sunday. Posted here 22 years ago, Billy has now abandoned suits, would like to meet Frank Rijkaard and says the North Sea is too cold to swim in.
How did you end up in the Netherlands?
I came to the Netherlands in 1994 when the Brazilian mining company I worked for relocated its headquarters from London. I worked in their strategy department and  when the company was taken over, we were let go. I decided to stay on and started a financial software company. In 2004, when I had been in the Netherlands for 10 years, I launched The Hague Online. I realised there was not enough information out there in English about daily life in The Hague. So that is what I decided to provide.
How do you describe yourself – an expat, lovepat, immigrant, international, etc?
I'm an international person living in an international city. I don't feel like an immigrant. I feel European and I'm living in Europe. I was born in the UK but my parents are from Jamaica so that may have something to do with it. I think I find it more annoying to be asked where I am from by people in Britain than when it happens here.
How long do you plan to stay and why?
The Hague is my home but of course you never know what is going to happen in the future. I plan to stay here as long as I am enjoying life. I don't expect to be thrown out if Britain votes to leave the EU. I don't think a Brexit will happen. The world is getting smaller and you can't be isolationist. There would be chaos if all the Brits who live outside the UK had to deal with that. The Hague and Amsterdam are full of young people from all over Europe which gives me a real buzz.
Do you speak Dutch and how did you learn?
I speak Dutch well enough. When I first came here I worked for an international company and my wife was British, so there was little incentive to really learn. That changes when you start being more interested in what's happening around you. If you go out for a beer with Dutch people, you can't expect them to speak English all night. My children went to Dutch schools, so I learned more with them. They watched Dutch telly so I watched Dutch telly. Learning Dutch is a gradual process and my vocabulary is always expanding.
What's your favourite Dutch food?
I'm a simple soul and Dutch borrelhapjes after a game of squash are always a temptation. I'm not going to say there is no such thing as Dutch food – I'm from England after all, so say no more. It's more about the experience and the culture of eating – the herring parties at the start of the new season are typically Dutch and I like that.
How Dutch have you become?
I've become pretty Dutch in the way I dress. In London it was all about what type of tie you were wearing and your cufflinks. Here, the approach to dressing is much  more relaxed and low key. In the beginning I thought it was weird but now I am quite used to it. I still own suits, but I very rarely wear one. I like cycling as well. It's great to turn up at a business meeting on a bike. No one thinks it strange. I'm also not as materialistic as I used to be. That's another Dutch trait.
Which three Dutch people (dead or alive) would you most like to meet?
Football player Frank Rijkaard – he was always the odd one out of the three if you compare him to Marco van Basten and Ruud Gullit and I think the more interesting character. Film director Paul Verhoeven is another person with a story to tell. And Spinoza – people still talk about him today.
What's your top tourist tip?
I used to go to the Nemo science centre a lot with the children when they were younger. Its a nice, interactive way to spend some time. But actually cycling is the best. Once, some friends came over from London and brought their own bikes. We cycled from The Hague to the seaside resort of Noordwijk. The North Sea is too cold for me to swim in, but I do appreciate the fried fish.
Tell us something surprising you've found out about the Netherlands.
When I first came here, I was surprised by how many people smoked. Not weed, but cigarettes. It's getting less, but it still surprises me. The smoking ban has made a big difference. You don't come home from a bar smelling of smoke any more. When I look at those smoking corners, I think people must be really desperate.
If you had just 24 hours left in the Netherlands, what would you do?
I'd go on a nice, long cycle ride to the beach and come back via Leiden with my kids. The Netherlands is a great place to bring up children. If I have to leave, the Netherlands will always be a part of me.
The 10th edition of the Feel at Home in The Hague fair takes place on Sunday at city hall. You can book free tickets online.
Thank you for donating to DutchNews.nl.
We could not provide the Dutch News service, and keep it free of charge, without the generous support of our readers. Your donations allow us to report on issues you tell us matter, and provide you with a summary of the most important Dutch news each day.
Make a donation