Proost! Here's five of the oldest taverns in Amsterdam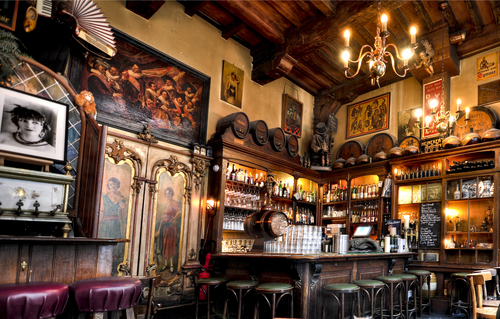 Whether you call them pubs, taverns, brown cafes or simply watering holes, there are several of them in the Dutch capital that are decades or even centuries old. Which one is the oldest? The answer remains elusive. Here is Brandon Hartley's rundown on five historical Amsterdam drinking establishments that date back to the Golden Age or earlier.
In 't Aepjen – Zeedijk 1
How long has this tavern along the Zeedijk been open for business? No one seems to agree but many say it dates all the way back to the 15th century. It's housed inside one of two buildings that survived a devastating fire that roared through Amsterdam in 1452. One source says it was converted into an inn that began serving food, beer and lodging to weary travellers in 1475. Another source says that didn't happen until 1519 or perhaps even much later.
One thing is for sure though: it was popular among sailors during the Dutch Golden Age. Supposedly, many of them rolled into the bar straight off their ships from voyages to distant colonies in Indonesia with monkeys in tow. When some of them couldn't pay their tabs for whatever reason, the kindly proprietor accepted their new pets as payment. Eventually, though, he wound up with too many monkeys in the bar and his other customers started complaining about fleas.
A regular named Gerard Westerman allegedly offered to adopt the creatures and allowed them to live in a large garden at his house in east Amsterdam that was eventually converted into the Artis Royal Zoo. This story doesn't quite hold up against careful historical scrutiny so take it with a grain of salt. Nevertheless, In 't Aepjen (In the Monkeys) doesn't shy away from the legends surrounding it. The small bar is currently decorated with lots of monkey statues and other simian bric-à-brac.
De Druif – Rapenburgerplein 83
About a fifteen minute walk from the tourist throngs along the Wallen, this tavern sits in a much quieter neighbourhood along the Rapenburgerplein. De Druif ('The Grape') has been serving up spirits since at least 1631 but the bartender who was working on a recent Saturday afternoon claimed it first opened in 1585. This would explain its ties to Piet Pieterszoon Hein.
The infamous admiral became a hero during the Eighty Years War when he and his men managed to capture a Spanish treasure fleet loaded full of silver. The proceeds from their daring raid funded the Dutch military for eight months. Hein lived in a house down the street from De Druif and was said to have spent a lot of time hanging out at the tavern when he wasn't at sea.
Sadly, a flying cannonball killed Hein during a battle in 1629. A small portrait of him now hangs on one of the tavern's walls. De Druif is currently decorated with carpeted tables, old casks and a peculiar brass lamp that hangs over the bar. The old stairwell that leads to the bathroom in the cellar is also one of the most precarious in town. Take heed.
Café Papeneiland – Prinsengracht 2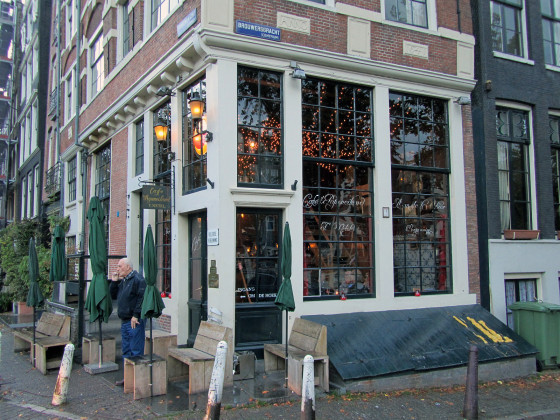 This tavern in the Jordaan district might pre-date the Café Karpershoek but it really depends on your perspective. Its early years are shrouded in mystery and intrigue. Some say that as early as 1600 an enterprising undertaker sold intoxicants to his still living customers at this location. There's also a hidden tunnel on site that was used as an escape route by Catholics during an era when their religion was declared illegal by government officials.
The cafe's website, on the other hand, claims that it first opened for business in 1642. These days, its friendly staff and traditional Dutch decor remain popular among locals and visitors alike, among them Bill Clinton. The former US president stopped by for a cappuccino and a slice of apple pie in the spring of 2011. Never one to pass up a delicious treat or two, Clinton supposedly wound up taking the rest of the pie with him when he left.
Café Karpershoek – Martelaarsgracht 2
Many people claim this is the oldest tavern in Amsterdam and it first opened its doors in 1606. It also lays claim to the city's oldest liquor licence and it's conveniently located pretty much across the street from Amsterdam Centraal. Back in the 17th century, long before the train station was built, it sat along an old harbour and served as an inn offering food, drinks and lodging to crew members of the Dutch East-India Company.
So, much like In 't Aepjen, it was once favoured by sailors but you won't find any (literal) monkey business here. Mind you, the staff still tosses sand on the floor in honour of its historic past. Once upon a time, the patrons used to spit wads of chewing tobacco on the tavern's wooden planks while they sipped their suds, and the sand made it easier to sweep up. Old beer signs now line the walls and, curiously enough, an old Amsterdammertje has been stationed near the front door.
In de Olofspoort – Nieuwebrugsteeg 13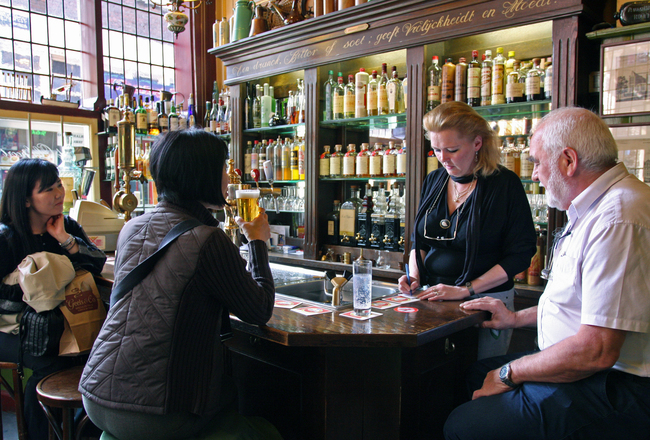 'Een dranck, bitter of soet, geeft vrolijkheidt en moedt.'
These words, written in an older form of Dutch, can be found on a shelf over the bar in the front room of this tavern on the Nieuwebrugsteeg. The translation: 'one drink, sweet or bitter, gives happiness and courage.' While many might assume that In de Olofspoort is one of the oldest drinking establishments in town, given its location and decor, it's actually only been serving drinks since the 1980s. Prior to that, it was used as a bakery and before that it was a hat shop.
However, the spot it occupies was once part of the city gates (for which the bar is named) and the building itself was designed by famed architect Hendrick de Keyser in 1618. A portion of it was also used as a brewery at one point. These days, customers can enjoy a wide array of jenever and other more obscure spirits in the tavern's tasting room. A few of the odd names for the latter: Sailor (30%), Hallelujah (31%) and Okofspoortje (14.5%). There is also an off-licence in In de Olofspoort, allowing many of its exotic intoxicants to be bottled and taken home by customers. The staff also hosts sampling nights in addition to cultural tours through the surrounding district.
Thank you for donating to DutchNews.nl.
We could not provide the Dutch News service, and keep it free of charge, without the generous support of our readers. Your donations allow us to report on issues you tell us matter, and provide you with a summary of the most important Dutch news each day.
Make a donation