From dinosaurs to treasure troves: 10 great archaeological finds
We are always going on about the Golden Age in the Netherlands, which might make you think there was little of note in the low countries before then. So, here is a list of 10 great archaeological finds, which all tell us something about the very early Dutch.
1 The Mosasaur
At least six of the giant sea reptiles have been found in limestone quarries in the Maastricht area which, some 67 million years ago, was a shallow sea. The first was found way back in 1764.
2 Fish traps
In 1978, archaeologists found five fish traps, thought to date from around 4,200 BC, during excavations in Bergschenhoek, Zuid Holland. The traps are made from twigs from the red dogwood tree. The original shape, say experts, was cigar shaped. Fish could swim in, but there was no way back.
3 Hunebedden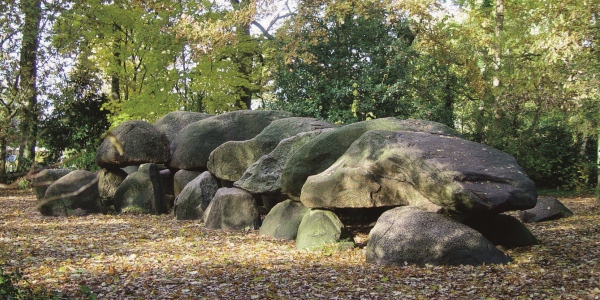 Hunebedden, or dolmens, are among the oldest archaeological monuments in the Netherlands. Like stone age monuments everywhere, they required much hauling and stacking of colossal ('hune' means giant) stones, in this case conveniently left by a passing glacier. The biggest hunebed (22 metres long with covering slabs weighing several tonnes) is imaginatively called D27 and can be found in Borger in Drenthe.
4 Bronze Age jewellry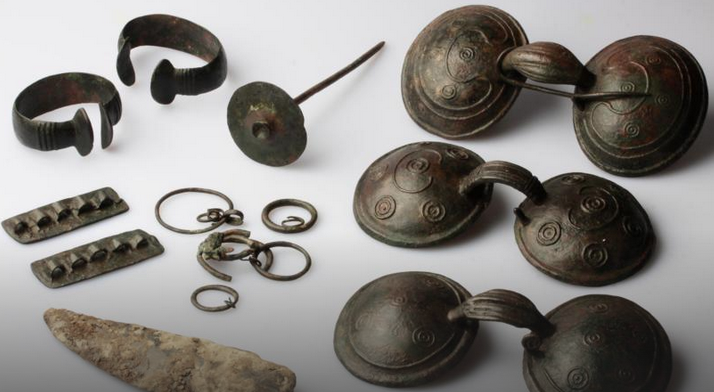 In January 2015, a number of late bronze age objects, among which bracelets, rings and fibula of remarkable sophistication, were found in Hoogkarspel, Noord Holland. In 900 BC someone 'ritually buried the equivalent of the Rolex that went with his Armani suit' said archaeologist David Fontijn at the time.
5 The Bog Girl from Yde
In 1897 two peat cutters stumbled upon what became known as the Girl from Yde. At the sight of a blackened head with long fiery hair the petrified men took to their heels never to return. Research carried out in the 1990s showed that this particular peat body dates from between 54 BC and 128 AD and belonged to a 16 year-old girl who suffered from scoliosis. Gruesomely but not uniquely, she was probably sacrificed. Half of her hair (turned red from the effects of the peat) had been shaved off and a cord was wound three times around her neck and tightened with a slip knot. She was also stabbed. In 1993 her face was reconstructed by forensic medical artist Richard Neave.
6 Bronze face mask
In 1996 archaeologists digging around what is left of a canal between the Rhine and the Meuse built by Roman soldiers stumbled upon a beautiful bronze face mask. Identified variously as a military parade mask and a mask worn in actual battle in order to intimidate opponents with its immoveable features, its curly hair and intelligent expression quickly gained it the name 'Gordon' mask, after the eponymous Dutch singer. To see it you have to go to the Archaeological Museum in Leiden, which is  closed until December 2015.
7. A gold brooch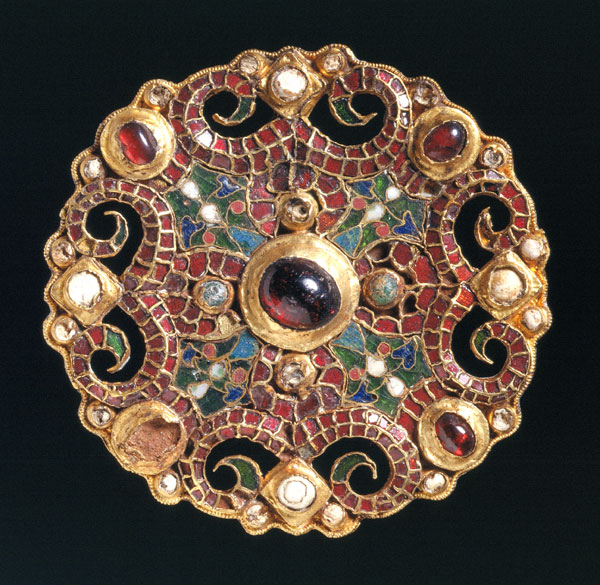 A gold cloisonné brooch set with coloured glass, semi-precious stones and pearls was pulled out of a well in Wijk bij Duurstede in 1969. The brooch has various Christian symbols and Dorestad – as the town was known then – played an important part in the dissemination of Christianity. It was made in around 800 and archaeologists say it may have been hidden in the well to protect it when the town when the the town was invaded by Vikings in the early 9th century.
8. A castle in Amsterdam
In spring 1994, archaeologists working in the very heart of old Amsterdam found a medieval brick foundation which, some say, is the remains of the 'castle of the lords of the Amstel', the noble family who ruled the Heerlijkheid of Amstelland around 1200. A castle on the banks of the river Amstel is described in documents and historians are still divided about whether the brick walls are part of it. We may never know, because plans to make the wall part of a permanent exhibition were dropped and it was buried again.
9 A treasure trove

A hoard of treasure was found in 2013 behind the Rotterdam town hall dating from the turbulent and insecure period in Dutch history that was the Eighty Years' War with   Spain (1568-1648). The city archaeologists who found it labelled it unique because treasure troves are not that common in the Netherlands. This one consisted of 477 silver coins and was found in a shoe. Perhaps the owner when fleeing the Spanish grabbed the wrong one.
10 A grave for horses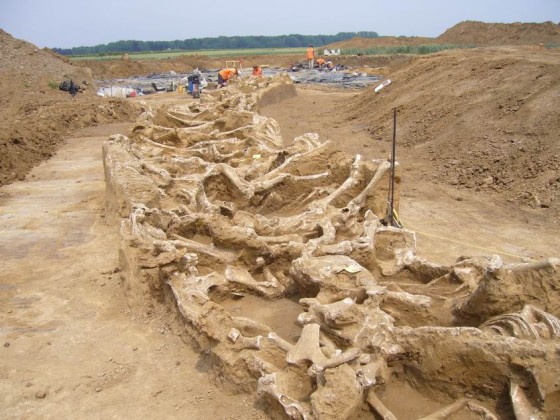 A unique 50 metre-long grave containing no fewer than 65 horses was found on the edge of the town of Borgharen in Limburg in 2010. Originally the horses were thought to have died in 1632 when Maastricht was recaptured from the Spanish during the Eighty years' war (1568-1648) but research has since shown they were killed when the town was conquered by the French, in 1794.
Thank you for donating to DutchNews.nl.
We could not provide the Dutch News service, and keep it free of charge, without the generous support of our readers. Your donations allow us to report on issues you tell us matter, and provide you with a summary of the most important Dutch news each day.
Make a donation