Youp drives a Jeep on holiday in Scotland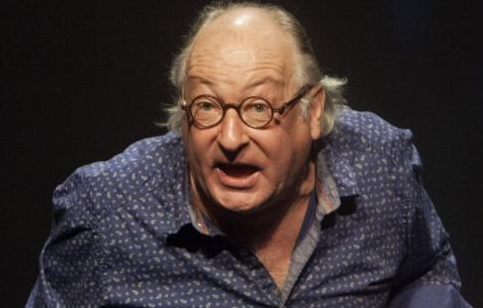 Comedian Youp van 't Hek is on holiday in Scotland and finds his left-hand drive is not as easy to handle as he thought.
Driving a car with the steering wheel on the right-hand side is difficult enough so why not make life easier and go for an automatic. It'll save you from having to change gear with your left hand. So said a good friend who likes to dole out good advice. This time he was meddling with my trip to the Highlands of Scotland.
I wanted to take my own antique mid-life motor but the boat to Newcastle was full. My wife agreed with my friend. We should hire an automatic. I said we'd see when we got to Glasgow. In the meantime I hired a Mini via internet. I liked the idea of bumping through the beautiful Scottish landscape in a Mini. And all that stuff about changing gear would sort itself out. I can shoot a football with my left and right leg, I write with my left hand and I throw with my left. I am ambidextrous. No problem.
The automatic car turned into a bit of a thing. Lots of people were wading in. Why was I being so stubborn? Why did I always do the opposite of what everyone else wanted? What did it matter if an automatic is that much easier and thus safer? Did I want to be responsible for the death of my family? I said we'd see when we got to Glasgow.
Exchange
Last Monday we arrived and I asked the Europcar lady if I could exchange my merry Mini for an oldie automatic. She searched the computer for a long time and then said they had one automatic left. I caught the word Jeep in amongst the Scottish which sounded like a promising deal. A Jeep among the Lochs. I felt like someone out of an advertisement for a really cushy pension scheme. I pictured our Jeep on the edge of a river full of jumping salmon. Perhaps I should buy a rod, some wading boots and an outdoor smoker and…
The Jeep cost a hell of a lot more than the Mini. I said ok, signed 17 times on the dotted line and was given the key. The car was in spot 36B.
And there, indeed, it was. The Jeep. It wasn't one of those romantic jungle things you see in survival shows with Z list celebrities being bounced around deserts. This was a tank. I could single-handedly restore order in Syria, Yemen and Iraq in it. It was a car that would keep apart rioters and policemen on strike with ease and wouldn't topple if required to lift a piece of bridge.
Knobs and levers
I climbed in and spent the next hour trying to figure out what the 921 knobs and levers were for. Windscreen wipers wiped, windscreen sprayers sprayed, seats shot back and forth, the roof opened and closed as did the boot, and the GPS could do just about everything except tell us where we were going. My wife suggested a couple of times we go back and ask for the Mini to be restored to us but I said no. Not with all that dangerous gear changing.
At last we moved. We were actually driving, on the left side of the road. Or on the left side of the left side, in fact. I had to get used to the ridiculous width of the car, you see. Lots of Scots will have been be able to follow my progress. From Glasgow to Edinburgh the street lights were kissed by my wing mirror and the grass on the roadsides won't have to be cut for years to come. I have given Loch Ness its monster.
When you read this I have another two days to go. We drive at a snail's pace as nice little Minis pass us by, beeping as they go. Will we survive? Of course. This is a tank, albeit one without wing mirrors and hubcaps, and you simply cannot get yourself killed in one. So the question for the airheads in Wassenaar and Blaricum where 90 percent of these vehicles can be found: how do you manage to do it?
Youp van 't Hek is a comedian and writer.
This column appeared earlier in the NRC
Thank you for donating to DutchNews.nl.
We could not provide the Dutch News service, and keep it free of charge, without the generous support of our readers. Your donations allow us to report on issues you tell us matter, and provide you with a summary of the most important Dutch news each day.
Make a donation