Sixty years of the Dutch at Eurovision: all you need to know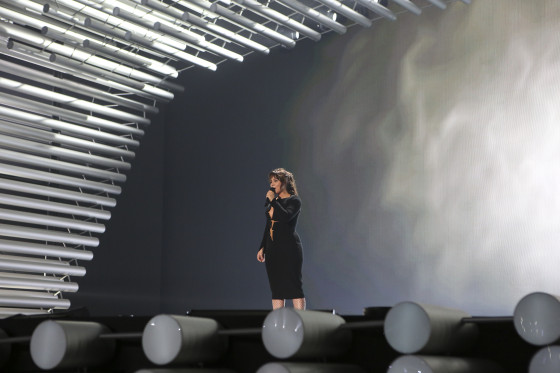 The Eurovision Song Contest is 60 years old this year and the Dutch have been there right from the beginning. Despite this, they have only won four times. Last year, they almost made it and this year, hopes are pinned on Walk Along, sung by Trijntje Oosterhuis.
The very first song at the international finals of the very first Eurovision Song Contest in 1956 was the Dutch entry – one of the Dutch entries in fact. Only seven countries took part that first year, each country with two singers and two songs.
We don't know how well the Dutch did on that Thursday evening of May 24 in the Swiss city of Lugano because the viewers did not vote. There was no scoreboard, just an off-screen jury of professionals. Nobody seems to know how that jury reached its verdict. At the end of the live transmission the very first Eurovision winner was announced: a ballad called Refrain, sung by Swiss singer Lys Assia.
Italy's idea
The Netherlands, Switzerland, Belgium, Germany, France, Luxembourg and Italy were the first countries to take part. The contest was Italy's idea. Eurovision, founded a couple of years before to exchange news reports and sports amongst Europe's public broadcasters, asked all its members to come up with suggestions for new events which Eurovision could exclusively televise.
Italy, home of festivals like San Remo, suggested a Grand Prix song contest between Eurovision members. It said such a festival would strengthen the cultural ties between the European countries and create more interest in each other's artistic achievements: a terminology seldom linked with later editions of the event.
But it was enthousiastically received by television officials and viewers alike and it never went away. This year the Eurovision Song Contest celebrates its 60th year, which makes it one of the most succesfull European projects of them all.
Corry Brokken – the first Dutch winner
In her heyday, Corry Brokken was the first lady of Dutch song. She represented the Netherlands in the first three editions of the Eurovision Song Contest. And she won the second one, in Frankfurt, with the lilting ballad Net als toen (Just like before) about the singer's longing for a more romantic past.
Its sweeping violin solo, played live (of course) by Dutch violin favourite Sem Nijveen, must have helped considerably in getting a top score of 31 points, 14 points more than Paule Desjardins who came second with France's entry La belle amour. But the next year, in Holland's broadcasting centre in Hilversum, Corry Brokken hit rock bottom – becoming the only Eurovision singer who came first once and last once.
Teddy Scholten makes it two wins
Teddy Scholten never called herself a real singer. She played in sketches in the Netherland's most popular theatre revue and sang innocent little ditties with her husband, Henk Scholten. In fact, she had to get a few nights off from her revue employer to travel to Cannes in 1959, to appear in that year's Eurovision Song Contest singing Een beetje (A little bit). Her charming performance won over everybody, as did the lively rhythm and the lyrics in which lots of wordplay added to the song's musicality – even for those who did not speak Dutch.
She was a surprising winner, though, because the growing army of Eurovision pundits put their bets on the UK entry: Sing little birdie by Pearl Carr and Teddy Johnson, who could be called the English equivalent of Teddy and Henk Scholten. Their song came second.
Lenny Kuhr – a shared win
Eurovision never had a more chaotic year than 1969, when the whole spectacle assembled in Madrid. No fewer than four countries ended with the same number of points – and all four were declared winners, for the simple reason that the rule-makers had never expected such a close finish. So they ended up as joint winners: Spain (Vivo cantando by Salomé), the UK (Boom-bang-a-bang by Lulu), France (Un jour, un enfant by Frida Boccara) and the Netherlands (De Troubadour by Lenny Kuhr).
The Dutch winner boasted two firsts: Lenny Kuhr was not only the first winner who also co-wrote the song, but also the first contestant playing an instrument (her guitar) on stage. Obviously, her folksy sounding lai-lai-lai's must have added to the song's international appeal. Her shared victory at Eurovision started a long career for Lenny Kuhr in her own country, with several hits, but not one of them surpassed the success of her troubadour debut.
Teach-In – pop wins for the Dutch
By the mid-70s, Eurovision had almost completely changed in musical terms. Gone were the days of ballads and chansons. It was all pop songs by the time Stockholm hosted the event in 1975, with quite a few countries trying to copy the success of Abba from Sweden, who had won the year before. Holland's entry, Ding-a-dong by Teach-In, was the first song in the show and also won rather easily, with Let me be the one by UK veterans The Shadows as the only serious competition.
Teach-In, with bubbly vocals by female singer Getty Kaspers, was an existing Dutch pop group, but they did not enjoy a lengthy hit career after their victory.
In later years, when Eurovision nostalgia became more and more fashionable, Getty was often asked to look back, and felt free to complain about the none too coherent English lyrics of their winning song. In fact, Ding-a-dong was one of those iconic Eurovision songs where nobody worried too much about what it all meant.
Trijntje Oosterhuis – this year's Dutch hopeful
And now it's 2015. The Netherlands has not won a contest since 1975 and hardly ever made the top half of the scoreboard. In fact, since semi-finals were invented to cope with the arrival of so many new countries, the Netherlands consistently failed to qualify for the final.
That has now changed, probably because the Dutch broadcasters stopped sending contestants who were complete unknowns.
Instead, experienced singers and songwriters actually want to take part these days, resulting in satisfying positions on the scoreboard. Last year, country duo The Common Linnets came second after Conchita Wurst – the best result since 1975. This year Trijntje Oosterhuis represents the Netherlands.
And talking about experience: she's been a pop singer for 25 years. Her song (Walk along) was written by rock singer Anouk, who sang for the country herself in 2013, finishing ninth, ending a long run of flops.
Trijntje Oosterhuis will appear fourth in the first semi-final on May 19.
Thank you for donating to DutchNews.nl.
We could not provide the Dutch News service, and keep it free of charge, without the generous support of our readers. Your donations allow us to report on issues you tell us matter, and provide you with a summary of the most important Dutch news each day.
Make a donation