Following in Van Gogh's footsteps: 10 places where he lived
On July 29 it will be 125 years since Dutch painter Vincent van Gogh shot himself in France. A whole host of events are being organised to coincide with the commemorations, from exhibitions to bike tours. Here's a list of 10 places associated with the Dutch master, who was unappreciated in his lifetime but is now considered one of the greatest painters who ever lived.
1 Zundert (1853)
Vincent was born in Zundert, in the province of Noord-Brabant. His father, Theodorus van Gogh, was a protestant minister who although well-liked was not considered a very inspirational preacher. Vincent was to follow briefly and disastrously in his father's footsteps. The bleak Noord-Brabant scenery appeared in much of his work.
2 Tilburg (1866)
The Rijks-HBS was situated in the former palace of King Willem II in Tilburg. This is where the 13-year-old Vincent had his first drawing lessons. One of his earliest drawings was of two farmers leaning on their spades and it's a theme he would repeat many times. The school is now an arts centre. Vincent spent two years in Tilburg. Why he had to go back home is unclear but what is certain is that his time in Tilburg signalled the end of his formal education.
3 The Hague (1869)
When he was 16, Vincent went to work for his art dealer uncle Vincent ('Uncle Cent') at Goupil and Company in The Hague. His job would have consisted of packing up the fine art reproductions Goupil specialised in. In later years Vincent would return to The Hague to do several drawings of the town commissioned by his artist cousin and tutor Anton Mauve, a famous painter at the time. The Hague was also the place where Vincent and his brother Theo started their correspondence.
4 London (1873)
At 20, Vincent was sent to England to work for Goupil's London branch. Like Charles Dickens, whose compassion for the poor he came to share, he went on prodigious walks. Van Gogh didn't have any definite plans to take up painting as a profession at this time but he did make several drawings of London landmarks, such as Westminster Bridge. A painting by the 17th century landscape artist Meindert Hobbema, The Lane at Middelharnis, which had been in the possession of the National Gallery since 1871 and reproductions of which he certainly handled at Goupil's, is thought to have been the inspiration behind Van Gogh's Populierenlaan (1884). You can follow a Van Gogh walk around his London haunts.
5 Borinage (1878)
Vincent was fired from his job at Goupil's – why exactly is not known but one can imagine Vincent being pretty intense company. This was certainly the impression he left in the Borinage, a poor mining district in Belgium, where Vincent ended up as a lay preacher after an attempt to study theology in Amsterdam came to nought. He involved himself in the lives of the poor, gave away all his belongings and even went down the mine. But no matter how hard he tried, the people of the Borinage didn't take to him. The church authorities grew uneasy at his zeal – people called him 'the Christ of the coal mine' – and didn't renew his contract. Theo, the recipient of his brother's drawings of the bleak, poverty-stricken Borinage, advised him to take up art as a profession.
6 Nuenen (1883)
After a couple of detours – and a love affair with a prostitute  whose 'rotten character' preacher Vincent had hopes of reforming – he went to stay with his long-suffering parents who had moved to Nuenen, also in Noord-Brabant. Here he painted his famous Aardappeleters (1885), a portrait of a family of farmers eating a dish of boiled potatoes. Vincent made over 500 paintings and drawings in Nuenen, mostly of farming subjects. Nuenen has a museum dedicated to the painter.
7 Paris (1886)
Theo, whose career at Goupil's was much more successful than Vincent's, had moved to Paris to work at the company's main branch. He invited his brother over and it was in Paris that Vincent discovered colour and developed his typical, short brush stroke style. He met with other painters, notably Paul Gauguin. His subjects were the streets and taverns of the city and, with Vincent failing to sell any of his work and with the cost of models, frequently himself.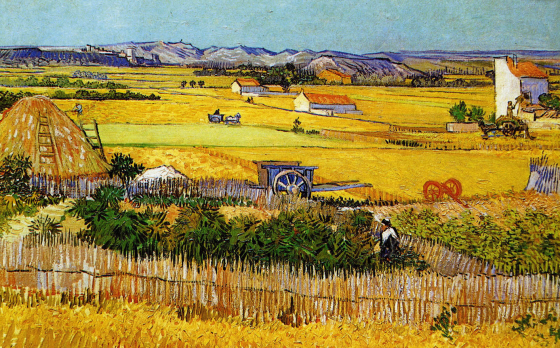 8 Arles (1888)
The countryside beckoned and Vincent travelled south, to Arles in the Province. He wanted to set up an artists' colony there and rented a couple of rooms for the purpose in the Yellow House. In the event only Gauguin joined him for what turned out to be two productive if tempestuous months. Vincent loved the light and the colours of the south and he painted some of his most beautiful canvases there. But all was not well and after a bust-up with Gauguin, in which either Vincent cut off a bit of his ear or Gauguin lopped it off with a sabre, it became clear that his mental health was deteriorating. In 1889 he entered the asylum at Saint-Rémy- de-Provence.
9 Asylum: Saint-Rémy-de-Provence (1889)
Vincent stayed in the asylum for a year. Periods of sanity and confusion alternated – at one point he was only allowed to draw because he was eating his oil paints – and Vincent produced some 150 works here.
10 Auvers-sur-Oise 1890
In the final year of his life Vincent moved to Auvers-sur-Oise to be closer to his brother. It was a period of frantic activity: he did a painting a day. One of the most famous paintings of this period is a portrait of physician and friend Dr Paul Gachet. The cornfield paintings he did were meant to convey 'sadness and extreme desolation' he wrote to his brother, but also showed 'how healthy and good it is to be in the country'. But in July 1890 Vincent went into a cornfield and shot himself in the chest. He died two days later.
Thank you for donating to DutchNews.nl.
We could not provide the Dutch News service, and keep it free of charge, without the generous support of our readers. Your donations allow us to report on issues you tell us matter, and provide you with a summary of the most important Dutch news each day.
Make a donation