Anne Frank's cousin talks about his famous relation, just days before his death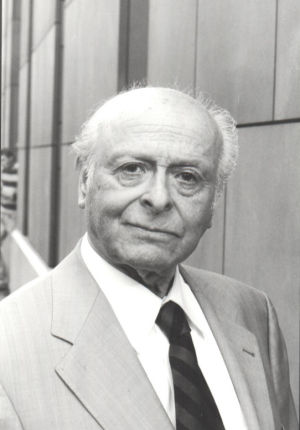 Anne Frank was born on June 12, 1929 in Frankfurt, Germany and died 70 years ago this month in the Bergen-Belsen concentration camp. Sofia Domino, founder of the Italian charity Bridge to Anne Frank, spoke to Buddy Elias, her last living relative just days before he too passed away.

The diary Anne Frank kept while in hiding in the Secret Annex in Amsterdam was first published in 1947 and it has been translated into more than 70 languages. It remains one of the most poignant and memorable records of the Holocaust
Two years older than Anne, Buddy Elias, the stage name of Bernhard Elias, was born in 1925 in Frankfurt am Main, Germany. An actor by profession, to this day Elias spends a considerable amount of time talking about his cousin Anne and the victims of the Holocaust.
It's a real honour to have you here. Can you tell us something about yourself?
'I am 89 years old now, but my health is good, except hearing problems. I have two children and five grandchildren and they all live in Germany. I do yoga every morning and sometimes I still work as an actor, but the most important thing in my life is to work for the ideals of my cousin Anne Frank. Together with my wife, Gerti, we give lectures and talks about Anne and the Holocaust. We mostly visit schools and read from our family history book.'

What was it like growing up during the war and what scared you the most?
'During the war I lived in Basel, Switzerland, with my family and my grandmothers as well as an uncle who left France after escaping from the Nazis. My hometown Basel is only minutes away from Germany and France, so we were afraid of a German invasion on a daily basis.'

In  past interviews you said you had a lot in common with your cousin Anne Frank. Could you give us a memory about Anne, something you'll never forget?
'Anne loved to dress up and to imagine she was an actress. We also played games like other children. She was clever at hide and seek, always finding places where I could not find her, particularly when we went on holiday in the mountains before they went into hiding. We were very fond of each other. Margot was not so playful. She was a reader, but also a lovely girl. Otto Frank always said: "The whole world talks about Anne and nobody about Margot". That made him sad.'
In 1929 your father became a representative of a German company in Basel, and in 1931 you and your mother joined him. The Franks then fled to Amsterdam but until the Wehrmacht (Germany's World Word II army) they used to travel regularly to Switzerland. After that, Anne kept in touch with you writing letters. What did she talk about in her letters?
'She to wrote us very often and she sent us letters telling us all about her life, about school, her friends, her activities, what she was doing.'

How did you discover Otto, Edith, Margot and Anne went into hiding?
'When Margot received the notice to report the next day for transport to a "work camp in Germany", they wrote a last postcard to us, saying we would have to understand that they could not correspond with us anymore. We then realised that they had gone into hiding. But we had no idea where they were hiding… Then for two years we had no contact at all.'
What can you tell us about the relationship between Anne and Margot?
'The relationship between Anne and Margot was good. Differences were natural as is the case with other sisters or brothers. But they had different personalities. Anne was lively and Margot was more quiet. Anne was more Otto's child and Margot more Edith's child.'

Many children during the Holocaust wrote diaries and I respect all of them. Anne is the voice of all the victims of the Holocaust because many people, thanks to the diary of Anne Frank, learned what the Holocaust was, learned about discrimination and because of that are more interested in humanitarian issues. For example, in her diary Anne took a stand for the rights of women, she hoped that one day people could live in peace, no matter what religion, colour of skin or nationality. What are your favourite quotes?
'That is difficult to say. One is: "One day we will be human beings again and not just Jews." Another is: "How wonderful that nobody need wait a single moment before starting to improve the world.'
In her diary Anne wrote about you. How did you feel the first time you read it?
'I was moved to tears when the diary was published in German at the beginning of the 1950s and to read what she wrote about me.'
Note: This interview was published just days before Buddy Elias died. The introduction has been amended accordingly.
Sofia Domino is founder of the Italian charity Bridge to Anne Frank. The aim of the organisation is to continue Anne Frank's legacy and to use her story and messages to analyse the consequences of discrimination, prejudice and injustice and to encourage others to improve our world.

Thank you for donating to DutchNews.nl.
We could not provide the Dutch News service, and keep it free of charge, without the generous support of our readers. Your donations allow us to report on issues you tell us matter, and provide you with a summary of the most important Dutch news each day.
Make a donation