What does the infrastructure minister actually do?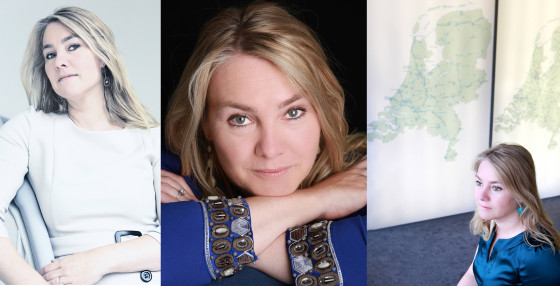 The once wonderful Dutch railway system seems to be grinding to a halt, KLM is fighting its corner against the French, Groningen is sinking and the mice are eating the dykes. So what is the minister doing about it all? asks DutchNews.nl editor Robin Pascoe.
Since the general election in 2012, the Netherlands has not had a transport ministry. Instead it has the grandly named ministry for infrastructure and the environment, headed up by an even more grandly named minister: Melanie Schultz van Haegen-Maas Geesteranus.
Melanie is never shy of a photo opportunity. You will, for example, find her accepting reports on traffic deaths or posing in cars that drive themselves – an area of research in which the minister is keen the Netherlands plays a leading role.
The lovely Melanie has a wide selection of photographs featuring herself in doe-eyed poses on her official website – unlike the bog standard portrait most ministers have on offer. Yet despite her media savvy approach, she is so low profile in terms of policy you have to wonder what she actually does.
Railways
She is, formally, the minister for the infrastructure – roads, railways, waterways – but seems to leave most of that up to her deputy, poor old Wilma Mansveld.
Mansveld is a first-time minister and saddled with the railway nightmare, KLM's financial woes and Lelystad airport among all the meaty subjects.
So much does Schultz van Haegen-Maas Geesteranus hate the railways that she apparently said she would not take the ministerial job if she had to deal with the trains.
Schultz is also minister for the environment, although it seems that economic affairs minister Henk Kamp has taken the reins on that one. Certainly, he is the one making the noise about earthquakes, natural gas, wind power and the like.
And his junior Sharon Dijksma is dealing with the mice problem in Friesland where they are eating the grass holding the dykes together.
Speed
So how does Schultz fill her days? Well, she announced last year that there will be more road signs on the nation's motorways so we all know at what speed we are supposed to be driving. Not that much has happened on this one yet, and if you drive from Rotterdam to Amsterdam, you will find yourself travelling at 50, 70, 80, 90, 100, 120 and 130 kph over different parts of the journey with not much signage to tell you which is which.
Schultz is, of course, the brains behind the rise to 130 kph, which she thinks is a jolly good idea, despite what road safety experts say.
Schultz is also the brains behind the decision to switch off the motorway lighting a night – you see, she is minister of the environment as well. This is another measure which does not exactly please road safety experts.
Triumphs
But which is Schultz's greatest triumph? Is it perhaps her decision to whack up the speed limit on the Amsterdam and Rotterdam ring roads to 100 kph only to be slapped back down by the courts for breaking her own environmental regulations?
Or is it her refusal do something about the moped menace on the cycle lanes ? Or her love of self-driving cars?
Or could it be something else? We've done a quick search in the DutchNews.nl archives to find out what other great achievements can be laid at the door of Schultz van Haegen-Maas Geesteranus but failed to find any.
They say no news is good news and Melanie's poor old deputy is hardly out of the headlines. But then angry commuters, angry airline unions and angry motorists don't exactly make jolly photo ops.
Robin Pascoe is the editor of DutchNews.nl
Thank you for donating to DutchNews.nl.
We could not provide the Dutch News service, and keep it free of charge, without the generous support of our readers. Your donations allow us to report on issues you tell us matter, and provide you with a summary of the most important Dutch news each day.
Make a donation