This week: Optimistic unemployed youth, hero Aboutaleb, earthquakes in Groningen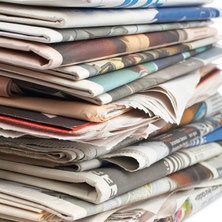 This week's editorials were dominated by recent events in Paris, leading to both soul-searching and criticism of the Dutch government's efforts to combat terrorism. Rotterdam's mayor, described as a hero by his London counterpart for his stance on domestic jihadis, did not win universal praise however.
Terrorism
The debate on how to cope with the terrorist threat in the Netherlands was 'a ritual dance full of big words and inconsistencies and no concrete outcomes'. Political parties are divided while the cabinet is trying to hold on to its credibility,' Elsevier wrote this week.
The new measures initially proposed by security minister Ivo Opstelten to get tough on terrorism have now been replaced by complacency, the magazine wrote. All suggestions were dismissed as 'We already do this', 'That is not opportune at the moment', 'We have the situation under control', according to the magazine.
Elsevier sees 'a culture war between parties while the cabinet is constructing a mosaic of left-wing and right-wing measures, which are either put in place quickly or disappear into a drawer'. Opstelten put a brave face on it and called this policy 'made-to-measure'. But by the end of the debate, late at night, nobody believed him.' (Elsevier, 15-01-2015)
Critic
Writer Hassnae Bouazza is a lone critical voice of Rotterdam mayor Ahmed Aboutaleb who called himself a 'very angry Muslim' and told discontented Muslims to 'sod off' in a reaction to the Charlie Hebdo killings in Paris.
'Aboutaleb is an incredible demagogue, a showman, nothing he says will bring people together. I find it objectionable that he's using Muslims as a separate category to raise his profile,' she writes.
Bouazza thinks Aboutaleb is wrong to ask ordinary Muslims to speak out against terrorism. 'He is implying they are complicit in the crime if they don't. But it's the perpetrators who are guilty, and no one else. People of my mother's and Aboutaleb's generation don't take to the streets in protest. They are introverts, like many elderly Muslims, and Aboutaleb knows it.' (VK, 12-01-2015)
Earthquakes
The Volkskrant looked at another issue boiling away in the north of the Netherlands – the problems caused by natural gas extraction.
'Minister Henk Kamp's timing is not very good; every time he visits Groningen he is preceded by an earthquake which re-ignites the anger of the locals', the Volkskrant commented.
To make things worse a leaked report revealed a complete disregard of the population on the part of the government and gas group NAM. Shutting down gas production completely is 'an impossibility', the paper concedes but 'if Kamp doesn't try to look for common ground between the government and the locals the issue will never be resolved.'
Kamp could make a start by allocating money from the emergency fund for duped locals more quickly and up compensation for people who want to sell up and leave, the paper concluded.(Volkskrant, 13-01-2015)
Youth
'Pessimism and the economic crisis go together but the remarkable thing is that today's youngsters – unemployed or not – are optimistic,' the NRC wrote this week. Young people are better equipped to deal with change while the older generation is struggling to keep up, the paper said.
'Differences between the generations often lead to snap judgements about the young: they are self-centred, spoilt and don't care for solidarity.' But young people simply do things differently. Their means of production is a laptop which creates 'endless opportunities' but, the paper pointed out, there is a downside: 'Not everyone can be a winner (…). Let the optimism of youth be an example for all but remember that society must provide a safety net for those who don't win.' (NRC, 11-01-2015)
Thank you for donating to DutchNews.nl.
We could not provide the Dutch News service, and keep it free of charge, without the generous support of our readers. Your donations allow us to report on issues you tell us matter, and provide you with a summary of the most important Dutch news each day.
Make a donation