This week: Insurers marketing ploys, jihadis and Zwarte… Sinterklaas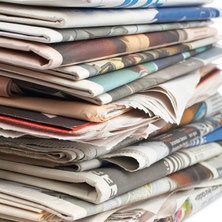 Today the Netherlands celebrates Sinterklaas by giving presents and writing poems, and we can perhaps put the lid on the Zwarte Piet debate for another year. But this week has also been one of jihadi jail sentences and problems within the Labour party. A round-up of editorial comment:
It's that time of year again when the music starts up for the annual musical chairs of choosing  health care insurance. Everyone can take part: insurance companies are prohibited by law to refuse clients a basic package insurance on the basis of any illness they may have. Insurers who have a relatively high number of clients with serious health issues are compensated from a special fund so the risk is more evenly spread among insurers.
But the Volkskrant's Xander van Uffelen warns that in spite of this, insurance companies are increasingly targeting  healthy – and thus cheap – clients by means of clever marketing ploys.  'It remains more profitable for insurers to attract the healthy. (…) The solidarity principle on which the system is based is in danger of going by the board. Solidarity mustn't become subservient to market forces and it's up to the government to see this doesn't happen.'  (Volkskrant, 1/12/2014)
Jihadi jailed
This week Maher H was sentenced to three years for joining an Islamic militia in Syria. The evidence for his involvement in active fighting hinged on a telephone message from his mother in which she tells him she hopes he'll 'think of her before going into battle' and a photograph of him wielding a Kalashnikov rifle.
Elsevier's home affairs correspondent Nikki Sterkenburg commented that the verdict as it stands had created a precedent 'At least for those who have their picture taken with a Kalashnikov  and fight to establish an Islamic state. (..) But what of others who get involved in the conflict?
'Will members of No Surrender, who are fighting with the Kurds, be prosecuted if it turns out human rights were violated? The public prosecution office hasn't made that clear yet. And not all returning jihadis will go on trial. Jordi H. was released because he was young and has two children. But what will have influenced his release is undoubtedly the difficulty of proving his direct involvement in the fighting,'  Sterkenburg says. (Elsevier, 2/12/2014)
Women or girls?
Trouw columnist Elma Drayer looked at Maher H.'s wife who was found not guilty of inciting six people to join jihad in spite of a number of damning text messages and was reminded of how the papers treated Tanja Nijmeijer, the Dutch woman who joined Farc in Colombia.
'She was lovingly called 'the Farc girl', even when she was well past thirty. (..) We seem to be unwilling to accept that women are perfectly capable of losing the ideological plot as well as men,' Drayer wrote. So why was 'a manipulator' like Shukri S. was allowed to go free? 'Why is her role considered to be a minor one? I would like to believe it's nothing to do with the fact she's a woman. But I can't be sure.' (Trouw, 4/12/2014)
PvdA woes
Is Diederik Samsom teetering on the brink? The labour leader's emotional outburst to the Telegraaf – 'I'm only human. I go to work each day to make this country better!' – seems to point that way, according to the Volkskrant.
Jan Hoedeman and Raoul Du Pré note that Samsom's behaviour has been raising eyebrows since the summer. The straightforward, pro-active politician's 'safety valve seems to be malfunctioning,' they write. The explanation may lie with the break-up of Samson's team. His political secretary left to accompany Timmermans to Brussels and his speech writer went to work for Heineken.
Nor is coalition partner VVD is not happy about the lack of communication between the parties – Samson's tougher stance on fracking hadn't been clear before his interview with the Telegraaf. Hoedeman and Du Pré suggested Samsom still has some respect left in his party but that a question mark hangs over his  leadership for the next elections. (Volkskrant, 4/12/2014)
Sinterklaas
Last and finally – the Sint leaves the Netherlands and controversy for a another year tomorrow – the Sinterklaas Journaal, the traditional Sinterklaas televised story that leads up to the celebration on the 5th of December, had Zwarte Piet and Sinterklaas riding off into the sunset both dressed in espiscopal robes, Sint on a black horse and 'Opapiet' (Grandpa Piet) on a white one because 'colour is not important'.
The story, in which a retired Piet is flown in to train new Piets and take over some of the work of the tired old bishop , combines new elements with the old tradition, wrote Wilfred Takken in the NRC. 'The underlying message is: Zwarte Piet is not an African slave. Anyone who does the training can be a Piet. But still the classic Piets remain.'
Takken didn't think the coup was likely to sway anyone on either side of the debate. 'But then again all the makers wanted was to tell a good story which plays with the tradition without rejecting it completely. If anything, it advises viewers to 'choose from all the elements on offer and make their own Sinterklaas celebration.' (NRC, 4/12/2014)
Thank you for donating to DutchNews.nl.
We could not provide the Dutch News service, and keep it free of charge, without the generous support of our readers. Your donations allow us to report on issues you tell us matter, and provide you with a summary of the most important Dutch news each day.
Make a donation