This week: Dutch teachers and English, chickens and blood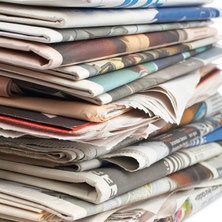 From bird flu to multiplying political parties, and why a Dutch student is learning to be a Dutch language teacher. These are some of the topics was tackled in this week's newspaper and magazine columns. A round up:
Teaching Dutch in English
In the Volkskrant, journalist and cultural scientist Sven Poels added his voice to protests at the amount of English used at Dutch universities. Poels discovered that many of the classes for his master's course to teach Dutch – such as linguistics and syntax – were actually given in the English language. More than that, he had to submit his papers in English as well.
Not only are lectures given in stomach-churningly bad English, but academic Dutch is on the verge of dying out, he says. But more than that. 'Dutch students at a Dutch university attend lessons in English with the aim of teaching them how to teach Dutch at a Dutch school'. 'You're kidding me, right?' he concludes. (Volkskrant, 22/11/2014)
Too many factions?
The expulsion of the two Turkish Dutch dissident MPs from the Labour party rumbled on this week. Both are remaining in parliament as independents… meaning parliament currently has 15 different political factions when only 11 actually won votes in the 2012 general election. Volkskrant political commentator Raoul du Pre asked if home affairs minister Plasterk's suggestion to abolish the practice would be a helpful one.
'Sometimes both the party and the voters are clearly duped. SP MP Ali Lazrak formed an independent faction in 2004 and all but disappeared.' But Du Pre rejected a ban because 'MPs should be able to work without undue influence.(..). Taking away the right to form an independent faction gives parties too much power to ignore dissident opinions and stifle discussion on the pretext of internal discipline. This leaves MPs with no recourse.' (Volkskrant, 24/11/2014)
Headless chickens
Elsevier editor Arendo Joustra took a swipe at 'political parties and environmentalists who want happy, free roaming chickens'. Misguided demands concerning chicken welfare is the reason why bird flu is once again upon us but nobody is acknowledging this, said Joustra.
These demands have trickled down to supermarkets and poultry farms but it is very dangerous for chickens to venture outside where exposure to wild birds which carry the virus awaits, he maintained. 'What seemed like a good and healthy proposition to environmentalists is far from good or healthy. (..). Perhaps it's better to keep the chickens indoors after all.' (Elsevier, 24/11/2014)
Zwarte Piet
A final (?) contribution to the Zwarte Piet discussion came from the NRC's political commentator in chief René Moerland who questioned the lack of political discussion on the issue. Attempts by the PVV to put the subject up for debate were resisted by Labour and VVD, he points out.  This is hardly the attitude of political parties who say they want to 'translate what happens in the street to parliament', he wrote. Wilders, meanwhile, is hijacking the debate and prevaricating politicians ignore this at their peril, Moerland warned.
Will there be blood?
Blood bank Sanquin, the only blood products provider in the Netherlands, wants to develop commercial activities in the United States. Z24 writer Gijs van Loef does not think such activities are compatible with a company supported by voluntary blood donations whose main concern is providing blood to Dutch hospitals.
However, a new production facility has been built and a deal has already been struck between Sanquin and US company Baxter. But a potentially very big earner went pear-shaped because of the very costly FDA approval process, possibly to the detriment of Sanquin's core activity in the Netherlands, Van Loef says. 'There's nothing else for it but to stop the commercial activities completely and regulate public blood provision in the Netherlands', concluded Van der Loef. (Z24, 26/11/2014)
Thank you for donating to DutchNews.nl.
We could not provide the Dutch News service, and keep it free of charge, without the generous support of our readers. Your donations allow us to report on issues you tell us matter, and provide you with a summary of the most important Dutch news each day.
Make a donation