Rotterdam is bursting at the seams with unused talent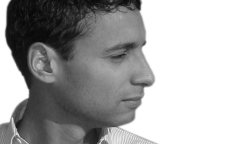 Rotterdam is bursting with ambition and well deserves its growing international reputation, says trendwatcher Farid Tabarki. But the port city, where a teenage Tabarki used to go dancing, could do even better if it made use of its talents, he says.
2014 isn't quite over yet, but there already is a clear winner: Rotterdam.
This became clear in January when the city was included in the annual New York Times list of 52 places to visit. It was also placed high on the Rough Guide Travel Hotlist.
In the past month the city's first covered market hall was opened, just like in Barcelona, Istanbul and other world cities. It has one hundred stalls, eight restaurants, a supermarket, city apartments and a triumphal arch. All rather splendid. No wonder then that The Academy of Urbanism in London named Rotterdam the European capital for 2015. Add to this the eight Michelin-star restaurants and the success story is complete.
Clubs
I've been a fan of Rotterdam for a long time. It started when I was 16 as I got to know the basement of the Nighttown nightclub on the West-Kruiskade where DJs like Michel de Hey spun their tunes. Later, there was Now&Wow, a most multi-cultural place; it makes you a little melancholic when you think back on it, especially in light of the current 'Black Pete' discussions. Mutual understanding and humour went hand-in-hand.
It was an exciting place as well because the best DJ's played there and you'd pass through a beautiful area where it was always windy to reach it. And last but certainly not least, Rotterdam offers the most efficient way to travel the world including all continents: The International Film Festival Rotterdam.
And yet there are still a lot of people with something against Rotterdam. Why? True, the city does not appear often on the lists that are important to appear on in the eyes of many people. I am often amazed by the cities that do make it onto those lists. Copenhagen topped the Monocle's Quality of Life Survey in 2014 and Melbourne is the last winner of the Economist Intelligence Unit liveability-index.
Boring
Munich, Auckland and Vancouver always score in the top of such lists. In general these cities are well kept, tidy and civilised, but surely that can't be the criteria by which you become a winning city? They are, perhaps, just a tad boring?
René Descartes already said it when he described 17th century Amsterdam by saying a real city has to be an inventory of the possible. Such a city is not a place to rest but a place full of ambition.
My vote goes to Medellín, Belgrado, Beirut and Taipei. These are places with a problematic past of conflict and crime.
Medellín survived a drug war; Belgrado a dictatorship of the proletariat, only just; Beirut a civil war that still, 15 years later, makes it mark on the city; and Taipei, as the capital of an island state, is de facto at war with an immense country that feels it owns it.
In short, these are places more than worth visiting.
Within their regions, these cities are the places to be. They are places where entrepreneurs work, be they the venture capitalists, the traders in shady local goods or the night owls that populate the clubs. Their motto is 'the only way is up'. They understand this in Rotterdam as well, literally as well as figuratively speaking.
However, if Rotterdam is to reach Taipei and Medellín's growth figures, a few things still need to happen. First of all its growth potential has to be realised. The labour rate is much too low. In the words of journalist Joel Garreau: '40% of Rotterdam is raw, unused talent.'
Imagine how successful Rotterdam would be if all that unused talent was utilised!
Farid Tabarki is trendwatcher and founder of Studio Zeitgeist.
This column was first published in the Financieele Dagblad.
Thank you for donating to DutchNews.nl.
We could not provide the Dutch News service, and keep it free of charge, without the generous support of our readers. Your donations allow us to report on issues you tell us matter, and provide you with a summary of the most important Dutch news each day.
Make a donation