Manure hits fan in Dutch dairy farming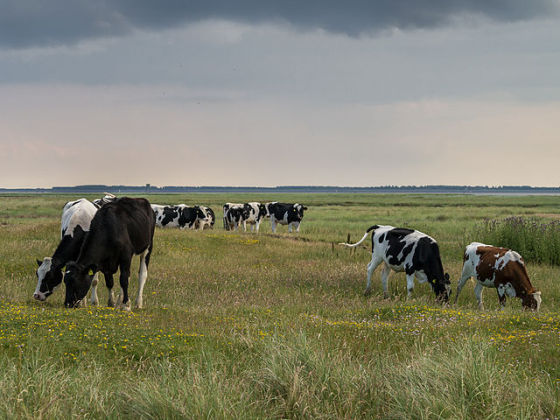 Dairy farming shouldn't go the way of pig farming and poultry farming, say Cees Veerman and Herman Wijffels.
Dutch dairy farmers have a good reputation. Their grazing cows represent a number of important values: an attractive landscape and care for the wellbeing of the animals. Grass fed cows also ensure short cycles of nutrients (grass – manure – grass) and some biodiversity. The dairy farmers are doing very well indeed economically. In short, it's a sector to be proud of.
Grass fed cows and short cycles are part and parcel of the type of land-bound farm which uses the manure on its own land and produces most of its own feed. The majority of dairy farms works like this but now it seems as if this way of managing the land is under threat. On April 1 next year the EU milk quota system will be abolished. This means dairy farmers can produce as much milk as they like.
In order to comply with the environmental rules the government can limit the intensification of dairy farms. It can impose a limit on the number of animals per hectare, the amount of milk they produce and the amount of manure they use. But now junior agriculture minister Dijksma has come up with a draft law in which she advocates production without any such restrictions.
For farms are already at the limit of what they can produce the only restriction is that they export the manure surplus or take it to a manure processing installation. That obligation can be sold on to pig farmers, who, in turn, will have to increase the amount of pig manure they export or put up for processing.
Fraud and scandals
If manure processing is offered as a way out to farmers the consequences will be dire. Many dairy farmers are already intensifying and they are quickly going the way of the pig farmers and the poultry farmers: feed from external sources, manure to be processed elsewhere and artificially extended or broken cycles. More manure will enter the market which will open it up to more fraud and scandals.
There is a EU upper limit to the extension, however: the amount of manure produced by the whole of the country's livestock. If that amount is exceeded Brussels will impose stricter norms on the Netherlands.
Dijkstra wants to avoid this by introducing a fixed number of animals per farm. This will result in dairy farmers wanting to produce as much milk as possible with the cows they have, to the detriment of the animals.
Strangely enough the junior minister professes to be in favour of land-bound farms and pasture-raised cows. She also feels it is up to the sector itself to decide. Dijkstra probably feels the VVD breathing down her neck, a party reluctant to impose further environmental measures. But isn't is strange to give dairy farmers space to grow and then to ask the sector to take some of it away again? The sector itself is asking for a tighter environmental law; a unique step for the businesses involved.
Circular economy
Approving Dijkstra's draft law would be a historic mistake. The positive image of Dutch dairy farming – the biggest dairy exporter bar one – will be tarnished. Parliament would do well to cut off the manure processing route. The VVD won't like it but there's a trump card: the government accord. It contains a telling phrase: 'The cabinet wants to promote a circular economy.'
We think the circular economy of dairy farming is under attack. Why not use that phrase from government accord to make sure Dutch dairy farming remains a sector to be proud of.
Cees Veerman is a former agriculture minister and Herman Wijffels is a former ceo of Rabobank and professor of sustainability at the University of Utrecht.
Thank you for donating to DutchNews.nl.
We could not provide the Dutch News service, and keep it free of charge, without the generous support of our readers. Your donations allow us to report on issues you tell us matter, and provide you with a summary of the most important Dutch news each day.
Make a donation