What politicians should know about nuclear power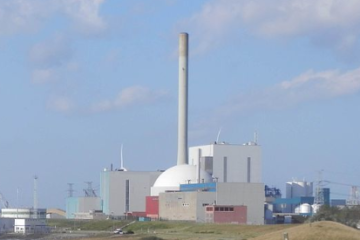 The Netherlands has one nucleaer power station, at Borssele in Zeeland.
Christian Democrat leader Sybrand Buma's comment about a return to nuclear power shows he is not the brightest spark, says Jan Paul van Soest.
Another politician, another not-so-bright idea. CDA leader Sybrand Buma recently launched a proposal to reconsider the use of nuclear energy in order to make the Netherlands less dependent on Russia. 'We should not be afraid to talk about nuclear energy and consider a refurbishment of nuclear reactors and the Borssele power station,' he said.
I don't make a habit of reacting to every politician putting out a feeler nor am I interested in commenting on party political standpoints. The reason I'm doing so now is because this is a good opportunity to ask: what should politicians need to know to come to well-considered decisions?
Oil
Energy dependency (on Russia) is an important theme which merits serious political debate. Some knowledge about what is involved would help the discussion considerably. In this case, Buma managed to come up with the most illogical and irresponsible response possible: nuclear energy.
Dutch energy dependency centres mainly around oil. The Netherlands also imports Russian gas but only 6% of the gas we are using comes from Russia. Those who think that is too much could tackle gas imports; to propose an escape route via nuclear energy hardly makes sense, especially since nuclear power stations produce electricity while gas is mainly used in industry (32%) and in urban environments (mostly for heating) (51%). Does Buma want to swap our boilers for electric heaters running on nuclear power?
Gas as a means to generate electricity (15%) is increasingly being replaced by renewable energy and … coal. In 2012, according to data released by Essent, almost 20% of coal came from, well, Russia This is because of relatively high gas prices, low coal prices and low CO2 prices.
Overcapacity
After Australia and Kazachstan, Russia also owns the largest uranium deposits and, via state owned Rosatom, is building up its share in international uranium production. Russia wants to become an energy super power, and that includes uranium. With Buma and his nuclear power stations we will be jumping from a gas heated frying pan into a nuclear and coal fed fire.
But that's not all. The electricity market is struggling with a huge overcapacity. New power stations are not producing as much as planned and parts of brand-new gas powered stations are being sold abroad almost immediately. There is no investor in the world who would add a nuclear power plant to the Dutch electricity market.
Under the last cabinet the Christian Democrats were a part of, the red carpet was rolled out to the nuclear power station construction companies. But none came forward with a business plan.
So if the answer is 'new nuclear power stations', what is the question? It can't be 'How do we become less reliant on Russia for our gas?' In other words: Buma hasn't a clue about the implications of his proposal.
Which takes me back to my original question: what should politicians know in order to come to well-considered decisions?
They don't have to have the facts at their fingertips, all this can be researched. I had to find out how much uranium Russia produces from the net. But a knowledge of the workings of the energy system, and an idea of the most important fuels and consumer sectors and the societal and environmental effects of our energy use is surely not too much to ask. If Buma wants to test the waters he shouldn't put out in a leaky boat.
Jan Paul van Soest is an advisor at De Gemeynt.
 
This article appeared earlier in Trouw.
Thank you for donating to DutchNews.nl.
We could not provide the Dutch News service, and keep it free of charge, without the generous support of our readers. Your donations allow us to report on issues you tell us matter, and provide you with a summary of the most important Dutch news each day.
Make a donation