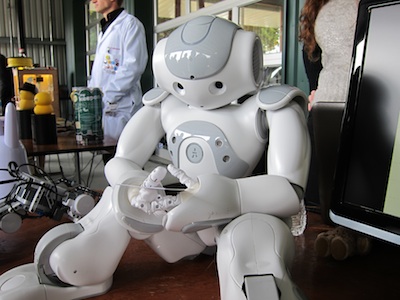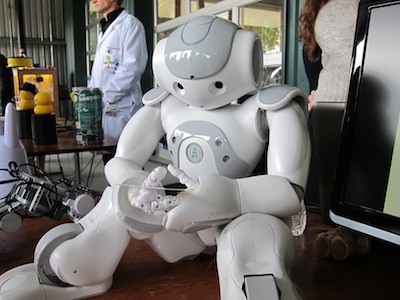 Don't fear robotisation but prepare to enjoy the benefits it could bring, says GroenLinks leader Bram van Ojik.
Even brilliant economists can't always be right. In 1930 John Maynard Keynes wrote an essay called 'Economic possibilities for our grandchildren' in which he predicted that in two generations' time a 15-hour working week would be enough to produce whatever we would need.
Those grandchildren are us, but instead of working fewer hours we're putting in more. If we have a job, that is. While people in work are expected to work longer hours, the number of people out of work is growing: no experience, not enough skills, too old, too expensive, not healthy enough. The Keynsian ideal of full employment and plenty of leisure time for everyone seems further away than ever.
No matter how seductive Keynes' picture of the future may appear, it doesn't seem to have survived as a political ideal. Jobs are still sacred for most political parties. We have to work harder and longer is the message. And if you don't work, the cabinet has all kinds of sanctions handy to kick you onto a labour market which everybody knows is devoid of jobs.
I would argue that work should no longer take centre stage in our lives. In a time of mass unemployment and unstoppable technological progress politicians too should realise that there's more to life than just work. What we need is to establish a new political agenda.
In a recent speech social affairs minister Lodewijk Asscher made a first attempt to do just that. Referring to publications by American researchers which showed that computers and robots are set to replace people in the workplace, he said  'technology driven unemployment' awaits us. Unskilled and middle class jobs will disappear without being replaced by other types of work. The nightmare scenario according to Asscher is the extreme inequality between those who own and make the robots and the rest of society. It's not a very nice prospect.
Claptrap
It's good to see the discussion has been kicked off at last. Until recently any worries about robotisation and jobless growth were dismissed by the minister as apocalyptic claptrap. The cabinet was busy creating jobs and things would soon be back to where they were. I'm glad he changed his mind, especially as the much predicted tightening of the labour market as a result of an ageing population doesn't seem to be materialising and the shortfall of workers will turn into a robot induced structural surplus.
The many reactions to Asscher's speech are mainly concerned with the question of whether robots will create more or fewer jobs. More jobs is good, fewer jobs is bad. It's a limited view to take and one that takes a lot for granted. It would be far better to start a much more fundamental debate about the role work has in our lives, the opportunities working less would give us and which conditions would have to be in place for us to use these opportunities to the full. Keynes may play a part in this after all.
Robotisation will impact on at least five interrelated areas. Robot comes from the Czech word 'robota' which means work or forced labour. I wonder what is so terrible about getting rid of heavy and poorly paid work. If robotisation is really going to happen on a large scale it seems to me to be a blessing, not a curse. And if it is, we will have to find a way of sharing the remaining work among more people and bring down the average number of hours we work. Let's start with a four-day working week as the norm. Less work, more leisure time, what's not to like?
Relax
We'll have time to relax and do all the other stuff we normally have to squeeze into our working day, including socially useful things like neighbourhood activities, doing your bit for your child's school, looking after a sick relative, or purely individual pleasures such as walking, reading and being with friends and family. Bring on the robots: the ideal of a relaxed society is nigh.
If fewer people have paid jobs we also need to look at how we deal with prosperity. The gap between workers and non-workers can only be bridged by a radical redistribution of wealth. That means our tax system would come in for a slightly bigger reform than is currently being contemplated by the government. The robot builder elite and technicians would be asked to contribute more and tax on wealth, company profits, energy waste and pollution would replace the tax on labour. Labour would be cheaper and employees would be left with more money (so they can work fewer hours) while employers can hire workers more cheaply.
Cue social security. In a society in which fewer people are working we must abolish the link between social security and premiums on labour. There simply won't be enough people to prop up the social security system through premiums. A different way of financing social security has the added advantage of making labour cheaper and opening up new markets, for instance for personal services. We could start today by extending the possibility for people on benefits to do work part-time and unpaid work and relaxing the rules surrounding the number of job applications they have to comply with.
Shackles
Less work and a fairer division of wealth would also have an impact on care. Robotisation will free up stressed-out parents and home carers. The elderly will no longer have to put up with sub-standard and expensive care. Just imagine how nice it would be to actually have the time to look after a dear one without having to juggle a job as well.
Maybe the biggest challenge is the question of what to do with ourselves once we free ourselves of the shackles of work. Research shows that most people would like to spend time on their own personal development. That means education will change from being focused on work to being geared towards personal fulfilment. Lifelong learning will finally happen.
All these proposals lead to a loosening of the knot that binds labour and income together. I quite like the prospect. In order to make it happen we need to act now and look beyond the question of whether robots bring more or fewer jobs.  We need to get rid of the mantras surrounding yesterday's problems: making work pay more (as if that's the problem), tightening up the rules on job application (as if the jobs are just waiting for people to step into) and promoting growth (even if it doesn't result in more jobs).
At the other end of the spectrum there's the relaxed, ideal society which because of the rapid technological advances and a historically high level of highly skilled people may just come within reach. Let's not be afraid of the robots. Let's prepare for a time when we won't have to earn our daily bread by the sweat of our brow.
Bram van Ojik is an MP and the leader of left-wing green party GroenLinks.
This article appeared earlier in the Volkskrant
Thank you for donating to DutchNews.nl.
We could not provide the Dutch News service, and keep it free of charge, without the generous support of our readers. Your donations allow us to report on issues you tell us matter, and provide you with a summary of the most important Dutch news each day.
Make a donation