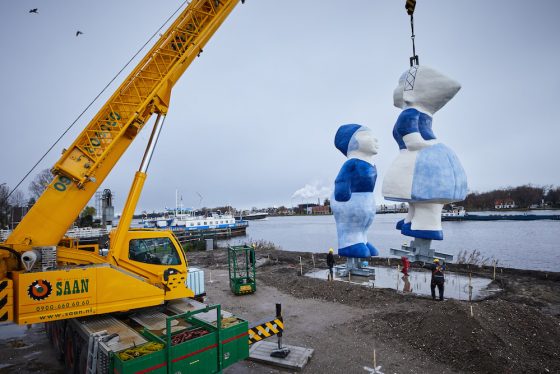 The kissing couple are lowered into place. Photo: Vincent Basler / HH
Giant versions of the archetypal Dutch souvenir – the kissing couple – have been installed on the edge of the IJ waterway in the west port area of Amsterdam.
The farmer and farmer's wife, in traditional Delft blue colours, are supposed to act as a landmark for tourists approaching the city from the water and as a draw for cyclists.
'We wanted to create an affectionate place in this unloved part of the port,'  Sandra Heuber, of Bright Up, which was commissioned to erect the statues, told the Parool. 'They are a much loved, iconic pair known the world over as a symbol of the Netherlands.'
The origin of the couple has been lost but examples are known from the second half of the 18th century, Delft city archaeologist Steven Jongma said. 'But the kiss would appear to have been added at the time of the sexual revolution.'