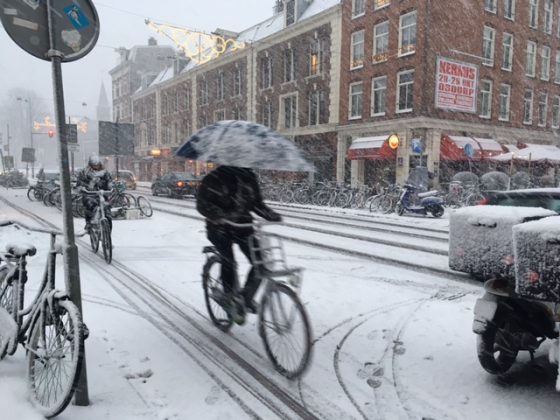 Heavy snow brought the Netherlands virtually to a standstill on Monday afternoon, with record traffic jams, train and flight cancellations and school closures.
During the evening rush-hour, the roads were particularly difficult in Brabant and around the three big cities of Rotterdam, The Hague and Amsterdam. In total, traffic jams totaling over 1,000 kilometres were recorded at around 16.30.
Dutch weather bureau KNMI has issued a Code Red alert for most of the country, apart from Limburg and the two northern provinces
Drivers have been advised to stay off the roads unless their journey is absolutely essential, hundreds of flights have been cancelled and some schools closed early for the day as the wintry conditions closed in from 11am. The snow is expected to continue until early evening in most places.
The snow arrived earlier than morning forecasts which predicted that serious disruption from noon. However, roads were less busy than usual as commuters heeded advice to work from home and cancel appointments if possible.
The KNMI said 5 to 10 cm of snow would fall in many places, with up to 15cm in central provinces such as Overijssel.
Long queues began forming at Schiphol airport as airlines began cancelling outbound flights. KLM alone took nearly 300 planes out of its daily schedule because not all runways could be kept open. So far, some 430 flights have been cancelled.
Eindhoven Airport was temporarily closed because planes were unable to take off or land. All flights were cancelled or diverted.
Trains
Train operator NS is running a reduced schedule and has advised passengers to be prepared for delays, packed carriages and longer journeys. In particular, there is disruption on the routes between The Hague and Utrecht.
Highways operator Rijkswaterstaat sent out its entire fleet of 900 gritter lorries to try to keep the roads clear of ice and snow.
The A2 motorway was closed between Eindhoven and Maastricht because of the icy conditions.
Some schools in the country cancelled classes for the day, while others sent children home early as the snow began to fall.
Dierenpark gesloten
Wegens de sneeuwval gaat ons park vandaag niet open. De kans bestaat dat er takken van de bomen loskomen en daarom blijft het park met het oog op de veiligheid vandaag gesloten. De veiligheid van de dieren is niet in gevaar: zij verblijven op veilige plekken. pic.twitter.com/ykbpQ8rjTV

— DierenParkAmersfoort (@dpamersfoort) December 11, 2017
Ook #nederlands #winterweer #genieten #sneeuw #mijnkatgeniet pic.twitter.com/MiJOQcA0um

— Simone (@xinixxinix) December 11, 2017
Wat nou code #rood code #wit! #Sneeuw #mooilelystad pic.twitter.com/7EMWui1I6M

— David Brouwer (@KapteinKoek) December 11, 2017
Winter Wonderland @tudelft #Delft #Sneeuw pic.twitter.com/XmD6Zpklip

— Stijn de Vreede (@VrijndeSteede) December 11, 2017