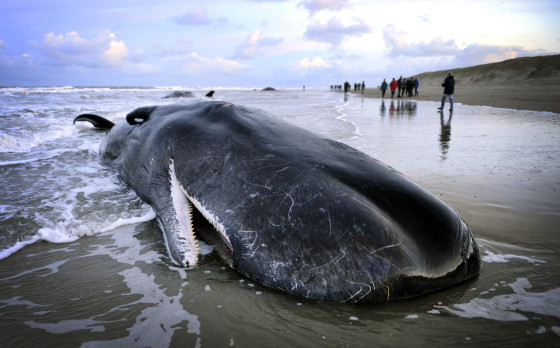 The five sperm whales which beached on the Dutch Wadden Sea island of Texel have all died overnight as expected, marine experts said on Wednesday.
The whales were spotted in difficulty close to the shore on Tuesday and rescue efforts continued until midnight, without success.
It is extremely unusual for so many whales to be in Dutch waters, a spokesman for the Ecomare marine centre told local paper Noordhollands Dagblad. The area of beach where the whales were was closed to the public, to minimise the distress to the animals.
Protocol
The Netherlands has set up a special protocol to deal with beachings following the death of a hump backed whale which stranded on a sandbank near Texel in 2012. The protocol states that efforts to save the animals will stop after they have been beached for more than 12 hours.
Two dead sperm whales washed up on the German Wadden Sea island of Wangerooge on January 8. They are thought to have been dead for some time.
[Update]Noodverordening voor strand Paal 12 – https://t.co/RY4dZoRX42 pic.twitter.com/MK8LQt3ole

— Texelse Courant (@texelsecourant) January 12, 2016
Vrijwilligers KNRM Texel ter plaatse in afwachting hulpverlening. Foto: Marleen Bergamin #potvissen pic.twitter.com/mAOCgAfmie

— KNRM (@KNRM) January 12, 2016