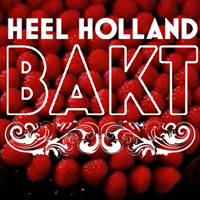 Public broadcasting company Max is to appeal against a Media Commission fine of €162,000 over merchandise associated with the popular television baking show Heel Holland Bakt.
The commission fined Max because supermarket group Albert Heijn and its online store Bol.com are selling products connected to the show.
This means parent company Ahold is benefiting from the show which is effectively advertising its products, the commission says. Max has made this possible by not keeping the merchandising rights under its control.
However Max director Jan Slagter says the rights are owned by the BBC, which also owns the programme format in The Great British Bake-off. The contract signed with the BBC excludes merchandising rights and if they had been included, the format would have cost tens of thousands more euros, he says.
Slagter compares the situation to popular children's programme Sesame Street broadcast by NTR. 'All sorts of shops sell Bert and Ernie dolls,' he says. 'NTR does not have those rights either but that would appear to be okay.'