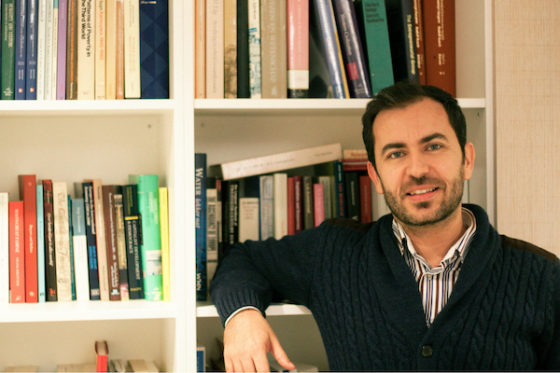 Originally from the seaside town of Ayvalık in Turkey, Ozan Ozavci is an assistant professor of trans-imperial history at the University of Utrecht. He says he's fallen in love with Dutch cycling culture and Old Amsterdam goat's cheese and would relish the opportunity to discuss politics with Thierry Baudet.
How did you end up in the Netherlands?
I ended up here because I started a job as a post-doctoral research fellow on a project on security history at Utrecht University. This was five years ago. The same year, I was offered a permanent contract by the university so I stayed.
How do you describe yourself – an expat, lovepat, immigrant, international?
I think when I first arrived in the Netherlands, I was an expat because I only planned to live here for about four years, which was the duration of my post-doctoral research.
Then I guess I became a lovepat. Not because I fell in love with a Dutch woman but because I fell in love with the overall society — the organisation, the biking culture, openness to change, Albert Heijn, and Utrecht, which is where I live. Living in Utrecht is like living in a village with the perks of a big city. It fits quite well with my personality. I feel like I'm constantly moving between being an expat, lovepat, immigrant, etc., which perhaps tells us that these terms don't really help describe our life trajectories.
How long do you plan to stay?
I'm happy here. For the foreseeable future, I have no plans to live anywhere else. My mortgage also suggests that I'll be here for at least a few more decades.
Do you speak Dutch and how did you learn?
I do, but not to the level of sophistication I would want as a historian whose work is mostly about words, texts, and subtexts. I might need to do more. I first went to a language school here in Utrecht before I had private lessons that the university arranged for me and a number of other international staff. I also did language exchanges, and now I've moved back to private courses to improve my speaking. Writing and reading is a less difficult problem at this stage.
What's your favourite Dutch thing?
There are a lot of Dutch things that I would consider my favourites. I very much like the biking culture here and how the traffic is organised around it. It's something I've missed in the other countries I've lived in. I very much like Old Amsterdam goat's cheese. I would even dare to say that Dapp Frietwinkel on the Vinkenburgstraat in Utrecht is making the best fries in the world, in my experience. There is also local Utrecht beer like the ones from Brouwerij De Leckere. Those are some of my favourite ones, too.
But I think my favourite Dutch thing overall is the individuals that make up Dutch society. Having lived relatively easier lives compared to the peoples in other parts of the world, they are very nice and kind people. In my experience, they are very welcoming. They live their lives mostly in search of and in pursuit of what they call gezellig moments. This is what I believe makes them happy people. It creates a positive cycle. I've been impressed with this kindness and happiness, time and time again.
How Dutch have you become?
This is a difficult one. In the beginning, I made an active attempt to think and act more like the Dutch in my professional environment. One day, a colleague, one of the senior ones, told me, 'We want you here and we hired you, Ozan, so that you would offer us what the Dutch cannot.'
This triggered in me the importance of my non-Dutch or international identity at the university. I've come to think that it's my asset, and I've clung to it more and more. The courses I teach and the epistemological basis of my research, if I may be an academic for a second, are all connected to this.
On a daily basis, I've certainly become more punctual since I've moved here. I've started to eat sandwiches a lot more than before, and I've become more direct when I communicate my ideas and arguments. Sometimes I think I should be more direct though.
But in my eyes the real threshold of being Dutch is something that I deducted from an outstanding moment one day. In one of my first months in the Netherlands, I saw this young guy peeling an orange with both hands while riding his bike. He rode past my office. I consider myself good on a bike. I used to cycle to work when I lived in London and Manchester. Since I saw that guy, I think that being Dutch pertains also to the ability to peel an orange while riding a bike. I don't think I'll ever be able to do that.
Which three Dutch people (dead or alive) would you most like to meet?
As I mentioned earlier, I quite like Old Amsterdam goat's cheese. I would like to meet the inventor of it and thank him or her in person for all the moments of pleasure it's given me. That would be number one.
I've read a lot about and by Baruch Spinoza, the philosopher. He had an unassuming lifestyle and modesty. I would like to talk to him about the everyday conduct of life. That would be fascinating, so that's number two.
Number three, I don't know which of the two, but I would like to talk to either of the far right leaders. The more popular one these days is Thierry Baudet. I would like to ask him in a private conversation his sincere opinions about George Floyd, racial discrimination, which is a serious problem here in the Netherlands also, and see how he responds when I tell him about the emotional vocabulary he adopts in his politics that centre on negativity, differentiation of people, and exclusion of immigrants, especially non-white ones. It seems counterproductive in larger Dutch society.
Some of the defining characteristics of the Dutch are an openness to learning, to changing, and inclusion. I think the change towards a more inclusive and antithetic direction in the debate over Zwarte Piet exemplifies this. I would want to hear what he genuinely thinks about all this.
What's your top tourist tip?
All of the major tourist attractions are fantastic, but I think to be able to really appreciate the Dutch culture and landscape, I would advise visitors to rent a bike and cycle into the countryside when the weather is good, and go somewhere between Utrecht and Amsterdam. The coast is also really nice. My favourite spot is Bergen aan Zee so far. Zuid Limburg is a great site, and it's worth exploring too.
Tell us something surprising you've found out about the Netherlands
Aside from the kindness of the people and their awe-inspiring cycling skills, I was surprised by the absence of the blending of cultures. White and non-white Dutch people tend to live in different compartments, especially in smaller cities.
Being from Turkey, I find it surprising that after a decades-long presence, the Turkish immigrant community here is still considered 'the Turkish community', not as Dutch. Perhaps consequently, they are much more closed and much more conservative than in Britain and France and certain parts of Turkey. They mostly live in their own shell.
I was also surprised by the two way racism. Not just the racism towards the Turkish or especially the Moroccan populations here, but also by the Turks towards the native Dutch. It was very evident from the moment I first arrived here that the community needs to have more inter-cultural dialogue and engagement.
Finally, I can say I was a bit surprised when I noticed on a few occasions that, even though the Dutch tend to be direct, frank, and speak their minds, which I appreciate, they usually don't like being on the receiving end of it.
If you had just 24 hours left in the Netherlands, what would you do?
It would be sad to think about because I'm happy here but, if I were to do that, I would walk around Utrecht one last time. Of all the Dutch towns I've been, this is where I feel the most at home, and it's the closest to my heart.
I would sit with the people I love here at my favourite spot, just outside the Muzieklokaal, which is by the water and you can see the Dom Tower and the boats passing by. We would also possibly cycle toward Oud Zuilen, which was my routine on the weekends when I first arrived in this country. It would be a nice, nostalgic way to say goodbye.
Dr. Ozavci will be publishing a book in 2021 titled Dangerous Gifts: Imperialism, Security and Civil Wars in the Levant 1798-1864. You can learn more about it via this link.
Ozan Ozavci was talking to Brandon Hartley
Thank you for donating to DutchNews.nl
The DutchNews.nl team would like to thank all the generous readers who have made a donation in recent weeks. Your financial support has helped us to expand our coverage of the coronavirus crisis into the evenings and weekends and make sure you are kept up to date with the latest developments.
DutchNews.nl has been free for 14 years, but without the financial backing of our readers, we would not be able to provide you with fair and accurate news and features about all things Dutch. Your contributions make this possible.
If you have not yet made a donation, but would like to,
you can do so via Ideal, credit card or Paypal.