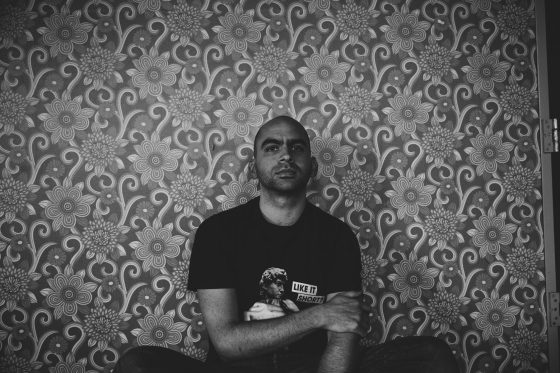 Carlos M. Roos relocated to Leiden from Caracas in 2008 to pursue a master's degree. Nine years later, the Venezuelan native teaches at a local university, when he's not working on his doctorate and a series of innovative musical projects.

How did you end up in the Netherlands?
I came over looking for a very specific master's programme, which was Philosophy of Art. At the time, that wasn't the most popular subject out there. I found something along those lines in Bologna, Italy but it wasn't offered in English. There was also one in Norway but it was a PhD programme. Finally, I came across the website for Leiden University and found one for masters students that had the content I wanted to study and research.
How do you describe yourself – an expat, lovepat, immigrant, international?
Right now? An expat, I suppose. For a while, I was more of an international. I spent two years in Leiden and then I moved to Brussels in 2010 where I started a research project. It gave me the opportunity to travel over the world. I had the chance to visit many countries in Southeast Asia, both East and West Europe, and Northern Africa. I was never in the same place for very long. It was great but, after a while, I got tired. My contract ended and I came back to the Netherlands. Not because of a relationship with a girlfriend or anything like that. For me, it was a relationship with the city, with Leiden. I liked it very much.
How long do you plan to stay?
I would like to stay as long as I can. I feel a lot of hope here. I come from a massive and chaotic city. Sometimes that's fun and sometimes it isn't. I appreciate the scale of this town. It's a place that seems conceived for actual human beings. You can get from Point A to Point B by walking or on your bike in no time. Try doing that in Caracas, Los Angeles, or Moscow.
I also like the straightforwardness of people here. No filter. It's like my old man says, 'you know what's going to kill you'. So you know what's going to happen and that's not the case in every culture. Elsewhere, people say one thing but they have something else in their mind. It can be a hard game to play but I definitely prefer this way of interacting. Oh, and the landscape is pretty cool. No mountains, I'm a fan of mountains, but I remember when I was moving back to Leiden from Brussels. I was on a train and we cut across a field that was filled with little cows and it was so green. I remember thinking, 'Dude, this is beautiful!'
Do you speak Dutch and how did you learn?
The biggest piece of the puzzle is the language. In order to really join this community and all its social, political, and professional circles, both in the city and the country, I definitely need to know Dutch. When I was first here, I learned informally while speaking with friends. After I moved to Belgium, I took a class for six months, just the basics.
Since I've been back, I've been trying to use Dutch but, because of my research, I have to study and use German. My mental box for Germanic languages has really been taken up by German. I feel like, right now, I can't speak any Dutch. I feel like I've got a salad in my head of different terms and words. The real problem is having the time to invest. I like learning languages but it's a skill like any other. It's like going to the gym or surfing. If you stop for a year, your skills will go down.
What's your favourite Dutch food?
There's the widespread belief that there is no such thing as Dutch cuisine. Maybe not like the French have a cuisine, but I think it's a simply different thing. Take the pastries, for instance, the ones filled with almond paste. When you get them fresh from the bakery, they're really nice. Or stroopwafels. When you get them right from the pan? Wow, really nice. Herring I do like and they're great to eat after a party. But rookworsten, the smoked sausages, would have to be my favourite.
How Dutch have you become?
Do I have to quantify that? I'd say significantly. When I moved to Leiden for the first time from Caracas, there was an element of shock. I could feel that I was entering a different cultural space, but I knew what to expect. I knew that the Dutch were very systematic, organised, and punctual. I was looking forward to it since I come from a comparatively messy place. If someone says 'we're going to meet at 10 am', we meet at 10 am, we get to work, and we're done by 11. I found that fantastic!
Then I moved to Brussels and assumed the Dutch way of doing things was the European way in general. Little did I know, that's certainly not the case. That was much more of a cultural shock because I was so used to the Dutch way.
Which three Dutch people (dead or alive) would you most like to meet?
Vincent van Gogh. I would like to hear more about that ear of his! But, seriously, I find him to be a very interesting character out of what one can tell from his paintings. He wrote beautiful letters, very insightful ones, with theoretical and philosophical thoughts on how he saw life that were kind of playful, too. Having read some of those and seen his paintings, that gives me an image of what he was like and I'd love to have a cup of coffee with that guy.
Rembrandt. A totally different character with a totally different vibe. You can see that in his paintings and he obviously shared a different place in the social structure than Van Gogh. Yet their work would give you a good idea of what Dutch life was like at different points in history. They were not the same at all but I think it was Mark Twain that said 'it rhymes'. There were points and coincidences that made these two artists resonate with one another. But I would love to talk to Rembrandt about his drawings, not his paintings. There's something to those drawings and you can see them up in Haarlem.
Anouk. I would love to go partying with her! She seems pretty cool and her voice is very representative of Dutch female vocalists. Since I play music, I've had the chance to share stages with these singers often. There's a specific thing with the timber and colour of their voices that I haven't heard in other countries. It's not quite a mezzo, it's like a dark soprano kind of thing they've got going on and Anouk totally nails it.
What's your top tourist tip?
That's a tough one. I think the one thing you should see in the country, if you only have a few hours and you've got to catch a flight but you want to take home one memory of the Netherlands, I'd choose the Museumplein in Amsterdam. You don't have to enter the museums. Just go for the vibe. Or there's the Vlaggenparade in Rotterdam by the Erasmus Bridge. That area is a great place to take a walk and it's pretty cool.
Tell us something surprising you've found out about the Netherlands.
The fact that the Dutch had to take the country back from the sea, just like that, out of sheer will. Wow, respect! If not for that, we'd be even more packed into an even tinier piece of land. There would be fish swimming where we're sitting right now here in Leiden. That is amazing to me. They took it all from nature and, yes, that's impressive, don't get me wrong, but the most impressive thing? They keep doing that. It never goes to hell at some point because someone fell asleep. It takes serious discipline and systematic planning, thinking, and acting to achieve this. That's fantastic.
If you had just 24 hours left in the Netherlands, what would you do?
There's two options for me: the contemplative one and the active one. For the first one, I'd just sit with a cup of tea somewhere. This could be at one of my favourite places in Delft, Rotterdam, or Den Haag, but here in town? I would go to a place in the southwest part of Leiden. It's not a popular tourist destination, but there's some canals there with a forest. It's beautiful. I would sit there, drink my tea, and play my guitar.
Now the other one? I'd throw a 24-hour in a row party with live music. I don't know if Leiden would be the place for that but there's a few places that could work like the Vrijplaats. I'd bring a band, or two bands, and we'd go all night.
You can check out Carlos' musical, visual, and theatrical projects via his website. He also leads The Involved Stage, a performance group based in Leiden.
Carlos Roos was talking to Brandon Hartley
DutchNews.nl has been free for 12 years, but now we are asking our readers to help. Your donation will enable us to keep providing you with fair and accurate news and features about all things Dutch.
Donate via Ideal, credit card or Paypal.