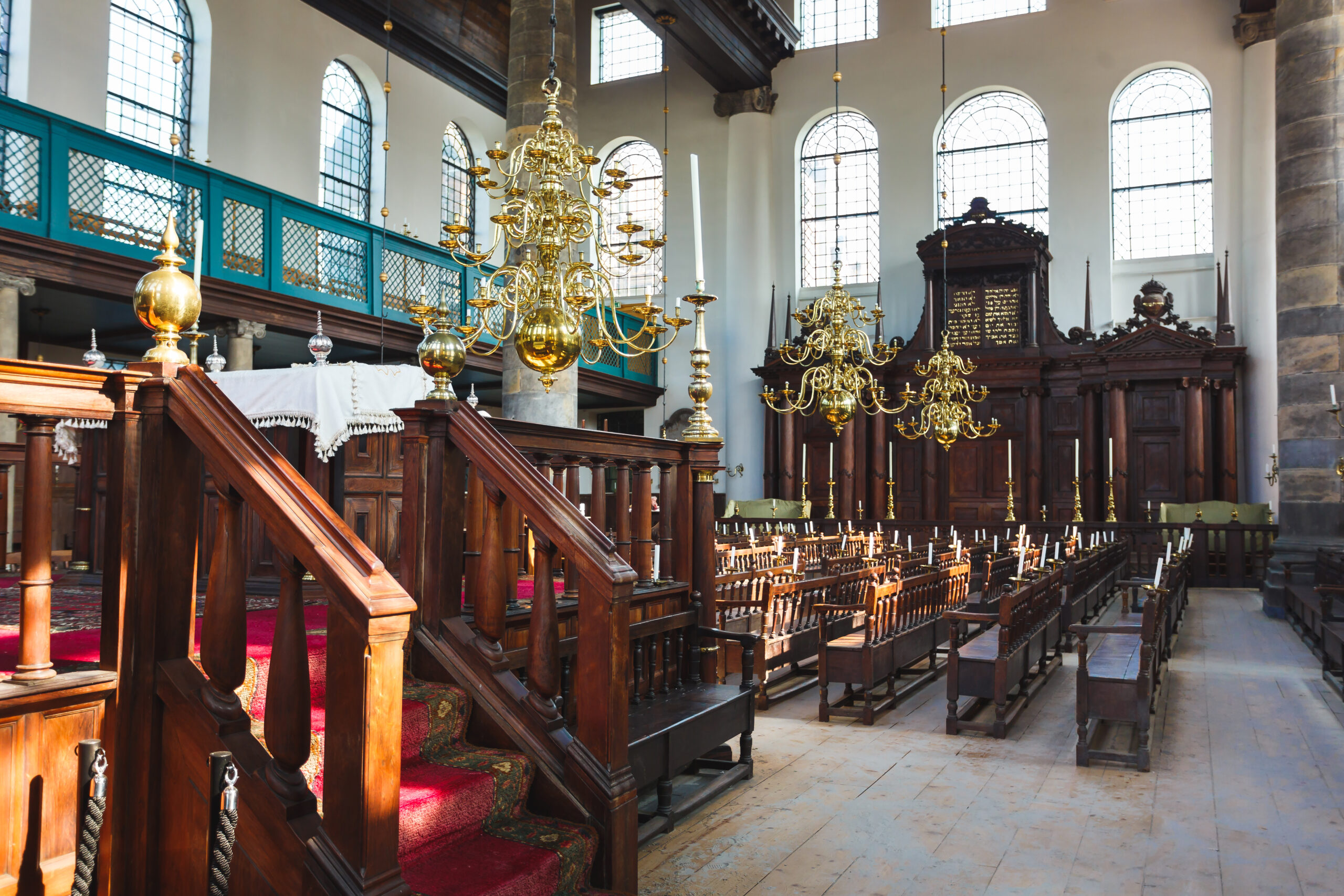 Marcella, a 72-year-old Dutch Jew, lives in Amsterdam. She prefers not to use her last name.
"I do feel less safe, because there's more anti-Semitism," she says, since Hamas attacked Israel on October 7 and Israel's ensuing military campaign. "I have a Jewish last name. And it's in our DNA. We know what happened here in the 1930s."
About an hour's drive south, in the smaller Dutch town of Culemborg, windows were vandalized in the Imami Azam mosque earlier this month. The police have arrested a suspect.
"We don't know why this person smashed the windows," Selcuk Demirci, the secretary of the mosque's board, told regional broadcaster Omroep Gelderland. "But it's a reason for us to talk about security…. This is hitting the community hard."
The mosque told parents to keep their children home this week. Similarly, a week after the Hamas attacks on Israel, Amsterdam's Jewish schools, citing security risks, shut their doors.
For many of the country's Jews and Muslims, the war in the Middle East is hitting closer to home, putting them on edge.
"If someone sneezes in the Middle East, people catch a cold in the Netherlands and other European countries," says Rabin Baldewsingh, the country's National Coordinator against Discrimination and Racism (NCDR).
Rise in anti-Semitic incidents
Figures released last week from CIDI, the Center for Information and Documentation Israel that tracks anti-Semitism in the Netherlands, show that last month there were more than 100 anti-Semitic incidents in the Netherlands compared to more than a dozen in October 2020, which is in line with the increasing numbers being seen in much of Europe.
"It's real, and I completely understand why people are afraid," says Hans Wallage, an anti-Semitism researcher at CIDI. "Kids are saying they're scared to go to school and don't want to be bullied. We're on the border: five minutes before midnight to stop this. I don't want to compare it to other times in history, but this needs our attention."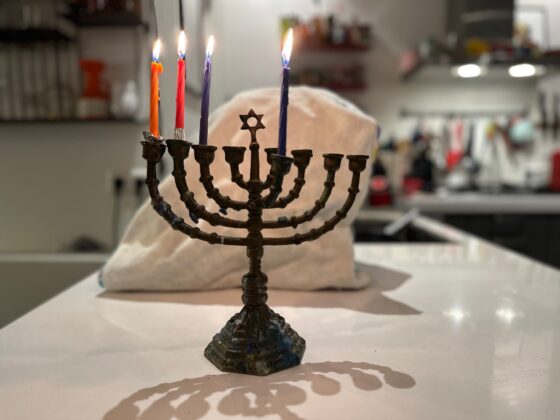 CIDI only looks at events in the real world and culls the private messages it receives. Some of those messages include emails from Jewish organizations telling of mezuzahs—sacred Jewish objects containing biblical passages that many Jews place on their front doors—being knocked off, of people screaming the derogatory kankerjoden (cancer Jew) on the streets, of Jewish children being beat up and bullied at schools and even of people receiving death threats.
"We already saw anti-Semitism was increasing before the conflict," says Wallage. "But the current conflict is a catalyst. It's way bigger now."
Although CIDI doesn't include online threats in its figures, Eddo Verdoner, the National Coordinator for Combating Anti-Semitism (NCAB), says social media plays a huge role in the increasing anti-Semitism.
"On all the large Dutch social channels, there is anti-Semitic content ranging from anti-Semitic tropes to real calls to violence," he says. "I haven't seen before this speed of texts pouring into our society, where children 8, 9 and 10-years-old see these unfiltered messages of hate everywhere. This speed, and the way it effects all generations, is a new dimension."
Last week, minister of justice and security Dilan Yesilgöz sent the NCAB's plan to combat anti-Semitism to the lower house of parliament. It calls, among other things, for more monitoring and education, making it easier to prosecute online anti-Semitism and tackling anti-Semitic chants in football stadiums.
"We have to make sure we punish anti-Semitism and not let it just float by," says Verdoner. "We must maintain the rule of law, not just in the physical world, but also online, making sure tech platforms are held to account to moderate anti-Semitic content."
To that end, he calls for speeding up implementation of Europe's Digital Services Act (DSA), which aims to create a safer digital space protecting the rights of all users.
Increase in Muslim hatred
Meld Islamofobie (Report Islamaphobia) is a small citizen initiative founded by three Muslim women that collects data on anti-Islam incidents when trouble brews somewhere in the world that has repercussions here, like now.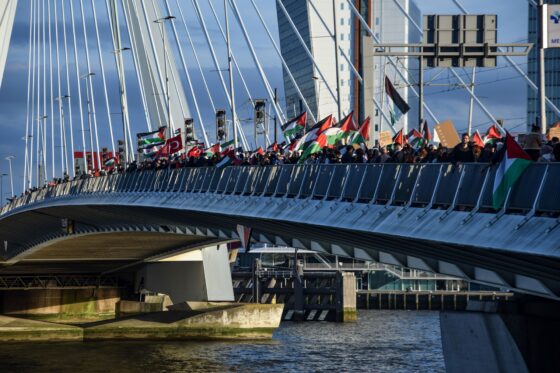 "Since October 7, we've had tens of reports coming in nearly every day," says Rahma Bavelaar, a sociologist, researcher and chair of Meld Islamofobie. They have yet to analyse the data, which they also collect from local police and municipalities, but she says the number of reports they're getting is increasing exponentially and just "the tip of the iceberg".
"There are verbal attacks, people losing jobs or denied work contracts because of their pro-Palestinian stance on their social media pages and Muslim women wearing hijabs who are attacked. One of our first reports was from a woman who was wearing a headscarf and went to the supermarket with her child. A man came up to her and said: 'Israel will kill all of you.'"
Bavelaar says linking Muslims with terrorism pops up "every time there's an issue in the news. We're seeing it again now, but it's representative of what we've seen for years."
Bavelaar, who wears a headscarf, says she was called a terrorist after the 9/11 attacks in the US.
Mutual mistrust
Part of the problem with accurately assessing the current number of anti-Muslim incidents is that the annual numbers from the country's anti-discrimination bureaus have yet to come in. There is also less reporting from the community itself.
"In the last couple of years, Muslim hatred has increased tremendously in the Netherlands," says the NCDR's Rabin Baldewsingh, who is tasked, in part, with tackling Islamic hate crimes.
"The Dutch government in the past has had undercover actions in mosques and has laws and regulations that are biased against Muslims. This has resulted in Muslims not trusting the Dutch government, a mutual distrust. This lack of confidence makes people disconnect, and that's why the Muslim community doesn't report as eagerly as some other groups."
Security at mosques
He also calls for more security at the country's mosques. "It's inadequate, but not surprising," he says. "Muslim organizations have always complained about places of worship not having adequate protection. The same thing happened after 9/11. There have been 400 incidents of anti-Muslim hatred since then."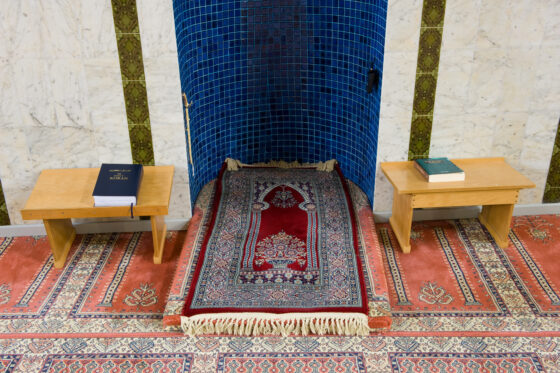 Baldewsingh calls the increasing rise in anti-Semitism and anti-Muslim hatred "equally reprehensible", and says the only solution is dialogue—both between Muslims and Jews and the Muslim community and the government.
"I've asked for it, but it's going very slowly. The government in not very reliable in organizing that," he says. "But such sessions can make a difference, like what was done with slavery in the Netherlands. That resulted in an apology."
Many in the Muslim community were also stung by the Netherlands' initial support for Israel. Baldewsingh says that's changing as the war rages on and casualties in Gaza mount.
"The terrorism in Israel can't be forgiven," he says. "But as the international community, we can't applaud a war. We must protect life on all sides. One life is not worth more than another….Our beautiful society doesn't deserve a division between Muslims and Jews. Our obligation as citizens of the Netherlands is to reach out and come together and talk about peace, not war."
"The solution is a political one, not Jews and Muslims sitting together drinking tea," believes Bavelaar, who says the Muslim community is anxious and thinks different standards apply to them over safety and the right to expression. "We need an end to the occupation and the Dutch government's support for Israel. It's also a solution to the tensions we're seeing here."
"Not an oppression Olympics"
But many Dutch Jews and Muslims seem determined not to let the war tear them apart at home.
One Turkish tobacconist, who doesn't want to use his name, says the media is hyping up the hate. "The Netherlands is the safest country in the world."
When asked if he felt like a target, the owner of David's Corner, an Israeli and kosher grocer in Amsterdam's Jewish Buitenveldert neighbourhood, responded: "What do you think?" He said the store hasn't received any threats and he personally feels safe. "We always pay attention to the neighbourhood. We're just paying a little more attention than usual now."
Avi, who attends a "modern Orthodox" synagogue in Amsterdam, says he's not afraid, but the "situation is not good. There's anti-Semitism everywhere. Some men made some remarks when I walked to synagogue last Friday. I didn't like it, but I'm not worried."
The 75-year-old says he doesn't wear the traditional Jewish yarmulke head covering outside, just a cap. "With my beard and cap, I dress the same as many Muslims."
But he says he won't make concessions to hide his religion. "I will keep my mezuzah up, although I live in a flat where only those inside can see it," he says. "But I think I wouldn't take it down anyway. If you start with that, where's the end?"
Anger
Adds Bavelaar: "It's not an oppression Olympics, and everyone deserves protection and equal treatment. And although I could be a target, I'm not scared. I'm not someone who gets nervous. I mostly get angry."
Marcella, who has attended peace walks on Dam Square and a sing-along to free Israeli hostages at her synagogue, has mixed feelings. Her parents were Holocaust survivors who were hidden during World War II. "I'm so happy they're no longer alive and don't have to experience it again. It's so horrible, so sad," she says. "But I can't let fear ruin my life. It means the other party has won. They want us to be divided and scared. Our brothers and sisters in Israel need us strong, not afraid."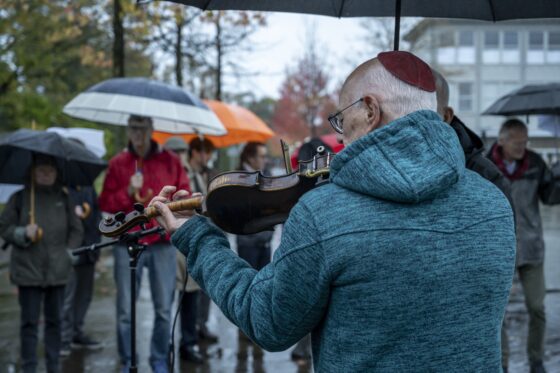 Some Holocaust survivors turned up for Kristallnacht commemorations throughout the country last Thursday night, with attendance breaking records in places such as Amsterdam's Portuguese Synagogue, where security was tight. It was exactly 85 years ago that Nazis carried out their murderous pogrom against German Jews.
Demonstrations
But other commemorations of the so-called Night of Broken Glass were cancelled, such as a silent march in Groningen, whose synagogue organisers said they didn't want it confused with a potentially controversial demonstration.
It's precisely this mistrust and division between people that Verdoner says the October 7 attacks were meant to sow, not just in Israel, but worldwide.
"They aimed to pit people against each other," he says. "But we must never give in to polarisation. Our free society in the Netherlands must be protected. We are bound by so much more than our ethnicities or beliefs.
"What binds us together as Dutch people is our values, our connection to each other and the shared believe in a free and democratic society that is safe for all its citizens. We won't pitch people against each other and give space to hatred."
Thank you for donating to DutchNews.nl.
We could not provide the Dutch News service, and keep it free of charge, without the generous support of our readers. Your donations allow us to report on issues you tell us matter, and provide you with a summary of the most important Dutch news each day.
Make a donation