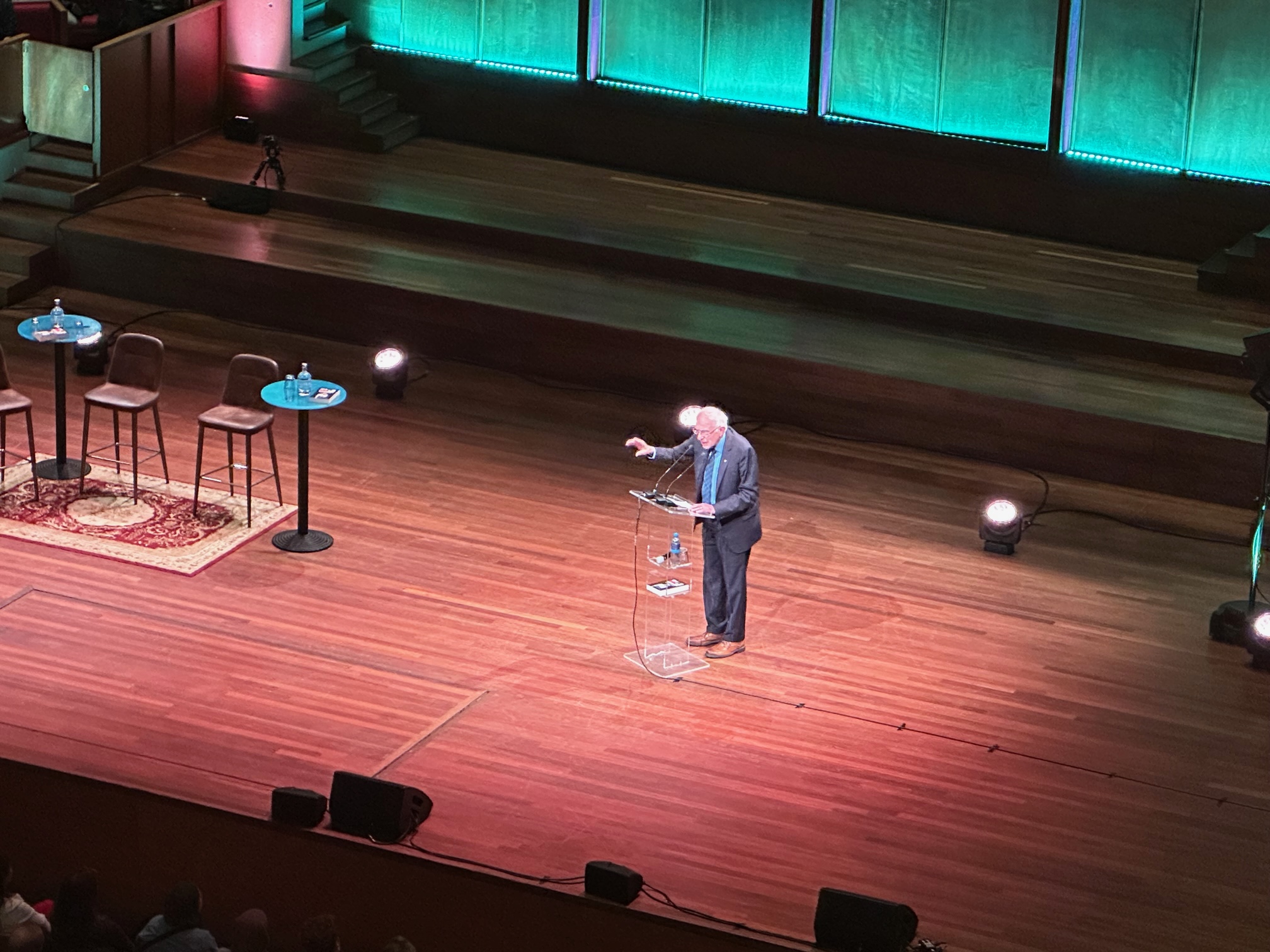 Bernie Sanders, the left-wing 82-year-old American senator and former presidential candidate, has been on a whirlwind tour of the Netherlands this week promoting the Dutch translation of his book, It's Ok to Be Angry about Capitalism (Het is oké om kwaad te zijn op het kapitalisme).
He's turned up at Amsterdam's De Balie, spoken with Leiden University students (he likes talking to young people) and ended his Dutch visit in front of a sold-out crowd at Utrecht's TivoliVredenburg concert venue on Wednesday night. Lauren Comiteau was in the audience.
When I walked into TivoliVredenburg's grote zaal, I wasn't expecting standing room only. These days, it's not often for sitting politicians to sell out 1,800-seat concert venues. Yet the political pop star Bernie Sanders walked into a standing ovation, joking with the starstruck and drinks-in-hand crowd that: "I hereby announce my candidacy for prime minister of Holland."
Cue the applause, which continued unabated through the night.
I maybe should have expected the supportive throngs from speaking to Dominique Danko on the train from Amsterdam. I overheard the 28-year-old former UvA student who now works in software excitedly talking about Sanders to a friend. "I've got to represent my hometown, Burlington," she says of why she made the trek to see her Vermont senator. "I'd always see him around town."
But Sanders wasn't the only politician taking the stage. He was, fittingly, joined by Frans Timmermans, leader of the GroenLinks-PvdA party, who is vying for the top spot himself in this November's Dutch general elections, and who also received applause worthy of a football match.
For two politicians with a collective 144 years between them, if ever there was a reason to have faith in politics, this was it.
"If you feel hopeless, if you feel that the powers that be are just too powerful and they cannot be confronted, we will be impotent and unable to bring the changes we need," Sanders preached to the converted, progressive crowd.
"The 99% is more powerful than the 1%. But we are not powerful as isolated human beings. We are powerful when we stand together."
Noting the low voter turnout in both the US and the Netherlands, he urged young people not to get discouraged. "It's not good enough to complain," he said. "At the end of the day, we have to bring our people around an agenda that works for all, not just the few, and continue to be persistent. Fight, fight, fight."
Sanders has been speaking this message for decades. He describes himself as a democratic socialist; he supports unions and healthcare, housing and childcare for all. He decries what he calls "uber-capitalism," where "in the United States today, three people own more wealth than the bottom half of American society" in a "culture of greed."
But ever the optimist, Sanders has concrete plans. You may not be able to break the wealthy's addiction to greed, but you can take the junkies to court.
"In the US, many states have filed lawsuits against the fossil fuel industry on the basis that they lied," Sanders said. "They've done trillions of dollars in damage. They've been aware of the dangers of fossil fuels to the environment since the 1950s…. The message is: you caused the problem, you're going to pay to fix it!"
"He's rightly a superstar. I was quite impressed," says Amsterdam immigration lawyer Wil Eikelboom (47). "Sanders talks about how we're the 99% and we can beat the 1%, while Timmermans speaks about Shell and it's in the company's own interest to invest more into renewable resources. Timmermans is more about realistic politics."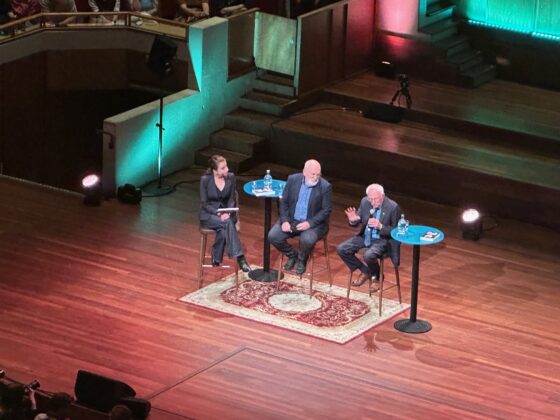 And maybe more pragmatically Dutch. "Even if Timmermans wins the elections, he'll end up in a coalition probably with the VVD or right-wing parties," says Eikelboom, who admitted he never would have paid for a ticket to see Timmermans (or for any politician trying to get his vote, which seems to be a Dutch practice).
Still, he'll likely vote for Timmermans' new combined GroenLinks-PvdA party. "I would have voted for GroenLinks, because I'm more left-wing than Timmermans. But he's the guy now, so I'll probably vote for his party. He's better at this than most. But I thought Sanders was a truly inspiring figure—he's very uncompromising and he has a big view on everything—whereas Timmermans is a bit more into practicalities."
Marion (42), an Amsterdam paediatrician who accompanied Eikelboom to the show, didn't even know Timmermans was going to put in an appearance. But she says she knows all about Sanders and his "cult following," even having bought one of his campaign t-shirts for a relative when she visited the US a few years back.
"The Dutch news is very US-centred, so we follow US politics even better than we follow our own, or even Belgian and German politics. We know Bernie from television," she says.
A liveable planet
And although Marion also found Sanders inspiring, she found his speech lacking. "I thought his talk didn't have the depth to it that I was hoping for. A lot of one liners, like we should organise, but no real depth."
She did, however, like some of what Timmermans had to say. "The point he made about the young generation sacrificing their mental health to protect us older people during Covid, that really touched me."
In making that point, Timmermans asked the audience: "Shouldn't we pay them back?" He was speaking about securing a liveable planet for future generations. "The bad news is climate is the biggest challenge we face. The good news is it's a challenge we can handle if we act now."
Marion believes he has the credentials to do it, having brokered the climate pact when he was in charge of the European Green Deal at the European Commission, something other attendees also praised him for.
"Feel the Bern"
While there were many young people and Millennials in attendance, I also saw plenty of older people, greying hippies, mothers with daughters and people wearing "Feel the Bern" pins. Almost everyone I spoke to came to see Sanders.
There was 69-year-old Noora, originally from Iraq but now living in Rotterdam. "He's now an old man, but he still speaks out as a young man," she said. "I hope, but I don't think there's a chance, that he can run in the US election. But I think he's a great man."
And there were Rotterdam students and political activists Aline (23) and Marijn (26). "For me, this was a no brainer," Aline says on why she came to see the politician who has had such a big influence on her life.
"When I was 15 and Bernie was running for president, that was my first encounter with politics, on social media, of course. He was one of the first people who introduced me to that. Since then, I have been in youth movements, student movements, I've worked in politics, so for me, this was like meeting an idol in a way, although we shouldn't idolize politicians."
She thought Sanders and Timmermans "had a good one-two going on, where Bernie is really about the global picture and Timmermans translates it to policy that he wants to enable in the future, when—and not if—we become the biggest party in the Netherlands!"
She and partner Marijn will vote for GroenLinks-PvdA, although they'll opt not for Timmermans but for other candidates on the party list, especially women and younger people. "But Timmermans is a strong candidate, and we need a leader," adds Marijn. "I'm not always that fond of party leaders, but this is the person at the right time and the right place."
The way forward
Towards the end of his speech, Sanders quoted Nelson Mandela: "It always seems impossible until it's done"—rousing words for an audience that wants to believe.
"We're on the Titanic heading out to sea," he told the crowd regarding climate action. "If we want to avoid the iceberg, we must work together, even with China, the biggest emitter in the world."
"We must take away the fossil fuel subsidies in the Netherlands," Timmermans added. "If you want a future outside of fossil fuels, oil companies must invest in renewables. And if not, the government has to push them."
"I think it was a great evening," says Noortje Jacobs, spokeswoman for the GroenLinks-PvdA parliamentary group, which was one of the night's organisers.
"Tonight, we've seen two politicians saying if you want to change the world, you have to come together and fight for something. Tonight, there were 1,800 mostly young people who came together and were inspired to fight for something. That's fantastic."
Sanders agrees. He ended the night on an optimistic call to action.
"Despite our problems, we have a younger generation that's the most anti-racist, anti-sexist and anti-homophobic in the history of our country," he said. "They are engaged in politics, and young climate activists are dragging the older people along. I'm very optimistic with the idealism and activism of the younger generations…. Organising and activism is exactly what we've got to do to save the planet. It's the future of the world."
With that he exited the stage to the same standing ovation he entered to.
Thank you for donating to DutchNews.nl.
We could not provide the Dutch News service, and keep it free of charge, without the generous support of our readers. Your donations allow us to report on issues you tell us matter, and provide you with a summary of the most important Dutch news each day.
Make a donation